What is NeoCutis LUMIERE Bio-Restorative Eye Cream?
Lumiere Bio-restorative Eye Cream is designed to diminish the effects of aging around the delicate eye area.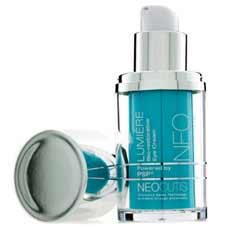 It claims to reduce the appearance of fine lines and wrinkles, under-eye puffiness, and dark circles while firming and revitalizing the eye area.
It is based on PSP' technology, which is a blend of components called Cytokines, Interleukins, and Human Growth Factors.
Lumiere Bio-restorative Eye Cream also contains hyaluronic acid to help plump up and hydrate the skin around the eyes.
It is produced by a company called Neocutis, S.A., which was founded in 2003 as an enterprise of the Medical School of the University Hospital of Lausanne, Switzerland.
In 2004, Neocutis established its US headquarters in San Francisco, CA.
Who is the Manufacturer of NeoCutis LUMIERE Bio-Restorative Eye Cream?
The company which is responsible for this restorative eye cream is known as Neocutis. This is a brand which does have quite a lot of reputation on the web and it seems like an established company.
It has featured its products on a range of different channels which always means that there is a lot of confidence in them.
At the same time, it is making quite a few different claims. Right off the bat, it promises that it is going to enhance the skin's ability to handle the appearance of dark spots.
It should also help you reduce the formation of wrinkles and of fine lines and it might be able to reduce the puffiness under your eyes. The eye cream is also quick to get absorbed.
Advertisement
*All individuals are unique. Your results can and will vary.
How does Neocutis Lumiere bio-Restorative Eye Cream Work?
Lumiere Bio-restorative Eye Cream's main active ingredient is something called PSP', which is based on the ability of fetal skin cells to heal themselves, and provides human growth factors to stimulate skin repair.
PSP stands for Processed Skin Cell Proteins and is derived from a cell bank developed from a biopsy of fetal skin cells from a 'one-time medical termination'.
It was originally developed to help heal skin damage in burn patients and it now has developed enough cells to provide a supply for skincare ingredients as well.
Neocutis claims that no other fetal skin biopsies will ever be required in the future and that every measure has been taken to ensure the safety and purity of the cultured cells.
PSP also helps to thicken and firm skin to reduce the appearance of dark circles. Lumiere Bio-restorative Eye Cream also contains caffeine to help increase the drainage of fluids from under the eye to reduce puffiness.
Components called Bisabolol and enoxolone (glycyrrhetinic acid) may calm the delicate skin around the eyes while Beech tree bud extract may increase the supply of oxygen to the skin.
Natural oils and vitamin C round out the ingredients, helping to hydrate and protect the skin. There are many eye-cream reviews available that can help you find the better ones from the many.
What are the Advantages of NeoCutis LUMIERE Bio-Restorative Eye Cream?
The product might be able to promote the reduction of dark spots
It may enhance your skin's ability to handle the appearance of fine lines and wrinkles
It is very quickly absorbed in your skin which makes its benefits come a lot faster
The product is formulated with entirely natural ingredients
What are the Disadvantages of NeoCutis LUMIERE Bio-Restorative Eye Cream?
Fetal skin cell extraction process may be controversial for some
No money back guarantee
Alternatives to NeoCutis LUMIERE Bio-Restorative Eye Cream:
NeoCutis LUMIERE Bio-Restorative Eye Cream Review – Final Verdict
This seems like a skincare solution which might be able to enhance the area under your eyes in a rather beneficial manner without exposing it to any side effects. The product is much similar to Skinception – Eyelasticity cream we have reviewed.It is also promoted as a solution against fine lines and wrinkles, which means that it does have a certain anti-aging effect.
The ingredients which are encountered in the formulation are all-natural, which is undoubtedly something quite beneficial.
Of course, you should get the opinion of a professional and make sure that you check out the remaining anti-aging eye creams. This way you can rest assured that you've made the best call.
Advertisement
*All individuals are unique. Your results can and will vary.
The most common eye area issues are puffiness, dark circles, wrinkles and crow's feet, and loss of hydration. There are countless eye creams available on the market today, making it seem nearly impossible to find the "right one" that meets our specific under eye needs. It is imperative to find a product that has been formulated to address a variety of complex eye area problems.
Below you'll find some of the most effective eye cream formulations on the market today, in our opinion.
Our Top Eye Cream Choices
Verdict on Claimed Benefits: Below is our summary of the available evidence for the claimed benefits of below mentioned anti-aging eye creams and eye serums based on the available research:
Product reviews are provided for informational purposes only and reflect solely the views and opinions expressed by the contributors and not those of Consumer Health Digest. We do not verify or endorse any claims made in these reviews. Please read the full product reviews disclaimer. *All individuals are unique. Your results can and will vary.
Ask a Question
Have a Question? Please Tell Us What We Are Missing Here!
PRODUCT NAME
Lumiere Bio-restorative
**This is a subjective assessment based on the strength of the available informations and our estimation of efficacy.
*Result may vary. The information contained in this website is provided for general informational purpose. No medical claims are implied in this content, and the information herein is not intended to be used for self diagnosis or self treatment of any condition.
*Disclosure of Material connection: Some of the links in the post above are "associate sales links." This means if you can click on the link and purchase an item, we will receive a commission. Regardless, we only recommend products or services which we use personally and/or believe will add value to our readers. We are disclosing this in accordance with the Federal Trade Commission's 16 CFR, Part 255: "Guides Concerning the Use of Endorsements and Testimonials."