There are many ways you can slow down the aging process and prevent signs of skin aging from appearing on your face. One of the best ways is by avoiding sun exposure or using sun protection like hats, sunglasses and sunscreen.
However, when you already have signs of skin aging on your face, it is time to invest in an anti-aging product. You need to tread carefully when you're in the market for this kind of skin care product for most products aren't really effective and many contain harmful ingredients.
What is L'Oreal Revitalift Triple Power Eye Treatment?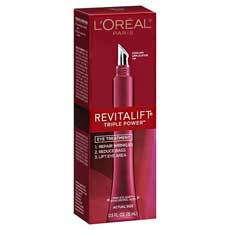 In this article, we will be closely examining an anti-aging product designed for the eye area which is the most problematic part when it comes to skin aging signs.
It is usually the first area where signs of skin aging initially appear due to the delicate nature of the skin in this area combined with the constant movement of the eyes which contributes to fine lines and wrinkling of the skin. The product is from L'Oreal which is a world-renowned skincare company known for offering high quality products.
Who is the Manufacturer of L'Oreal Revitalift Triple Power Eye Treatment?
The product to be reviewed is L'Oreal Revitalift Triple Power Eye Treatment which claims to be among the next generation of anti-aging skin care treatments.
It is a powerful, luxurious eye treatment designed to address the 3 dimensions of the skin in the delicate eye area: Fight wrinkles, reduce eye bags and give the eye area an overall lift.
The formula is powered by a revolutionary ingredient called Pro-Xylane which is a popular active ingredient in anti-aging products from different brands. This ingredient is clinically proven to stimulate the skin's natural production of collagen.
L'Oreal Revitalift Triple Power Eye Treatment Ingredients – Are they Safe & Effective?
The primary active ingredient of L'Oreal Revitalift Triple Power Eye Treatment is called Pro-Xylane which was developed by Lancome in 2006. It is a sugar-protein hybrid that stimulates the production of glycoaminoglycans which are molecules that defend the skin from water loss.
It also promotes the production of the skin's extra-cellular matrix called proteoglycans. These molecules absorb water to increase the firmness of the skin and also guide replenishing molecules like growth proteins in the cells. Pro-Xylane has also been shown to stimulate the production of collagen fibers which make the skin appear younger.
The formula also contains hyaluronic acid which is known as one of the most potent natural moisturizers. It deeply penetrates the skin to hydrate deep into the tissues which help prevent the development of skin aging signs. This ingredient helps smooth out fine lines on the skin.
Another key ingredient is caffeine which is a powerful anti-inflammatory that gets rid of excess water. It reduces eye puffiness and eye bags and has been clinically proven to do so as a decent Plexaderm alternative.
Why Is It Different?
The most notable feature of L'Oreal Revitalift Triple Power Eye Treatment is that it contains a clinically proven ingredient for reducing wrinkles and other signs of skin aging. It is powered by Pro-Xylane which stimulates collagen production to make the skin feel and appear younger.
It also contains caffeine, a powerful anti-inflammatory that quickly reduces eye bags and puffiness. The product also comes in specially designed packaging that includes a cooling tip applicator for targeted applications.
What are the Advantages of L'Oreal Revitalift Triple Power Eye Treatment?
The eye treatment is from world-renowned skin care company L'Oreal
It contains proven active ingredients
It works on wrinkles, eye puffiness, eye bags and fine lines
It claims to work quickly reducing wrinkle visibility in 3 weeks of use
There are many good reviews from people who have tried it
What are the Disadvantages of L'Oreal Revitalift Triple Power Eye Treatment?
It isn't very effective in lifting saggy eye bags according to customer feedback
L'Oreal Revitalift Triple Power Eye Treatment lacks anti-aging ingredients
Most reviews from people who have tried it say it doesn't offer considerable results and it doesn't reduce wrinkles in just 3 weeks of use
The formula may contain ingredients that can cause skin irritation to individuals with very sensitive skin
Directions for Use
For best results, use every morning and evening by massaging gently around the eye area until the formula is fully absorbed. Use after cleansing your face or taking a shower. Avoid getting the formula into your eyes to prevent irritation. If you have highly sensitive skin, consult your skin care professional before using this product and creams like Skinception – Eyelasticity.
L'Oreal Revitalift Triple Power Eye Treatment Review – Final Verdict
After carefully inspecting L'Oreal Revitalift Triple Power Eye Treatment including its active ingredients and what customer feedback and product reviews saying about it, it is a good anti-aging product for the eye area.
It contains proven ingredients that reduce inflammation, moisturize the skin and stimulate collagen production.
It is not very effective according to feedback from customers but for the low price, it is still worth trying. This is a recommendable product if you want to address fine lines, eye puffiness and/or moisturize your skin but for severe wrinkles and eye bags, it isn't very effective.
The most common eye area issues are puffiness, dark circles, wrinkles and crow's feet, and loss of hydration. There are countless eye creams available on the market today, making it seem nearly impossible to find the "right one" that meets our specific under eye needs. It is imperative to find a product that has been formulated to address a variety of complex eye area problems.
Below you'll find some of the most effective eye cream formulations on the market today, in our opinion.
Our Top Eye Cream Choices
Glé Skincare For Dark Circles

Potential to Lighten Dark Circles*
Potential to Reduce Bags/ Puffiness*
Reduce Fine Lines, Wrinkles, Crow's Feet*
Potential to Increase Hydration*
Potential to Calm and Soothe*
DermaSet 3D Rollerball Eye Serum
Potential to Lighten Dark Circles*
Potential to Reduce Bags/ Puffiness*
Reduce Fine Lines, Wrinkles, Crow's Feet*
Potential to Increase Hydration*
Potential to Calm and Soothe*
Potential to Lighten Dark Circles*
Potential to Reduce Bags/ Puffiness*
Reduce Fine Lines, Wrinkles, Crow's Feet*
Potential to Increase Hydration*
Potential to Calm and Soothe*