The need to take care of our eyes can never be overemphasized. Our organ of sight is not just important because it perhaps adds to our beauty, but also, it is important because so many things depend on our vision, the clarity or otherwise of it. A clear or defective vision can impact our safety in terms of movement, ingestion, to mention a few.
Likewise, an impaired eye can give as much discomfort as someone with whit low, body burns or some other painful illnesses. There can be so many defects and impairments of the eye, from the common myopia, hypermetropia, astigmatism to the less pronounced puffiness of the eyes, photophobia among others. Regardless of the popularity of each member of the lot, or the obliviousness of it, it cannot be denied that nothing beats a clear and healthy eye.
Of the aforementioned, puffiness of the eye is fast becoming a major challenge and the use of tea bags, ice cubes, metal spoons among other crude fixes to combat this anomaly has become the order of the day. However, if you want a medically formulated product that also works faster than most, then you may want to consider Gilded Cells Under Eye Serum.
What is Gilded Cells Under Eye Serum?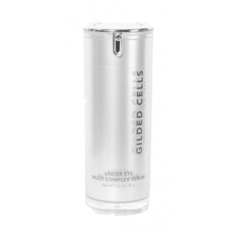 Gilded Cells Serum is an under eye multi-complex serum that claims to reduce wrinkles and puffiness under the eye.  According to the manufacturer, the formulation is supposedly suitable for people looking to reduce deep lines, puffiness and/or under eye discoloration.
It is an active complex consisting of specially purified soy and rice peptides and yeast protein produced synthetically. This formulation is geared for correction and is light-weight and fast drying.
Who is the Manufacturer of Gilded Cells Under Eye Serum?
The producer of this under eye serum is Gilded Cells, founded in December 2014 by San Francisco scientist, Dr. Sohila Zadran. It is a group of female scientists based in Silicon Valley who are bent on finding solutions to the challenge of aging and skin care. In 2015, they notably created a special line to cater for the need of aging people in Hong Kong and the United States of America.
They are also the producers of Gilded Cells Longevity, Gilded Cells Telo Night Cream and Gilded Cells TOR Day Cream
Gilded cells seem like a brand confident of their service and products, pitching all of their products online and showcasing the flexible payment plans available to e-shoppers.
How does Gilded Cells Under Eye Serum work?
Because the skin under eyes is very delicate, it requires a special blend of compound combination to target and correct damage in the face. 
The manufacturer says the formulation is meant for correction and it dramatically reduces dark circles and unsightly puffiness around the eyes without the use of cold or caffeinated products.
Ingredients Used in Gilded Cells Under Eye Serum – Are they Safe & Effective?
The product is believed to be a groundbreaking innovation from extensive years of research. Hence, the it is formulated with a complex blend of anti-aging biotechnology. Some of which are listed below:
Purified soy: Beyond cardiovascular benefits, soy may also work well in promoting eye health. Soy is believed to be rich in isoflavones. These isoflavones may aid in tear production, preventing dry eye syndrome.
Rice peptides: It is a rice based peptide that may help to reduce dark circles under the eyes by improving microcirculation and increasing fibroblasts proliferation.
Yeast protein: Is believed to contain at least nine essential amino acids that can help body growth and also enhance better eyesight.
Oxido Reductases: Enzymes that purportedly reduce or block generation of free-radicals.
What are the advantages of Gilded Cells Under Eye Serum?
Supposedly faster than most. Gilded Cells under eye serum is believed to work rapidly, with changes in skin texture, elasticity and firmness observed only within minutes, a comparative advantage over other contemporary fixes.
With a weight of just 0.5 fl oz (15g), this under eye serum is as light as any other alternative in the market and it is fast drying.
Multipurpose. The product might be able to help with not just reduction of fine lines, but also deep lines, crow's feet, puffiness, and under eye discoloration. 
The product might be able to increase the firmness and elasticity of the skin around the eyes.
The product could be able to provide protection for the eyes from the effects of the sun.
What are the disadvantages of Gilded Cells Under Eye Serum?
Some users have suggested that the product may offer nothing more than a placebo effect, that is no direct medical benefit.
The product is relatively expensive when compared to other substitutes.
Most of the promises about the product, made by the manufacturer has not been established scientifically apart from word-of-mouth reviews from users.
The absence of a return policy or free trial may make trying out the product risky.
FAQ's
How Should You use Gilded Cells Under Eye Serum?
Gilded Cells says that the serum should be used on a freshly washed face. Product should be warmed on hands or wrist before it is applied on the under eye.
After application, the manufacturer advises that the affected eye should be patted continuously and skin tightened.
For maximum performance, it is suggested that the formulation should also be allowed to completely air dry between applications.
This product has been described as being capable to reduce puffiness within 5-7 minutes. It is also believed to work well with oil based cosmetics and other oil based skin care formulations.
How Much Does Gilded Cells Under Eye Serum cost?
Gilded Cells Under Eye Serum sells for $55.95. The manufacturers of this product have made online payment possible through verified payment gateway systems.
Is there any money-back guarantee for Gilded Cells Under Eye Serum?
There is no known money-back guarantee this product. This may come across as risky for users given the price of the product.
Does Gilded Cells Under Eye Serum offer a Free Trial?
No, there are no free trial for this formulation. The manufacturers probably believe that all users of this product will find it suitable.
Gilded Cells Under Eye Serum Review – Final Verdict
Having examined the pros and the cons of Gilded Cells Under Eye Serum, it seems it is a product with more benefits than dealing with periorbital puffiness. The speed at which it is projected to work may make it a preferable option to conventional but crude fixes.
With the existing reputation of the manufacturers as a research group with extensive years of experience and discovery, trying out the product may not be bad after all.
However, the relatively high price of the product may make you want to check other alternatives if they can offer as much benefits and at a lower.
The most common eye area issues are puffiness, dark circles, wrinkles and crow's feet, and loss of hydration. There are countless eye creams available on the market today, making it seem nearly impossible to find the "right one" that meets our specific under eye needs. It is imperative to find a product that has been formulated to address a variety of complex eye area problems.
Below you'll find some of the most effective eye cream formulations on the market today, in our opinion.
Our Top Eye Cream Choices
Eyevage

Potential to Lighten Dark Circles*
Potential to Reduce Bags/ Puffiness*
Reduce Fine Lines, Wrinkles, Crow's Feet*
Potential to Increase Hydration*
Potential to Calm and Soothe*
Potential to Lighten Dark Circles*
Potential to Reduce Bags/ Puffiness*
Reduce Fine Lines, Wrinkles, Crow's Feet*
Potential to Increase Hydration*
Potential to Calm and Soothe*
Clarins Eye Revive Beauty Flash Cream
Potential to Lighten Dark Circles*
Potential to Reduce Bags/ Puffiness*
Reduce Fine Lines, Wrinkles, Crow's Feet*
Potential to Increase Hydration*
Potential to Calm and Soothe*
**This is a subjective assessment based on the strength of the available informations and our estimation of efficacy.
*Result may vary. The information contained in this website is provided for general informational purpose. No medical claims are implied in this content, and the information herein is not intended to be used for self diagnosis or self treatment of any condition.
*Disclosure of Material connection: Some of the links in the post above are "associate sales links." This means if you can click on the link and purchase an item, we will receive a commission. Regardless, we only recommend products or services which we use personally and/or believe will add value to our readers. We are disclosing this in accordance with the Federal Trade Commission's 16 CFR, Part 255: "Guides Concerning the Use of Endorsements and Testimonials."
Related Products
:
Dermagist
,
Eyelighten
,
Revitalume
,
Elite Serum Rx
,
Allure RX
,
Plexaderm
,
Rejuvaderm
,
View All