What is Derma Vibrance?
DermaVibrance is an eye serum that helps fight signs of aging such as crow's feet, wrinkles, and fine lines. It is sold online and a free trial is available for the serum.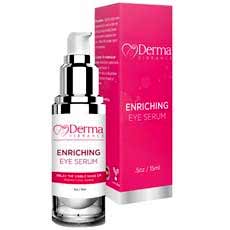 Clients can pay shipping and handling only but must let the manufacturer know if they wish to return it so that they don't have to pay the full cost. The bottle of the serum is 5oz and the full price is disclosed to customers that request the free trial.
How Does Derma Vibrance Work?
Wash face, rinse, and then pat dry. Apply the serum to eyes until fully absorbed. Use twice daily for best results.
Derma Vibrance Ingredients – Are they Safe & Effective?
Aloe Vera: This plant has been used for centuries to treat skin problems such as sunburns, acne, and even age spots. It boasts a high number of antioxidants and vitamins. Aloe vera also leaves skin more moisturized.
Peptides: these amino acids are instrumental in keeping skin firm and young by removing dead skin cells.
Antioxidants: These defend the skin against free radicals that cause further damage. Antioxidants could also have anti-inflammatory properties depending on where they were obtained.
Vitamins: The type of vitamins included are not list on the product, but vitamins have a key role in diminishing the signs of age spots and could help increase collagen and elastin levels. Many vitamins commonly used in skin care products protect the skin from the sun's rays, have anti-inflammatory properties, and increase the skin's natural healing response.
What are the Advantages of Derma Vibrance?
A free trial of the product is available.
At 5 fluid oz, there is enough serum to make the product last long.
The product specifically targets the eye area, which has more delicate skin than the rest of the face.
The ingredients are listed.
It is a safe alternative to invasive surgeries or botox.
What are the Disadvantages of Derma Vibrance?
Price information is not made public unless one gets the trial version first.
Although there is a list of ingredients, the specific vitamins, antioxidants, and peptides are not specified.
The concentrations of ingredients are also not disclosed.
Frequently Asked Questions (FAQs)
Is DermaVibrance safe for all skin types?
Yes, the serum is safe for use by all skin types.
Where can I buy DermaVibrance?
The product is currently only sold online through its official website.
Derma Vibrance Review – Final Verdict
DermaVibrance is an alternative to invasive surgeries that fight the signs of aging. The serum is available on a trial basis and many of the ingredients contained in the product are beneficial to the skin. Customers can try out the serum on a trial basis so they can see how their skin reacts and comare it to the Hydrolyze review.
However, little is known about the manufacturer and the product is only available online. Larger merchant websites or beauty sites do not carry the product, and this can make some customers hesitant to purchase the product.
Although the ingredients are disclosed, their specific concentrations are not. Perhaps a product that discloses more information about its parent company and ingredients would be more appealing to customers.
The most common eye area issues are puffiness, dark circles, wrinkles and crow's feet, and loss of hydration. There are countless eye creams available on the market today, making it seem nearly impossible to find the "right one" that meets our specific under eye needs. It is imperative to find a product that has been formulated to address a variety of complex eye area problems.
Below you'll find some of the most effective eye cream formulations on the market today, in our opinion.
Our Top Eye Cream Choices
Glé Skincare For Dark Circles

Potential to Lighten Dark Circles*
Potential to Reduce Bags/ Puffiness*
Reduce Fine Lines, Wrinkles, Crow's Feet*
Potential to Increase Hydration*
Potential to Calm and Soothe*
Potential to Lighten Dark Circles*
Potential to Reduce Bags/ Puffiness*
Reduce Fine Lines, Wrinkles, Crow's Feet*
Potential to Increase Hydration*
Potential to Calm and Soothe*
Potential to Lighten Dark Circles*
Potential to Reduce Bags/ Puffiness*
Reduce Fine Lines, Wrinkles, Crow's Feet*
Potential to Increase Hydration*
Potential to Calm and Soothe*