In This Review
What is Springtime?
Dogs are among the most common household pets throughout the entire world. While joint conditions such as osteoarthritis and rheumatoid arthritis are quite common amongst humans, similar conditions can also develop and affect the joints of dogs.
The Woof Works report that canine arthritis, which is a condition that causes inflammation and pain in dogs, can have an impact on a dog's quality of life, as well as have a negative effect on the length of life in dogs. They also report that an estimated 20% of dogs throughout the entire world are affected by canine arthritis.
Springtime Joint Health Formula for Dogs is a natural supplement manufactured by Springtime Inc. The company is situated in Maryland, USA, and produces a number of all-natural supplements for horses, dogs, and humans.
Their Joint Health Formula for Dogs is one of their most popular products and claim to provide support to dogs diagnosed with canine arthritis.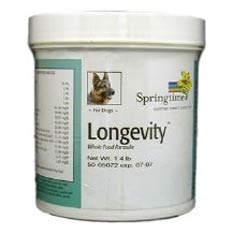 Working Process
Combining a list of natural ingredients, the Joint Health Formula for Dogs by Springtime enhances the overall lubrication in a dog's joints.
The product also promotes enhanced flexibility of joints in order to improve a dog's quality of life. Furthermore, the product claims to assist with preventing cartilage wear-and-tear, reduce joint stiffness and promote ligament health, as well as tendon health.
The product also contains powerful anti-inflammatory ingredients known to reduce inflammation, which is one of the causes of pain in patients diagnosed with arthritis and join-related diseases.
Springtime Ingredients – Are they Safe & Effective?
Springtime Joint Health Formula for Dogs contains a natural blend that supports healthy joints and assists with damage that has been done on joints in case a dog has already been diagnosed with canine arthritis.
Methyl Sulfonyl Methane – Each 1,800mg serving contains a total of 444mg Methyl Sulfonyl Methane, also commonly known as MSM. It is reported that this natural chemical can assist with chronic pain, joint inflammation, bursitis, tendonitis, musculoskeletal pain, muscle pain and pain related to multiple diseases in the arthritis family.
Carrot Powder – Each 1,800mg serving contains a total of 340mg Carrot Powder. It is reported that carrot powder purifies the blood, maintains a balanced level of acid-alkaline, has antiemetic properties and cleanses the intestines. It is also reported that carrot powder is high in Vitamin B and Vitamin C, both of which are essential nutrients for both humans and animals.
Glucosamine HCL – Each 1,800mg serving contains a total of 318mg Glucosamine HCL, also known a shellfish extract. It is reported that Glucosamine HCL is frequently combined with MSM to assist with symptoms related to osteoarthritis, rheumatoid arthritis, joint pain, back pain and temporomandibular disorder.
Chondroitin Sulfate – Each 1,800mg serving contains a total of 254mg Chondroitin Sulfate, also known as Cartilage Extract. WebMD reports that this ingredient is frequently used in order to treat osteoarthritis and other diseases that cause joint pain.
---
What are the Pros of Springtime?
May enhance the strength of both joins and bones in dogs
Promotes the overall healthy functionality of hips in growing dogs
May enhance the mobility of joints in dogs with canine arthritis
Enhances the immune system and promotes the overall wellbeing of dogs
What are the Cons of Springtime?
The company produces products for dogs, horses and humans, which means they do not specialize specifically in dogs
Few studies have been conducted find the effectiveness of the active ingredients on dogs specifically
Pricing could be expensive to some dog owners, especially when compared to similar products on the market
---
Side Effects
Due to the natural origin of the ingredients found in the formula, side effects have not been reported. Should a dog experience a reaction to the product, the use of the product should be discontinued. In cases of a severe reaction, the dog should be taken to a vet for further investigation.
FAQ's
What are the dosage instruction of using this product?
It is advised to start the dosage at just a sprinkle for the first few days, once in the morning and once in the evening. The dosage can be increased gradually after a few days.
The recommended dosage is 1,800mg of the formula per 40lb bodyweight of the dog. This is the total recommended daily dosage. For older dogs, up to 5,400mg is recommended per day.
Springtime Review – Final Verdict
While joint-affecting diseases are more common in humans, they do also occur in up to 20% of dogs. With dogs being the most common household pet, it is of vital importance to ensure the overall wellbeing of a dog at all times.
Providing the dog with a joint formula such as Springtime's Joint Health Formula for Dogs, a dog can enjoy a better quality of life and a longer lifespan.
Our Top Rated Dog Joint Supplements
Nutra Thrive

Improves Joint Movement and Functionality*
Support Arthritic Joints*
Prevents Further Bone and Joint Damage*
Supports Overall Health of the Pet*
Improves Joint Movement and Functionality*
Support Arthritic Joints*
Prevents Further Bone and Joint Damage*
Supports Overall Health of the Pet*
Improves Joint Movement and Functionality*
Support Arthritic Joints*
Prevents Further Bone and Joint Damage*
Supports Overall Health of the Pet*
Product reviews are provided for informational purposes only and reflect solely the views and opinions expressed by the contributors and not those of Consumer Health Digest. We do not verify or endorse any claims made in these reviews. Please read the full product reviews disclaimer. *All individuals are unique. Your results can and will vary.
Ask a Question
Have a Question? Please Tell Us What We Are Missing Here!
PRODUCT NAME
Springtime
PRODUCT BRAND
Springtime Inc.
PRICE (in USD)
$24.50
**This is a subjective assessment based on the strength of the available informations and our estimation of efficacy.
*Result may vary. If you are pregnant, nursing, have a serious medical condition, or have a history of heart conditions we suggest consulting with a physician before using any supplement. The information contained in this website is provided for general informational purposes only. It is not intended to diagnose, treat, cure, or prevent any disease and should not be relied upon as a medical advice. Always consult your doctor before using any supplements.
Disclosure of Material connection: Some of the links in the post above are "associate sales links." This means if you can click on the link and purchase an item, we will receive a commission. Regardless, we only recommend products or services which we use personally and/or believe will add value to our readers. We are disclosing this in accordance with the Federal Trade Commission's 16 CFR, Part 255: "Guides Concerning the Use of Endorsements and Testimonials."