In This Review
What is Min-Tran?
Min-Tran can be considered an effective solution for controlling emotional stress while promoting positive emotions and is also good for sleep. Having a complex combination of naturally sourced ingredients from botanical extract to sea plants, Min-Tran is generally safe and effective in managing emotional stress.
How Does It Rate?
Overall Rating: 3.8
Min-Tran
Brand Highlights
Mild calming agent that promotes emotional equilibrium.
Reduces the impact of short-term stress.
Helps neurotransmitters that control mood in their activity.
Standard Operating Procedure: High-quality goods that perform as intended by nature.
Key Ingredients
Calcium
Magnesium
Iodine
Kelp
Alfalfa
Pros
Min-Tran by Standard Process combines ingredients that are effective in keeping a healthy nervous system
Helps regulate neurotransmitters
Naturally relieves anxiety and stress
Has a calmative effect
Vegetarian formula
Cons
There is no clinical evidence of the effectiveness of this product
Can cause serious side-effects on certain individuals
Quite expensive
---
Who Is the Manufacturer of Min-Tran?
Standard Process is the manufacturing company behind Min-Tran pills and it has been around providing health supplements since 1929. They are passionate about delivering health supplements that represent holistic nutrition.
The company's founder Dr. Royal Lee is passionate about the whole food philosophy and up to this day Standard Process sticks to its primary objective. Min-Tran pills by Standard Process claim to effectively provide a natural remedy to improve emotional stress through its variety of complex ingredients.
This supplement offers a calmative effect that can maintain emotional balance and can effectively support a healthy nervous system.
How Does Min-Tran Work?
Min-Tran by Standard Process boasts a good combination of minerals, plant extracts, and sea algae that will work in synergy to provide a soothing effect on the nervous system thus controlling emotional stress.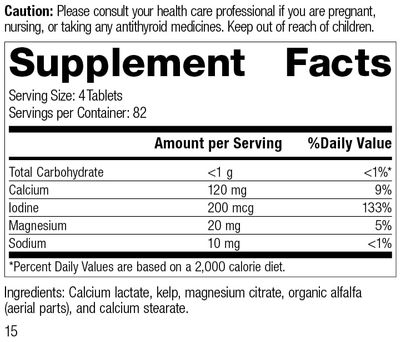 Min-Tran Ingredients – Are They Safe and Effective?
Calcium
– According to a study it helps in the proper signaling of neurons and is very important for the transmission of nerve impulses[1]. This essential mineral is also helpful in the functions of blood vessels, hormone production, and muscle contraction.
Magnesium
– Magnesium is crucial for the neurological processes of nerve conduction and muscle conduction. Some research believes It has been linked to a number of neurological illnesses and has a protective role against excessive excitement that can cause neuronal cell death (excitotoxicity).[2].
Iodine
– Studies Claims Iodine is crucial for the thyroid. Having an iodine deficiency can mess up thyroid function and weaken the central nervous system[3].
Kelp
– It is a sea algae that can help preserve healthy brain membranes and nerve cells. Many Studies suggest it also increases the rate of serotonin which is good for sleep[4].
Alfalfa
– It is abundant in chlorophyll and can protect and heal damaged nerves while regulating heart rhythm and soothing the nervous system.
Read Also – Tranquilene and Nerve Tonic
Min-Tran – FAQs
Q: When To Take Min-Tran?
A: As per the official website, 4 pills of Min-Tran should be consumed every meal.
Q: What Are Similar Products To Min-Tran?
A: Gabatrol and Zanaprin are some products available in the market with similar benefits.
Q: How Much Does It Cost To Buy Min-Tran?
A: The cost of Min-Tran pills depends on the quantity of the bottle. Prices are given below –
330 tablets – $26.95
800 tablets – $54.45
With these prices, Min-Tran, as reported by consumers, is relatively more expensive than other top antidepressant.
Q: What Are the Possible Side Effects Of Min-Tran?
A: According to the manufacturer, Min-Tran will not cause any side effects but some consumers reported the opposite.
The feedback of some users suggested that they experienced dizziness, headaches, drowsiness, and even vertigo.
Q: Is Min-Tran Safe To Consume?
A: Min Tran is safe as it contains natural ingredients and after reading multiple reviews and studies, we found that there were more positive customer reviews than negative ones.
What Do the Reviews Say?
Min – Tran Didnt Worked Great On Me
So, Min – Tran is okay most of the time when keeping me calm. But other times, I am not certain if it's truly helping. I may need to try something a bit stronger or more potent, to help with anxiety/depression. Definitely prefer Min – Tran over anything a doctor tries to prescribe. A little on the pricey side, but it's okay. Not sure about using this long-term, but that's okay. I'm sure this works more noticeably for others. Everyone's experience is different and that has to be expected. ~ Karen Klein
Min-Tran Reviews – The Final Verdict
Standard Process Min-Tran has been available for over four decades now and the utilization of natural ingredients presents consumers with an effective alternative to medications for balancing emotional stress and mild anxiety. However, with very limited detail on their formulation as well as a lack of scientific proof that this product works, Min-Tran should be carefully considered before taking this supplement. There are also other supplements on the market, which provide the same benefits as this product. Therefore, compare this with top-rated antidepressants and make a final decision on which product to settle on.
Depression and anxiety are common disorders that can make daily tasks extremely challenging. Some estimates allege that approximately one in ten Americans suffer from some level of depression and/or anxiety. Symptoms of anxiety and depression include ongoing feelings of sadness accompanied by unease, irritability, tension, and nervousness. While some people require medication to deal with these occasionally crippling symptoms, others may find an all-natural product helpful. An all natural relaxation supplement should promote healthy neurological function. All ingredients should be clinically proven to reduce feelings of anxiousness, sadness, unease, irritability, tension, and nervousness.
Below you'll find some of the most effective natural nervousness relief supplements on the market today, in our opinion.
Our Top Depression Choices
Verdict on Claimed Benefits: Below is our summary of the available evidence for the claimed benefits of below mentioned depression supplements based on the available research:
VitaPost Stress Support | Ashwagandha & Chamomile

Supports Daily Stress*
Gold Star Evidence
Keeps Mind Positive*
Gold Star Evidence
Prevents Chronic Stress*
Gold Star Evidence
Provides Relaxation*
Strong Evidence
Restilen | Stress Relief and Relaxation
Maintains a Positive Mood*
Gold Star Evidence
Reduces Stress Symptoms*
Strong Evidence
Combats Fatigue*
Gold Star Evidence
Boosts Energy Levels*
Strong Evidence
NuviaLab Relax | Stress Relief Mood Support
Promotes Relaxation*
Gold Star Evidence
Supports Calmness*
Strong Evidence
Improves Quality of Sleep*
Strong Evidence
Enhances Cognitive Function*
Strong Evidence