Everybody wishes to lead a relatively normal life. Of course, those difficult times are unavoidable, but we are strong, resilient and thrive on challenges.
There are others, however, who seem to have difficulty getting out of the rut. They end up believing that they're just not strong enough, but the truth is, they simply need help.
If you find yourself depressed, or what others like to say down in the dumps, then you definitely need Lexapro. This is a widely known prescriptive depression supplement. Those who suffer from this problem can take comfort in the fact that there's now a pill for their dilemma.
Facts You Need to Know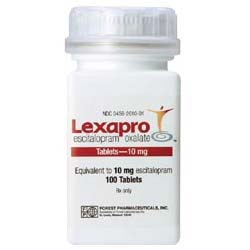 Millions of people suffer from severe anxiety or depression. Scientists have found that people in this state lack certain chemicals in the brain.
You May Also Want To Read – Elavil
Those who don't know about this sometimes assume that you need to find the strength to get out of this quandary, but when your body doesn't produce certain chemicals or hormones, then you're physically unable to do something about the situation.
Hence, Lexapro helps you cope with this type of chemical imbalance.
The medicine is a prescription drug known as selective serotonin. This has been administered to millions of patients, which means that this is actually considered to be the fastest-selling medicine of its kind.
It's extremely potent so you only need to take one 10 mg tablet per day. And when you follow the doctor's orders carefully, you'll find that your predicament improves within weeks.
The Side Effects
Selective serotonins need to be weaned out of the system once your doctor sees that you've recovered, but what worries most people is that most brands come with side effects such as nausea, constipation, loss of libido, and restlessness.
Lexapro, on the other hand, has been designed to be gentler on your body. Still, some people have reported slight symptoms of the above-mentioned side effects.
See Also – Goop Why Am I So Effing Tired
Final Verdict
Knowing that Lexapro may come with some side effects, do you still need to consider this brand? The answer is still a yes as long as you're closely monitored by your doctor.
More importantly, people react to drugs differently. What works for one may not work for another. Nonetheless, it's good to know that you can now get help from modern medicine. You don't have to face this sad predicament on your own.
You can now lead a full and happy life so long as you actively seek out help and find ways to cope with the cards you were dealt with.
However, we suggest our readers explore top rated antidepressants on the market before making the final definitive call.
Depression and anxiety are common disorders that can make daily tasks extremely challenging. Some estimates allege that approximately one in ten Americans suffer from some level of depression and/or anxiety. Symptoms of anxiety and depression include ongoing feelings of sadness accompanied by unease, irritability, tension, and nervousness. While some people require medication to deal with these occasionally crippling symptoms, others may find an all-natural product helpful. An all natural relaxation supplement should promote healthy neurological function. All ingredients should be clinically proven to reduce feelings of anxiousness, sadness, unease, irritability, tension, and nervousness.
Below you'll find some of the most effective natural nervousness relief supplements on the market today, in our opinion.
Our Top Depression Choices
Stress Support -
5% OFF Today

Supports a Healthy Stress Response*
Reduce Sadness and Stress*
Restore Healthy Serotonin Levels*
Improve Physical And Mental Well-Being*
Supports a Healthy Stress Response*
Reduce Sadness and Stress*
Restore Healthy Serotonin Levels*
Improve Physical And Mental Well-Being*