Brintellix Review – How Safe and Effective is This Antidepressant?
What is Brintellix?
Last September 30, 2013, the US Food and Drug Administration approved Brintellix (generic vortioxetine) to be used for the treatment of major depression, a condition that is characterized by symptoms such as insomnia, low mood, difficulty of concentration, loss of interest, fatigue and changes in appetite. Brintellix is a new class of antidepressant drug that is manufactured by Takeda Pharmaceuticals and H. Lundbeck.
Key Ingredient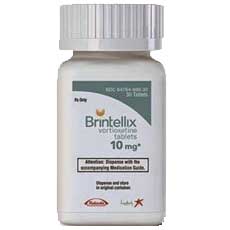 The active ingredient in Brintellix is the antidepressant vortioxetine hydrobromide. It appears as a white to slightly beige powder substance that is soluble (slightly) in water. The inactive ingredients in Brintellix are: microcrystalline cellulose, hydroxypropyl cellulose, magnesium stearate, mannitol, sodium starch glycolate and film coating which consists of titanium dioxide, polyethylene glycol, iron oxide red, iron oxide yellow and hypromellose.
Advantages
Research and clinical studies involving this drug show that it is effective in alleviating MDD (Major Depressive Disorder) even for patients who failed to respond to first line drugs
As according to a clinical trial called REVIVE, Brintellix is more effective than agomelatine (another type of antidepressant) and is much better tolerated
Disadvantages
Has side effects
This drug is not yet available in generic form
Further research about this drug is necessary since it is still new. Brintellix has not proven itself yet to be better than existing antidepressant therapies
As like other antidepressants, Brintellix may also

increase the risk for suicidal thoughts
Who Should Take Brintellix?
Brintellix is only indicated for patients diagnosed as having MDD or Major Depressive Disorder. Thus, it is not recommended for patients suffering from other types of psychiatric disorders.
Will Brintellix Show Results?
Although the drug has already been approved by FDA, there is still no 100% guarantee that this drug will perform well in a real clinical setting and in the market as well. As of the moment, results regarding this drug are only from the clinical researches conducted by its manufacturers. Thus far, results show that Brintellix will be a promising antidepressant. According to Lundbeck, during its clinical studies, Brintellix has shown better efficacy versus the placebo used.
Is Brintellix Right for You?
Since Brintellix is a new drug and not much has been exposed to the public and the entire medical community regarding its effectiveness and action, determining whether Brintellix is right for you can be difficult. You wouldn't want to guess which drug will work for you, would you? As of this time, Brintellix might not be a very good first choice for an antidepressant. Even psychiatrists and health care professionals as of the moment are thinking twice before prescribing this drug to their patients, not just because it is expensive but because more clinical findings that support it efficacy must be released.
Side Effects of Brintellix
The most common side effects that were reported with the use of this drug are:
Headache
Dizziness
Vomiting
Nausea
Caution
Risk for Suicide: Taking Brintellix, as like other antidepressants, may increase the risk for suicidal thoughts and attempts and it may also worsen the clinical symptoms of major depression. Family, friends and caregivers of patients suffering from MDD and who are taking this drug are advised to monitor the patient attentively and to apply suicidal precautions.
Risk for Serotonin Syndrome: The use of Brintellix, as with other antidepressants like SNRIs and SSRIs can cause a potentially life threatening condition called as serotonin syndrome which is characterized by mental status changes, neuromuscular symptoms and/or gastrointestinal symptoms. If such symptoms occur, discontinue the drug at once and consult a health professional.
Brintellix must not be taken together with MAOIs (another class of antidepressant).
Individuals with known hypersensitivity to one of Brintellix's components should not take the drug.
Final Verdict
Brintellix is a very promising drug in treating major depression. It is different from the other types of drugs used to treat depression and it works using two mechanisms of action which are: a) receptor activity modulation and b) reuptake inhibition. Thus, this drug is a much more improved version of the first line agents used to treat the psychiatric disorder. However, it doesn't necessarily follow that because this drug is new, it is already effective. This product still has a lot to prove to the public in the following years. As of the moment, until further confirmation from public reviews about the effectiveness of this product has been published, it is wise to stick to what professionals already trust.
On the other hand, for more information regarding products or medications used to treat depression, below is a helpful list of product reviews: