In This Review
What is Restore 3?
Restore 3 is a dietary supplement, which claims to supply your body with a probiotic enzyme and improve your digestive health. This formula is rich in minerals, enzymes, and other essential ingredients which help to relieve your body from pain and muscle complications.
Continuous intake of this best colon cleanse pills will relieve various conditions like candida, SIBO, IBS, Lyme, CFS, and fibromyalgia.
It also helps to relieve physical injury pain and improves the body's overall health. This formula is very effective and it works to serve you with immediate results.
How Does It Rate?
Overall Rating: 3.9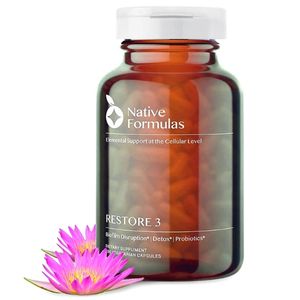 Restore 3
Brand Highlights
This supplement is manufactured by a facility called Native Formulas.
It has provided an email and contact address on its website, for you to contact the customer care team in case of concern.
This formula claims to contain ingredients that help to improve your digestive health.
Key Ingredients
Bacillus Subtilis
Bacillus Coagulans
Lipase
Glucoamylase & Amylase
Cellulase & Hemicellulase
Magnesium Malate
Proteolytic Enzymes – Protease S & Serrapeptase
Pros
It supplies your body with essential nutrients and probiotics
It improves your body immunity
It reliefs you from body pain
It is made of high potency ingredients
It improves the digestive health
It improves your body energy levels
Cons
It is only bought online.
It does not provide the exact amount of ingredients used.
The return policy can be a bit complex or intricate.
---
How Does It Work?
Restore 3 provides probiotics and other essential ingredients in your body, which work to improve your digestive health. It also helps to relieve you from pain and provides your body with extra support. Consistent use of this formulation will relieve your body from the following conditions candida, SIBO, IBS, Lyme, CFS, and fibromyalgia. It also improves your body's energy levels and improves overall health.
Restore 3 Ingredients – Are they Safe & Effective?
The ingredients used have a high potency:
Bacillus Subtilis

– The Japanese culture, which is already present in your GI tract, frequently uses this strain. It doesn't need to be refrigerated to be active, and it produces a lot of enzymes that can aid with digestion[1].

Bacillus Coagulans

– Before it was used in this treatment, Bacillus Coagulans was the subject of much investigation. One of the few strains that can endure exposure to all the many toxins your body produces is this one[2].

Lipase

– Your body contains an enzyme called lipase that aids in better digestion by breaking down fats so that your intestines can use them more efficiently[3].

Glucoamylase & Amylase

– With Restore 3, these two chemicals play two different functions in your body. The glucose molecules are first expelled from your body. It then uses the beneficial chemicals as fuel, which helps to lessen gas, heartburn, and bloating[4].

Cellulase & Hemicellulase

– For polysaccharides to be broken down, both substances are necessary. The breakdown of polysaccharides, which are the carbohydrates that attach to proteins in the biofilm structure, is crucial for altering the digestion process[5].

Magnesium Malate

– Most fibromyalgia patients don't get enough oxygen to their muscles, which can damage and strain them, producing discomfort. Magnesium aids in easing this discomfort[6].

Proteolytic Enzymes – Protease S & Serrapeptase

– Of all the compounds used, these "super enzymes" certainly have the most effect. It aids in dissolving the biofilm inside of your body.
You May Also Want To Read – Digestive Freedom Plus

Restore 3 FAQs
Q: How much does it cost?
A: It is currently sold at a price of $67.00 If you will not be happy with how the product works, you can return it within 60 days for a reimbursement of your money.
Q: Do you take it daily and for how long or is it best to stay on it once starting?
A: The rule of thumb is you want to start slow, then build up your dosage until you begin to feel the die-off reaction, then continue maintaining that dosage. You may want to start with 2 capsules, and eventually work your way up to 8 capsules, spaced evenly throughout the day.
Q: What Are The Possible Side Effects Of Restore 3?
A: This formula works without causing you any harmful effects.
Restore 3 Alternatives
What Do the Restore 3 Reviews Say?
Effective Spore Probiotic
Native Formulas Restore 3 Proteolytic Enzyme & Spore Probiotic Blend is an easy-to-take and easy-to-digest support for proper digestion. I have seen less swelling and a gradual improvement since beginning to take it about 6 days ago. ~ Kris Erickson
Not worthy
I gave this product a shot with one full bottle, but it left me unimpressed. Considering the price point, I had hoped for some noticeable positive effects. Unfortunately, it doesn't justify the expense. ~ James K.
Restore 3 Reviews – Final Verdict
Restore 3 is a powerful dietary supplement, which delivers essential nutrients, enzymes, and probiotics to your body. It is made using high-potency ingredients, which are safe and highly effective. Using this formula will improve your body's health and make you feel strong.
It improves digestive health, relieves you from pains, boosts body immunity, and raises energy levels. It is very essential for people suffering from fibromyalgia, as it relieves pain and makes you feel refreshed.
It also eliminates other health issues like gas, bloating, and heartburn. This formula is designed for daily use for you to obtain optimum results. It delivers essential bacteria strains in your intestines, leading to improved digestive health.
This feeding program will improve your body health in a natural way, and supports healthy muscles. However, we suggest our readers explore other detox support supplement on the market before making the final definitive call.
All of the cells and tissues in your body and your major organ of detoxification, the liver rely upon your colon. The colon processes waste and bacteria preparing it for elimination from the body. Colon cleanse products should be determined based on its: potential to clean the colon of harmful waste & toxins, potential to promote better digestion & increase elimination, potential to promote improved immune system function, potential to provide increased energy levels. The quality of the ingredients should be backed by clinical research.
Below you'll find some of the most effective colon cleanse supplements on the market today, in our opinion.
Our Top Gut Health Supplements
Verdict on Claimed Benefits: Below is our summary of the available evidence for the claimed benefits of below mentioned probiotic supplements and natural colon cleanse supplements based on the available research: