In This Review
What is First Cleanse?
First Cleanse is a product by ReNew Life. This product is one among the many cleansing products the United States-based company produces. It is sold and marketed as a colon cleansing product only ReNew Life claim is for people with sensitive digestive systems or for people who have never performed a full body cleanse.
You can take it in laymen's as a starter pack for body cleansing. According to the producer (ReNew Life), First Cleanse is a two-part herbal cleansing product sensitive cleanse. It is meant to detoxify the body's 7 channels of waste elimination; the colon, the kidneys, the liver, the lungs, the blood, the lymphatic system, and the skin.
Renew Life claims that although the product is strong enough to do all cleaning duties, it is soft on the body, and thus users should take it without the fear of over-reactions that normally follows such advanced cleansing. Some of these reactions may include; headache, flu-like symptoms, and nausea. This is normally the case when you use products that detoxify the body too quickly.
How Does It Rate?
Overall Rating: 3.8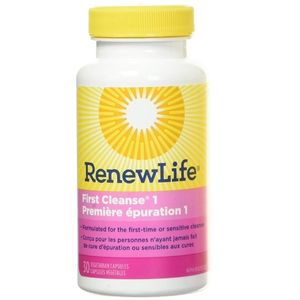 Renew Life First Cleanse
Brand Highlights
ReNew Life sells a product called First Cleanse. This product is one of the several cleaning products that the American firm manufactures.
Only ReNew Life claims that it is for persons with sensitive digestive systems or for those who have never done a full body cleanse. It is offered and advertised as a colon-cleaning solution.
Renew Life asserts that even while the product is powerful enough to do all cleaning tasks, it is gentle on the body and may thus be used without worrying about adverse effects.
Key Ingredients
Flaxseed
Rhubarb Root
Buckthorn Bark
Slippery Elm
Pros
Cleansing the entire system of the body

Fast turnaround

(15 days)
Uses natural ingredients
Cons
May cause side effects if used for prolonged periods
The

clinical trials are not published

for the general public
---
How Does It Work?
Before we even evaluate whether it is effective or not, we should understand that this product is sold as a digestive cleansing supplement for first-timers. This means that First Cleanse doesn't and is not intended to be a cure or a remedy for ailments and diseases related to the digestive tract.
Having understood that, we can there describe the first cleanse as a product that aids our body in flushing out toxins. This necessarily doesn't mean that it flushes out toxins since the default body mechanism to flush out toxins must be present and functional. Just to put things into perspective, this is not a form of dialysis.
Since we have fully understood what it is designed to do, we can now examine the ingredients (listed below). First Cleanse contains a blend of herbs that have been in use separately to perform various cleansing operations in the body. The ingredients are divided according to the organ they clean. Most of the ingredients have been part of numerous studies and have been in use with different types of modern medications.
The product is surely a darling of many of the reviews available on the internet are going with it. After verifying the purchase order of several customers, we interviewed them to find how effective First Cleanse is and boy, it ranks quite well. On average, the product has a review of 4.5/5 in online retail shops.
First Cleanse Ingredients – Are they Safe & Effective?
There are a lot of ingredients in the first cleanse for the overall body cleanse but we mentioned the ingredients used for the colon/bowel cleanse.
Flaxseed

– Flax's high insoluble fiber content encourages regular bowel motions. The all-natural fiber in flaxseed aids in water absorption, softening the stool and facilitating rapid passage through the colon[1].

Rhubarb Root

– Constipation can also be treated with this vegetable. Rhubarb has a laxative impact, but research in the Journal of Ethnopharmacology discovered that due to its tannin concentration, rhubarb also has antidiarrheal benefits[2].

Buckthorn Bark

– As a powerful stool softener, buckthorn bark can help persons with hemorrhoids, and anal fissures, or who are recuperating from recto-anal surgery have more pleasant bowel movements[3].

Slippery Elm

– It coats and calms the stomach, intestines, throat, and mouth. Antioxidants included in it also aid in the treatment of inflammatory bowel diseases[4].
Alternatives to Renew Life First Cleanse
FAQs
Q: What Is The Recommended Dosage Of First Cleanse?
A: The recommended dosage is four tablets a day unless your caregiver prescribes otherwise.
Q: What Are The Directions To Use First Cleanse?
A: Take two capsules of the first cleanse in the morning with at least 250 ml of water and two other capsules in the evening with the same amount of water. For best results, it is recommended that you take the product on an empty stomach. Remember water is also part of the cleansing system so take lots of it.
Q: What Are The Precautions For First Cleanse?
A:
First cleanse contains rhubarb and buckthorn and you should consult first if you are allergic
Do not use if you are pregnant or breastfeeding
This product is not suitable for prolonged use
Consult your caregiver if you have any medical conditions
Do not exceed the prescribed dosage
Read Next – Lepicol
What Do the Reviews Say?
Lower your expectations
I have now been taking First Cleanse for over a week. I truly thought I was some sort of difference. I don't have even an extra vowel movement, I don't feel like I am being cleaned at all. I didn't have high expectations but had hoped to at least see a bit of difference or feel a bit of difference. Thankful I spent that small amount of money because they were not worth it. My first cleanse was Not a great impression. ~ Jenn Reedy
Final Verdict
This product is formulated from a wide array of natural ingredients. The manufacturer on the hand is well renowned and reputable, especially in the field of cleansing supplements. By stereotyping, this product should be the best in the industry for the manufacturer is among the best supplement producer.
Scientifically, this product contains ingredients that have been subject to different clinical trials and research. The product is advantageous in that it has ingredients that go slow on your digestive system yet get the work done.
Since the product is fairly priced, it will be and should be the right option for customers who are looking to revitalize their digestive system. In conclusion, this product is highly recommended.
All of the cells and tissues in your body and your major organ of detoxification, the liver rely upon your colon. The colon processes waste and bacteria preparing it for elimination from the body. Colon cleanse products should be determined based on its: potential to clean the colon of harmful waste & toxins, potential to promote better digestion & increase elimination, potential to promote improved immune system function, potential to provide increased energy levels. The quality of the ingredients should be backed by clinical research.
Below you'll find some of the most effective colon cleanse supplements on the market today, in our opinion.
Our Top Gut Health Supplements
Verdict on Claimed Benefits: Below is our summary of the available evidence for the claimed benefits of below mentioned probiotic supplements and natural colon cleanse supplements based on the available research: