In This Review
Overview – Mag O7 Oxygen Cleanse
Mag O7 Oxygen Cleanse is a colon cleanse product from a company called Aerobic Life Industries. It offers an ideal alternative to colon cleansing products but claims to be more effective. The added benefit of the product is that it also helps detoxify other organs and not just the colon.
The product's website claims that it is highly effective yet non-habit forming. It utilizes advanced oxygen technology with combined ozonated and stabilized magnesium oxide compounds. It is specially formulated to be time-released in order to work over 12 hours for efficient and complete detoxification. The extra oxygen is said to break down solidified fecal matter in the colon into liquid and gas matter that is easily expelled from the body. Since the oxygen moves throughout the body, other organs are also detoxified.
Let's take a close look at one brand of oxygen-based colon cleanser and determine if it is a good product worth purchasing.
How Does It Rate?
Overall Rating: 3.9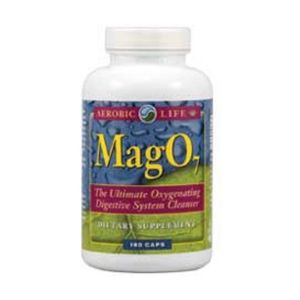 Mag O7 Oxygen Cleanse
Brand Highlights
There is little information regarding the manufacturer and its operations.
Also, there is no official website where consumers might get in touch with the manufacturer.
Your purchase may only be executed via independent online stores.
Key Ingredients
Ozonated magnesium oxides
Pros
Compared to other methods of colon cleansing, Mag O7 Oxygen Cleanse Is more efficient. It utilizes an oxygenation process that reaches all areas of the colon with the added benefit of cleansing other digestive organs.
It doesn't remove good bacteria from the colon, unlike other colon cleanse products. This helps improve colon function and enhance overall digestive health.
It is an easy colon cleansing method that doesn't involve any discomfort unlike other colon cleansers that can be uncomfortable and embarrassing.
It is gentle and doesn't cause side effects from common colon cleansing products like fatigue, weakness, and nausea.
Cons
Mag O7 Oxygen Cleanse has not undergone clinical testing for effectiveness or safety.
There is a possibility that the ozonated magnesium oxides in the product are not good enough (high quality) for optimal effects in cleansing the colon.
There are many negative feedback and reviews from people who have tried this colon cleansing product.
There is no official website for the product.
It is not from a renowned supplement company.
There is no scientific evidence provided regarding the active ingredients of the colon cleanser.
There is no money back guarantee.
No free trial is available.
---
How Does Mag O7 Oxygen Cleanse Work?
The active ingredient of this colon cleanse detox begins to release nascent or mono-atomic oxygen when it is in an acidic environment such as the stomach. The release of oxygen occurs throughout the digestive system.
Advertisement
*All individuals are unique. Your results can and will vary.
The magnesium acts as a vehicle for transporting oxygen throughout the body. In the colon, the digestive waste along with toxins and other harmful matter in the walls of the colon dissolves and gets excreted from the body. The process also makes stools softer and easier to pass which can help treat and prevent constipation.
Mag O7 Oxygen Cleanse Ingredients – Are they Safe & Effective?
The only active ingredient of Mag O7 Oxygen Cleanse is ozonated magnesium oxides[1]. The by-products of the colon cleanser are the magnesium in an oxide form and nascent oxygen.
The active ingredient works by increasing oxygen in various parts of the body especially the colon. Studies have found that this helps get rid of toxins and other digestive waste that are stuck in the colon.
It is also stated to pass through the kidneys and bladder thus cleansing these organs together with the intestinal tract. There are several studies indicating that the active ingredient is really effective in cleansing the colon and other organs. However, there are also studies indicating otherwise.
Products Similar to Mag O7 Oxygen Cleanse
FAQ's
Q: How Should You Take Mag O7 Oxygen Cleanse?
A: As a dietary supplement, up to 5 capsules can be taken before going to bed. It should be taken with a glass of water on an empty stomach for a maximum of 10 days then the dosage should be decreased for maintenance.
The daily dosage may vary depending on the individual and the intended purpose. Results may vary from one user to another.
Q: How Much is Mag O7 Oxygen Cleanse?
A: Mag O7 Oxygen Cleanse costs $25.99 and it also offers free shipping on orders over $49.
Mag O7 Oxygen Cleanse Review – Final Verdict
Mag O7 Oxygen Cleanse offers a new way to cleanse the colon. However, it is not for everyone according to customer feedback since some people experience side effects of oxygen-based colon cleansers.
It is still worth trying because it is more efficient compared to the usual colon cleansers pills on the market. The product is also affordable at $27.29 for a bottle that contains 180 capsules.
'Mag O7 Oxygen Cleanse' can be purchased through their Official Website.
Advertisement
*All individuals are unique. Your results can and will vary.
All of the cells and tissues in your body and your major organ of detoxification, the liver rely upon your colon. The colon processes waste and bacteria preparing it for elimination from the body. Colon cleanse products should be determined based on its: potential to clean the colon of harmful waste & toxins, potential to promote better digestion & increase elimination, potential to promote improved immune system function, potential to provide increased energy levels. The quality of the ingredients should be backed by clinical research.
Below you'll find some of the most effective colon cleanse supplements on the market today, in our opinion.
Our Top Gut Health Supplements
Verdict on Claimed Benefits: Below is our summary of the available evidence for the claimed benefits of below mentioned probiotic supplements and natural colon cleanse supplements based on the available research: