In This Review
What is Dr. Formulas Nexabiotic?
Dr. Formulas Nexabiotic is marketed as a natural probiotic which is meant to ensure you have adequate good bacteria in your digestive system.
The product should promote regularity and settle your digestive system. It includes over 20 strains of probiotics.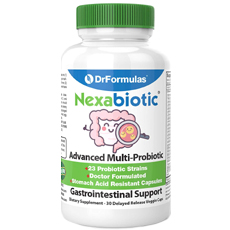 In addition to good digestion, this supplement should promote overall good health.
Who is the manufacturer of Dr. Formulas Nexabiotic?
This product is manufactured by an organization called Dr. Formulas. This company is in the health and nutrition industry.
They produce supplements to treat a number of health conditions including diabetes, arthritis, brain and mental health, and heart problems.
How does Dr. Formulas Nexabiotic work?
This probiotic encourages the growth of good bacteria in your gut through the suppression of bad bacteria.
With the bad bacteria out of the way, the good ones have more space to grow along the intestinal lining.
Research in ISRN Nutrition found that probiotics are effective.
Probiotics are considered to be fairly effective at balancing your gut flora and soothing digestive symptoms. According to Harvard Health Publishing, there's still a significant amount of research that needs to be done.
Dr. Formulas Nexabiotic Ingredients – Are they safe and effective?
This product is packed with over 20 different strains of probiotics.
Advertisement
*All individuals are unique. Your results can and will vary.
These are a few of these active strains:
Lactobacillus acidophilus – This strain allows for better absorption of dairy products in the body. Research in Oxford Academic also indicates that it can calm your digestion.
Lactobacillus rhamnosus – Research in Microbial Cell Factories is exploring the benefits of this particular strain. It does soothe the digestive system and effectively treats diarrhea. It's also an effective treatment for urinary tract problems.
Laactobacillus salivarius – According to Medscape, this probiotic strain can improve your immunity, to defend against bacteria which can be harmful to your system.
---
What are the Pros of Dr. Formulas Nexabiotic?
This can restore proper balance to your digestive system.
The product can enhance your immune system.
It could help your weight-loss efforts.
Dr. Formulas Nexabiotic can be beneficial to the skin.
What are the Cons of Dr. Formulas Nexabiotic?
It contains a chemical and artificial sweetener called maltodextrin, which is a carb and can interfere with your weight-loss efforts.
You may experience side effects like diarrhea, bloating, and stomach cramps.
Several users said the product was inactive.
---
FAQs
Q: How should you take Dr. Formulas Nexabiotic?
A: The recommended dosage is 1 capsule a day, before you go to bed, on an empty stomach. If you require more, you may take up to 3 capsules per day.
NOTE: Do not take more than the suggested dosage under any circumstances.
Q: How much does Dr. Formulas Nexabiotic cost?
A: If you purchase this supplement on the official website, it costs $21.73, which is reduced from $26.57. You can also purchase the product on other retail websites.
On Amazon, it's only priced at $14.95, so that's a better bet.
Q: What is Dr. Formulas Nexabiotic's return policy?
A: The manufacturer has a 60-day return policy. If you're dissatisfied with the product for any reason, contact the company and send the product back within 60 days of the original purchase date.
They will refund you all of your money, minus the shipping and handling fees.
Q: Does Dr. Formulas Nexabiotic offer a free trial?
A: No, the manufacturer is not offering a free trial for the product.
Advertisement
*All individuals are unique. Your results can and will vary.
If you want to try this product you can buy it on the manufacturer's official website or from a third-party website.
Dr. Formulas Nexabiotic Review – Conclusion
This is a very well-liked and popular product among customers. About 90% of the reviews were very positive reports from happy customers.
Users felt that the product really soothed their digestive issues, such as constipation and bloating.
There were some negative reports, although they were few. Most of these users found that the product was simply ineffective for them, not doing what they had hoped.
There were also several complaints that the product arrived and was unusable or far too warm.
None of the users mentioned experiencing any side effects, so the supplement is quite safe. If you do experience any symptoms, stop taking the product immediately and see a doctor if need be.
Do not start taking this product without getting medical approval from a physician first.
All of the cells and tissues in your body and your major organ of detoxification, the liver rely upon your colon. The colon processes waste and bacteria preparing it for elimination from the body. Colon cleanse products should be determined based on its: potential to clean the colon of harmful waste & toxins, potential to promote better digestion & increase elimination, potential to promote improved immune system function, potential to provide increased energy levels. The quality of the ingredients should be backed by clinical research.
Below you'll find some of the most effective colon cleanse supplements on the market today, in our opinion.
Our Top Gut Health Supplements
Verdict on Claimed Benefits: Below is our summary of the available evidence for the claimed benefits of below mentioned probiotic supplements and natural colon cleanse supplements based on the available research: