Deep And Thorough Detoxification With Cleanse SMART
As people age, toxins build up in the body and it can cause harmful illness or disease. This is the reason why detoxification is indeed very important. Cleanse SMART offers a revolutionary 30-day program for people who wants to have deep and thorough cleansing of the body.
What Is Cleanse SMART?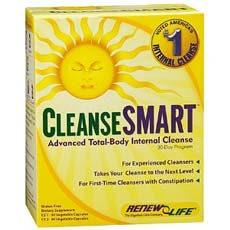 Cleanse SMART is a 30-day cleansing and detoxification product that is made from natural herbal ingredients that is known to deeply cleanse the different organs of the body. The formulation of this supplement specifically affects the elimination process of the following organs and systems in the body which includes the liver, lungs, colon, kidneys, skin, circulatory, and lymphatic system.
The 30-day program is divided into two parts, which is the morning and evening formula. Cleanse SMART 1 or the morning formula primarily focuses in detoxifying the liver which acts a filter for most of our intake including food and medicines. On the other hand, Cleanse SMART 2 or the evening formula is comprised of herbal ingredients that are focused on the cleansing process of the colon. The benefits of using this product include the following:
Eliminates toxins from the body.
Deeply cleanses and detoxifies the liver, kidney, and colon.
Helps boosts the immune system.
It helps improve a person's stamina.
It lowers the risk of having certain illnesses and diseases which are caused by toxin build up in the body.
How Does Cleanse SMART Work?
Cleanse SMART basically works by supplying the body with various natural herbal ingredients that will stimulate the elimination process of the various organs and systems. The product's primary focus is the liver and colon. As we all know, toxins build up in the body each day of our existence due to the food that we eat, air that we breathe, and even from the medicines that we take.
These toxins cannot be 100% eliminated by the body that is why we suffer from various illness and disease. With the help of Cleanse SMART, the elimination process of the body is enhanced and the key filtering organs of the body are thoroughly cleansed.
Ingredients Of Cleanse SMART
Cleanse SMART 1 (Morning Formula) comprises of the following ingredients:
Artichoke Extract
Ashwagandha Extract
Beet Extract
Burpleurum Extract
Celandine leaf
Chlorella
Corn Silk
Dandelion Extract
Hawthorn Extract
LAG (larch arabinogalactan)
Milk Thistle Extract – 50% Silymarin
Mullein leaf
Red Clover leaf and stem
Turmeric Extract
Cleanse SMART 2 (Evening Formula) comprises of the following ingredients:
Cape Aloe leaf
Rhubarb root
Slippery Elm bark
Marshmallow root
Fennel seed
ginger root
Triphala
Advantages Of Using Cleanse SMART
Cleanse Smart uses a vegetable capsule as a container for its ingredients thus making the product more absorbable and even suitable for vegetarians.
It is

gluten free

.
It has no additional ingredients like fillers thus you get a 100% natural herbal ingredients for detoxification.
It will enhance the elimination process,

improve digestion

, and increase a person's energy.
There is no need to follow any strict diet regimen in order to cleanse and detoxify your body.
Disadvantages Of Using Cleanse SMART
Some of its ingredients may

cause abdominal pain

, loose stools, or diarrhea.
Prolonged used of this supplement may cause

bowel dependency

which can cause rebound constipation.
Read More About Similar Products – Ultimate Flora Probiotic and Ultra Diet Cleanse
Recommended Dosage
The recommended dosage is 2 capsules (Cleanse SMART 1) in the morning and 2 capsules (Cleanse SMART 2) in the evening.
Directions For Using Cleanse SMART
Morning Formula: For the first three days, take one Cleanse Smart 1 capsule in the morning on empty stomach. After three days, take 2 capsules each day in the morning.
Evening Formula: For the first three days, take one Cleanse Smart 2 capsule in the evening. After three days, take 2 capsules each day at night.
This is a 30-day formula and can be used only 2-4 times in a year.
Breaking News
Stop using the product if you experience abdominal pain or diarrhea.
Do not take this supplement if you have known allergy to any of its ingredients.
This product is not to be taken by pregnant and nursing women.
Consult your healthcare provider prior to taking this supplement especially if you have been diagnosed with a medical condition or is currently undergoing any form of treatment.
This is only a 30-day program and not intended for prolonged use.
If you are scheduled for a surgery or any invasive procedure, avoid using this product for at least 2 weeks to reduce the risk for bleeding.
Final Verdict
Cleanse SMART is a good product to consider if you truly want to detoxify your body. Using this product, you will no longer need to follow a strict diet regimen in order to consume the necessary ingredients for cleansing and detoxification. Another good thing about Cleanse SMART is that it does not only focus on detoxification of one organ alone but it rather enhances the elimination process of 7 organs and systems in the body.
Advertisement
*All individuals are unique. Your results can and will vary.
While other products only promise detoxification of the liver or kidneys, Cleanse SMART offers a whole lot more including the cleansing of the colon, lungs, skin, blood, and lymphatic system. Their 30-day program is really a great way to ensure thorough and effective detoxification of the body.
All of the cells and tissues in your body and your major organ of detoxification, the liver rely upon your colon. The colon processes waste and bacteria preparing it for elimination from the body. Colon cleanse products should be determined based on its: potential to clean the colon of harmful waste & toxins, potential to promote better digestion & increase elimination, potential to promote improved immune system function, potential to provide increased energy levels. The quality of the ingredients should be backed by clinical research.
Below you'll find some of the most effective colon cleanse supplements on the market today, in our opinion.
Our Top Gut Health Supplements
Verdict on Claimed Benefits: Below is our summary of the available evidence for the claimed benefits of below mentioned probiotic supplements and natural colon cleanse supplements based on the available research: