In This Review
What is BioFit ProBiotic?
Are interested in trimming your body size? BioFit Probiotic is a slimming tea supplement that helps you shed weight. As a brand of probiotics, this product may enhance digestive functions and boost your immunity. It prevents poor health by replacing and fighting the bad bacteria in your body. While maintaining healthy guts, the ingredients in the BioFit formula help to expel extra fats from your body.
According to the manufacturer, BioFit Probiotic is the best probiotic supplement because it is a diuretic and natural laxative. By consuming BioFit ProBiotic, its thermogenic ingredients help to improve your metabolism.
It's the right product for adults that want to maintain the proper balance of their body's probiotic microorganisms.
How Does It Rate?
Overall Rating: 4.7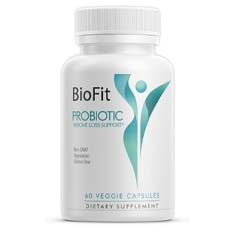 Super Joint Support

Brand Highlights
The manufacturer of this weight loss support drug is BioFit Labs.
The company is located in the USA
The product also has a website where consumers and buyers can obtain useful information about it.
Key Ingredients
Bacterium Lactis
Bacterium Longum
Coenzyme Q10
Lactobacillus Paracasei
Pros
BioFit Probiotic may produce the 'feel good' hormones that reduce anxiety and stress-related sleeping disorders
It helps to manage your body weight by giving the consumer a trimmer physique
It contains active ingredients that offer fast relief to patients with a high level of stomach acid and toxins in their colons
It may also promote overall gut health, and boost immunity
Cons
The supplement may not be safe for people that are using medications for severe ailments
As a natural laxative, excessive consumption of this formula might cause bowel unrest for some consumers.
---
Who is the Manufacturer of BioFit ProBiotic?
The manufacturer of this weight loss support drug is BioFit Labs. The company is located in the USA and has a great reputation in the manufacture of probiotics.
According to BioFit Labs, extensive research has been used to make this diet pills effective. This product's key ingredient is Senna leaves which work with other ingredients to boost the overall fitness of your body.
Advertisement
*All individuals are unique. Your results can and will vary.
Additionally, the product also has a website where consumers and buyers can obtain useful information about it.
How Does BioFit ProBiotic Work?
Does your bloated stomach always cause constipation and dyspepsia? As an effective multi-strain probiotic formula, this product works in many ways to improve weight loss goals.
According to the manufacturer, BioFit ProBiotic is safe, effective, and doesn't have artificial ingredients. Instead, it contains all-natural ingredients like the Lactobacillus casei bacteria that enhance bowel performance and prevent diarrhea. The BioFit ProBiotic ingredient also contains good bacteria.
These ingredients offer fast relief for patients that have stress-induced and sleeping disorders. While helping consumers to lose weight, this product will provide an improved digestive process and immunity to your body.
You May Also Like – MetaboLife Ultra Reviews and Vital Reds Reviews
BioFit ProBiotic Ingredients – Are they Safe & Effective?
This BioFit ProBiotic tea contains a blend of proprietary ingredients that have weight-lessening effects. The ingredients listed below are safe, effective, and promote wellness.
Bacterium Lactis
– The presence of excess toxins in your colon promotes a build-up of bacteria that causes inflammation and a burning sensation. This important ingredient treats digestive disorders and cleanses your entire gut network. However, more detailed mechanistic studies on the effectiveness of Bacterium Lactis are needed[1].
Bacterium Longum
– This Biofit Probiotic ingredient eases anxiety and stress-related disorders. Bad bacteria cause irritation and hypersensitivity; so, the Bacterium Longum in this supplement promotes better gut health. According to a study[2], Bacterium Longum is proven to be very effective.
Lactobacillus Paracasei
– L. Casei contains antioxidant effects on the digestive tracts. This ingredient is a microorganism that inhibits the activities of diarrhea-causing germs. It may also help to reduce lactose intolerance and improve the speed by which your digestive system expels food waste. Also, the gradual process of weight loss is easy by consuming supplements that have Lactobacillus Casei. Research says Lactobacillus Paracasei could act as a potential barrier against various infections[3].
BioFit ProBiotic – FAQs
Q: How to take BioFit ProBiotic?
A: The recommendation on BioFit ProBiotic's label is to take two capsules after your daily meal. However, consumers with digestive issues should take three capsules per day with plenty of water.
Q: How Much Does BioFit ProBiotic Cost?
A: From the product's official website, BioFit ProBiotic product is sold as 'starter,' optimum, and 'smart' packages. The starter package is a bottle of 60 veggie capsules that sells for $69.95, while the optimum package contains six bottles and sells for $199.95. The smart package sells for $139.95 and contains three bottles of BioFit.
Advertisement
*All individuals are unique. Your results can and will vary.
Q: What Are the Side Effects of Biofit Probiotic?
A: BioFit ProBiotic shows only mild side effects like constipation, dizziness. You don't have to worry about it as the body gets used to it.
Q: Where to Buy BioFit ProBiotic?
A: BioFit ProBiotic is available on its official website but the site is under maintenance. The product is available on Amazon, eBay, and Walmart but is duplicated. Therefore, avoid buying at all costs.
Q: What is BioFit's Return Policy?
A: The return policy on BioFit is stated on its website. Simply send an email after two months of using the product, and you'll get a refund.
Q: Does BioFit Offer a Free Trial?
A: There's a free trial on the product for 60 days.
Q: Does BioFit ProBiotic Interfere with Thyroid Meds?
A: Iron and calcium supplements interfere with how your body absorbs your thyroid medications, so these should be spaced at least an hour apart. Another supplement to watch out for is biotin, commonly taken for hair, skin, and nail benefits. However, Probiotics ingestion does not directly affect thyroid hormonal parameters in hypothyroid patients on levothyroxine treatment.
Q: What Are Some Similar Products to Biofit?
A: Similar products include Arbonne Evolution Metabolism Support and BioLeptin.
BioFit ProBiotic Before and After Pictures
BioFit ProBiotic is an underrated product as you can see the result from one of the happy customers. Despite many negative reviews and little information this product never ceases to amaze people.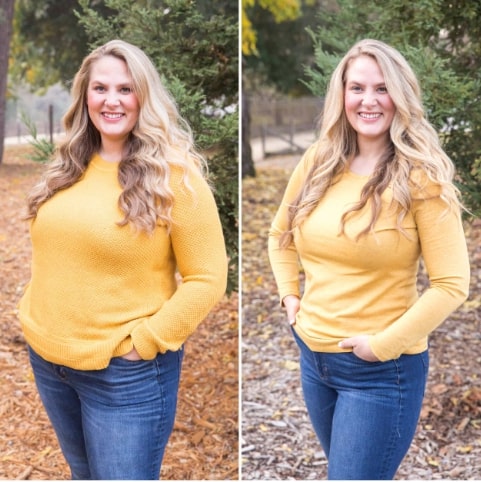 BioFit ProBiotic Reviews – The Final Verdict
This manufacturer makes many claims regarding the effectiveness of this supplement. It contains healthy bacteria (probiotic strains) that trigger thermogenic effects. As a weight loss supplement, BioFit ProBiotic formula also boosts your metabolism. The ease of stress-induced sleeping disorders and promotion of gut health are other benefits of ProBiotic.
Additionally, the ingredients in this product make the stored fats in your body serve as a source of energy. However, there are some drawbacks to this product. Some consumers may react badly to a food-grade bacterium like Lactococcus Lactis.
The continuous use of laxatives might cause uncontrollable purging and bowel unrest. More so, the consumption of this product might cause the over-sensitivity of this lactic acid bacterium (Lactobacillus Casei) to bacterial growth phase[4] in your gut.
Product reviews are provided for informational purposes only and reflect solely the views and opinions expressed by the contributors and not those of Consumer Health Digest. We do not verify or endorse any claims made in these reviews. Please read the full product reviews disclaimer. *All individuals are unique. Your results can and will vary.
Ask a Question
BioFit ProBiotic Ques and Ans
Q: Does it work as advertised? Will it help in my weight loss goals if I take it daily as suggested?

A: BioFit Probiotic capsules, a powerful dietary formula that can support losing weight faster. The BioFit supplement comes with great offers and discounts that help you easily purchase them. They also provide a money-back guarantee that ensures you that your money won't go down the drain if you are unhappy with the supplement.

Q: So assuming that one loses the weight - do you have to keep using BioFit ProBiotic to maintain the weight loss?

A: BioFit claims to contain clinically studied ingredients. That is technically true: the ingredients in BioFit have been studied in the past. However, the makers of BioFit have not invested in any studies on their formula as a whole, nor have they published their probiotic research in any peer-reviewed journal.
Have a Question? Please Tell Us What We Are Missing Here!
PRODUCT NAME
BioFit ProBiotic
PRODUCT BRAND
BioFit Labs
PRICE (in USD)
$69.95
ITEM FORM
Capsules
UNIT COUNT
60 Capsules
INGREDIENTS
Bacterium Lactis, Bacterium Longum and Lactobacillus Paracasei
Official Website
4 Sources
We review published medical research in respected scientific journals to arrive at our conclusions about a product or health topic. This ensures the highest standard of scientific accuracy.
[1] The Science behind the Probiotic Strain Bifidobacterium animalis subsp. lactis BB-12:
PubMed
[2] Beneficial effects of Bifidobacterium longum subsp. longum BB536 on human health: Modulation of gut microbiome as the principal action:
ScienceDirect
[3] Efficacy of Lactobacillus paracasei HA-196 and Bifidobacterium longum R0175 in Alleviating Symptoms of Irritable Bowel Syndrome (IBS): A Randomized, Placebo-Controlled Study:
PubMed
[4] Identification and Typing of Lactococcus lactis by Matrix-Assisted Laser Desorption Ionization-Time of Flight Mass Spectrometry:
ASM Journals
**This is a subjective assessment based on the strength of the available informations and our estimation of efficacy.
*Result may vary. If you are pregnant, nursing, have a serious medical condition, or have a history of heart conditions we suggest consulting with a physician before using any supplement. The information contained in this website is provided for general informational purposes only. It is not intended to diagnose, treat, cure, or prevent any disease and should not be relied upon as a medical advice. Always consult your doctor before using any supplements.
Disclosure of Material connection: Some of the links in the post above are "associate sales links." This means if you can click on the link and purchase an item, we will receive a commission. Regardless, we only recommend products or services which we use personally and/or believe will add value to our readers. We are disclosing this in accordance with the Federal Trade Commission's 16 CFR, Part 255: "Guides Concerning the Use of Endorsements and Testimonials."