In This Review
Overview of MAELYS B-TIGHT Lift & Firm Booty Mask
The B-Tight Lift and Firm Booty Mask by Maelys Cosmetics are formulated with guarana, an Amazonian fruit whose seeds are rich in caffeine. There is a lot of evidence that caffeine can help diminish cellulite and promote smoother skin.
Caffeine, a popular ingredient in anti-cellulite treatments, boosts circulation, reducing cellulite's appearance. Caffeine helps the body rid itself of excess salts, toxins, water, and metabolic waste products like urea by boosting the rate at which urine is produced. It also breaks down fat. [1]
Red grapefruit oil, which stimulates the lymphatic system and aids in detoxification, is also included in the mix. You can use this to prevent or reduce cellulite.
Other ingredients in this mask are eco-slim and pink pepperslim pink. Slimming oils, like pink pepperslim, are known to be even more effective than caffeine in burning fat. On the other hand, Eco-slim contains more caffeine than most caffeine products like coffee.
How Does MAELYS B-TIGHT Lift & Firm Booty Mask Rate?
Overall Rating: 3.5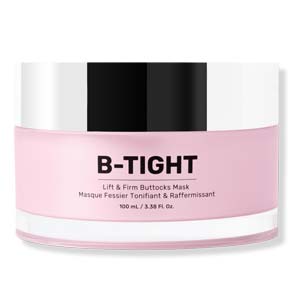 MAELYS B-TIGHT Lift & Firm Booty Mask
Brand Highlights
It deals with fewer skin issues than most brands don't.
After consistent usage, you will see a difference.
Key Ingredients
Guarana Seed Extract
Hyaluronic Acid
Pink PepperSlim
Glycerin
lex Paraguariensis Leaf Extract
Coffea Arabica (Coffee) Seed Extract
Soluble Collagen
Hydrolyzed Elastin
Pros
There's a chance it could make your buttocks look bigger.
Using the B Tight lift and firm booty mask may add to your skin's firmness and elasticity.
The mask has a pleasant, clean scent.
It contains no parabens, phthalates, and SLS.
Cons
It has a stinging sensation.
Some people can find it irritating to their skin.
---
Product Summary
MAELYS B-Tight Lift and Firm Booty Mask
Make your buttocks firmer.
Key Ingredients: Hyaluronic acid, Pink pepperslim, guarana seed extract, coffee extract, soluble collagen
Price:  $49
What It Does: Makes the butt firmer, improves collagen production, and treats cellulite.
---
How Does MAELYS B-Tight Lift and Firm Booty Mask Work?
MAELYS B-Tight Lift and Firm Booty Mask work through its ingredients. One of the most impactful ingredients in this product is guarana seed extract. This ingredient contains a healthy dose of antioxidants that deals with free radicals.
Fine lines and other indications of aging appear as soon as free radicals and oxidative stress break down the skin's elasticity. [2] Cream rich in antioxidants can defend skin cells from these effects, which become more significant with age. Guarana topical products are great sources of antioxidants, which can benefit your skin by bolstering your immune system's antioxidant defenses.
According to a 2013 analysis published in Skin Pharmacology and Physiology, the caffeine in guarana can increase blood circulation to the skin, resulting in a brighter, more youthful appearance. [3]
Like elastin, collagen is a crucial structural component of skin. As we age, collagen production slows, and our skin loses elasticity and firmness. In addition, maëlys b-tight lift and firm booty mask contain soluble collagen. 
Soluble Collagen is an ingredient that can help restore some of that lost firmness. Soluble collagen achieves this by disintegrating your body's natural moisture and becoming part of the skin itself.
What Are the Key Ingredients of MAELYS B-Tight Lift and Firm Booty Mask?
Some of the most active ingredients in MAELYS B-Tight Lift and Firm Booty Mask are listed below.
Guarana Seed Extract
The Amazon basin in Brazil is home to the guarana plant. Another name for it is Paullinia cupana. The guarana plant seeds are ground into a powder to create the extract. [4] Due to its therapeutic effects, guarana has been utilized for millennia by indigenous peoples of the Amazon. [5]
Not only does it have caffeine, but also theophylline and theobromine, all-powerful stimulants in their own right. Guarana is rich in polyphenols, including saponins, tannins, and catechins, which help protect cells from damage. [6]
Antioxidants are essential because they eliminate free radicals, which can cause damage to cells. These molecules can wreak havoc on your cells through interactions with many cell components, contributing to aging, cardiovascular disease, cancer, and other pathologies. [7]
In test tube studies, antioxidants in guarana have been proven to prevent and treat age-related skin damage significantly. [8] Cellulite can sometimes be an age-related issue.
Furthermore, guarana-containing cosmetics have shown promise in animal studies for tightening skin, reducing wrinkle depth, and firming sagging skin in the face and around the eyes which can result in making the skin on the buttocks look firmer. [9]
Pink Pepperslim
The berries of the Schinus terebinthifolius tree are processed using supercritical carbon dioxide extraction to produce this substance. Although it has its origins in South America (Brazil), these berries are currently grown with great success in Réunion.
This substantially lessens the barriers protecting fat stores, making them more accessible to lipases. It also prevents the formation of larger, harder-to-burn lipid droplets in favor of smaller, more manageable ones. Both sexes experience a large increase in weight-loss-inducing lipolytic activity when made in this way. Finally, according to some sources, Pink PepperSlim completes its weight loss effect by boosting micro-circulation.
Eco slim
According to the manufacturer, this special ingredient in B-Tight Masks contains a caffeine concentration that is 46 percent higher than that of regular extracts. As a result, it serves as an immediate metabolism stimulant and toxin extractor.
Soluble Collagen
Collagen is a key element for your health because it increases the skin's elasticity, promotes fat burning in the body, and counteracts the aging effects on the skin. On the other hand, most of the research focused on the advantages of collagen supplements rather than topical therapies.
Who Should Buy MAELYS B-Tight Lift and Firm Booty Mask?
This mask is ideal for anyone who wants their buttocks to appear more defined and voluptuous. It can help achieve those goals. MAELYS B Tight Lift and Firm Booty Mask reviews from past customers support this assertion.
Frequently Asked Questions
Q: What do MAELYS B-Tight Lift and Firm Booty Mask reviews say?
A: MAELYS b tight lift and firm booty mask reviews indicate that the cream is quite effective. All purchasers reported that they could identify a distinguishable improvement, despite the fact that some of them experienced a mild stinging sensation, a usual side effect.
Q: Does MAELYS B-Tight Lift and Firm Booty Mask Have Any Side Effects?
A: To our knowledge, no adverse side effects have been reported. However, Pink PepperSlim can potentially irritate skin that is already delicate.
Q: What makes MAELYS B-Tight Lift and Firm Booty Mask better than competing products?
A: The skin around the butt area may experience revitalization and look more vibrant after use.
Conclusion
The ingredients in the booty mask are very good for the skin. With consistent use, it's possible to reduce the appearance of cellulite after three to four weeks. The caffeine content of the ingredient is also geared towards helping with skin smoothing.
While the price is not bad for what it promises, the size of the mask is a little small. If you don't mind the size, it's a good product for skin tightening.
Cellulite refers to fat deposits under the surface of the skin giving it a dimpled, irregular appearance. The vast majority of women have cellulite, some estimates are as high as 90 percent. Cellulite is routinely found in the thighs, hips, buttocks, and stomach. Unfortunately, maintaining an optimal body weight, eating healthy, staying active, and even regular exercise may not be enough to combat cellulite. 
Below you'll find some of the most effective cellulite cream formulations on the market today, in our opinion.
Our Top Cellulite Reducing Choices
HerSolution Sculpt Scrub

Effectiveness In Addressing*
Reduce the Appearance of Cellulite*
Delivery of Active Ingredients*
Skin Tightening Properties*
Skinceuticals Body Tightening Concentrate
Effectiveness In Addressing*
Reduce the Appearance of Cellulite*
Delivery of Active Ingredients*
Skin Tightening Properties*
Product reviews are provided for informational purposes only and reflect solely the views and opinions expressed by the contributors and not those of Consumer Health Digest. We do not verify or endorse any claims made in these reviews. Please read the full product reviews disclaimer. *All individuals are unique. Your results can and will vary.
Ask a Question
Have a Question? Please Tell Us What We Are Missing Here!
PRODUCT NAME
MAELYS B-TIGHT Lift & Firm Booty Mask
PRODUCT BRAND
MAELYS
PRICE (in USD)
$49.00
9 sources
We review published medical research in respected scientific journals to arrive at our conclusions about a product or health topic. This ensures the highest standard of scientific accuracy.
[1] Anthony V. Rawlings, AVR Consulting Ltd, 26 Shavington Way, Kingsmead, Northwich, Cheshire, Cellulite and its treatment, 2006 sourced from
https://onlinelibrary.wiley.com/doi/full/10.1111/j.1467-2494.2006.00318.x
[2] Lademann, J. (2016). Influence of Topical, Systemic and Combined Application of Antioxidants on the Barrier Properties of the Human Skin. Fulltext - Skin Pharmacology and Physiology 2016, Vol. 29, No. 1 - Karger Publishers. Retrieved September 19, 2022, from 
https://www.karger.com/Article/FullText/441953
[3] Herman, A., & Herman, A. P. (2013). Caffeine's mechanisms of action and its cosmetic use. Skin pharmacology and physiology, 26(1), 8–14. 
https://doi.org/10.1159/000343174
[4] https://doi.org/10.1159/000343174
https://doi.org/10.1016/j.jep.2013.08.023
. Sourced from
 https://www.sciencedirect.com/science/article/pii/S0378874113005771
[5] Smith, N., & Atroch, A. L. (2010). Guaraná's Journey from Regional Tonic to Aphrodisiac and Global Energy Drink. Evidence-based complementary and alternative medicine: eCAM, 7(3), 279–282.
https://doi.org/10.1093/ecam/nem162
[6] L.S. Bittencourt, D.C. Machado, M.M. Machado, G.F.F. Dos Santos, T.D. Algarve, D.R. Marinowic, E.E. Ribeiro, F.A.A. Soares, F. Barbisan, M.L. Athayde, I.B.M. Cruz, The protective effects of guaraná extract (Paullinia cupana) on fibroblast NIH-3T3 cells exposed to sodium nitroprusside, Food and Chemical Toxicology, Volume 53, 2013, Pages 119-125, ISSN 0278-6915, 
https://doi.org/10.1016/j.fct.2012.11.041
. Sourced from 
https://www.sciencedirect.com/science/article/pii/S0278691512008484
[7] Khansari, N., Shakiba, Y., & Mahmoudi, M. (2009). Chronic inflammation and oxidative stress as a major cause of age-related diseases and cancer. Recent patents on inflammation & allergy drug discovery, 3(1), 73–80. 
https://doi.org/10.2174/187221309787158371
[8] Peixoto, H., Roxo, M., Röhrig, T., Richling, E., Wang, X., & Wink, M. (2017). Anti-Aging and Antioxidant Potential of Paullinia cupana var. sorbilis: Findings in Caenorhabditis elegans Indicate a New Utilization for Roasted Seeds of Guarana. Medicines (Basel, Switzerland), 4(3), 61. 
https://doi.org/10.3390/medicines4030061
[9] Peirano, R. I., Achterberg, V., Düsing, H. J., Akhiani, M., Koop, U., Jaspers, S., Krüger, A., Schwengler, H., Hamann, T., Wenck, H., Stäb, F., Gallinat, S., & Blatt, T. (2011). Dermal penetration of creatine from a face-care formulation containing creatine, guarana, and glycerol is linked to effective antiwrinkle and antisagging efficacy in male subjects. Journal of cosmetic dermatology, 10(4), 273–281.
 https://doi.org/10.1111/j.1473-2165.2011.00579.x
**This is a subjective assessment based on the strength of the available informations and our estimation of efficacy.
*Result may vary. The information contained in this website is provided for general informational purpose. No medical claims are implied in this content, and the information herein is not intended to be used for self diagnosis or self treatment of any condition.
*Disclosure of Material connection: Some of the links in the post above are "associate sales links." This means if you can click on the link and purchase an item, we will receive a commission. Regardless, we only recommend products or services which we use personally and/or believe will add value to our readers. We are disclosing this in accordance with the Federal Trade Commission's 16 CFR, Part 255: "Guides Concerning the Use of Endorsements and Testimonials."