Cellulite is a common problem that affects over 90% of women and it also affects some men. There is no doubt this is one of the most embarrassing skin conditions that people want to get rid of especially during summertime. However, eliminating cellulite is not an easy thing to do.
Diet and exercise or weight loss only reduce the appearance of cellulite a little. Liposuction has been disproven to be effective in eliminating cellulite.
Laser therapy treatment is the most effective, but it is very expensive and can reach tens of thousands of dollars. This is the reason the use of cellulite cream is currently the most popular option since it is inexpensive and effective.
To help you find the best product that will get rid of your cellulite problem, we have evaluated every cellulite cream being sold today. Below are the top cellulite creams on the market.
What Ingredients help with cellulite?
There are some common ingredients included in cream for cellulite, which work to smooth out the dimples and pocket marks. They usually contain some very hydrating ingredients, which give the skin volume and smooth out fat pockets. The creams also tend to be high in antioxidants.
These repair damage to the skin barrier. Anti-inflammatory agents lessen redness on the skin. Some substances make the skin firm, and others make it soft and smooth to the touch. Here are some of the key ingredients in cellulite cream.
Guarana – This is a Brazilian plant from the Amazon. It's a stimulant which contains caffeine. Cellulite cream with caffeine helps improve circulation, and it breaks down the fat cells under the skin. This gets rid of cellulite. A study published in Medicines found that guarana seeds have high antioxidant and anti-aging potential. They are effective at repairing the skin and eliminating the signs of age.
Coconut Oil – Coconut oil is very hydrating, which gives the skin volume and can help smooth the cellulite. It has antioxidant properties, which repairs damage to the skin. It also has antimicrobial agents which can kill bacterial and anti-inflammatory agents which reduce kin swelling. A review published in Natural Medicine Journal examined the treatment of dermal infections with topical coconut oil.
Caffeine – Cellulite cream with caffeine can help break down the fat under the skin, which can help eliminate cellulite. It also improves circulation, which improves the general health of the skin and gives it a radiant glow. A literature review published in the Journal of Dermatology and Dermatologic Surgery looked at the therapeutic uses of caffeine in dermatology.
We review and rank just about every cellulite cream and treatment on the market.
Body Tightening Concentrate is an anti-aging cream that contains powerful all-natural ingredients. The product helps in making the skin tight and firm.
According to the manufacturer, with its calming effect, the serum reinflates the skin, resulting in a surface that is smooth and tight. It is also said that the product consists of antioxidants that promote the immunity of the skin, thereby removing wrinkles and fine lines, making the skin more elastic and firmer, and improving the appearance of loose and sagging skin such as on the thighs, abdomen, upper arms and buttocks. It is also ideal for use immediately after exposure to the sun.
This product is said to contain a ratio of 2.5 tri-peptide, which promotes a young and smooth-looking skin; a ratio of 5.0 extract of yeast, which enhances a bright and firm skin; and a ratio of 2.0 hydrolyzed rice protein to help your skin look and feel healthier.
Some of the benefits of this body tightening product include the enhancement of firm skin, an immediate cooling effect, relief in irritation due to environmental stress, and tightening of loose and sagging skin.
Skinceuticals Body Tightening Concentrate serum is available on the manufacturer's official webite and other online retail stores. It is advised to use this body tightening cream twice a day to get most of the benefits of lifting every loose and sagging body part.
To get more detailed review please click here.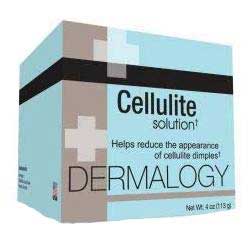 Cellulite Solution by Dermology is a product that helps in reducing the appearance of cellulite. This product moisturizes the skin which boosts health of the skin. Also, applying this product draws out the liquids that are trapped in the dermis which results in fewer adipose cells making the cellulite less noticeable.
This product tones the skin to improve the overall appearance of cellulite. Additionally, using this product firms the skin tone. Also, this formula combats inflammation and widens the blood vessels that drain excess fluids under the skin.
This formula provides vitamin A which aids in repairing damaged skin and enhancing the elasticity of the skin. This product also increases blood flow. Additionally, using this product boosts metabolism which reduces the fat deposits underneath the skin.
To get more detailed review please click here.
Revitol Cellulite Cream is a product that assists in reducing cellulite. This cream for cellulite is easy to use and suitable for both women and men. The ingredients used in this product are all-natural and aids in getting rid of cellulite by improving circulation.
The ingredients contained in this product aid in removing toxins that get built up under the skin. Fewer toxins in the skin ensure an overall healthier skin. The formula used in this product widens the veins in the body to promote increased and better blood flow. Additionally, this product aids in repairing the damaged skin tissues.
The vitamins used in this formula boost the amount of collagen produced in the body. An increase in collagen firms the skin thus can help in stimulating cellulite reduction. Consumers can purchase this product online.
To get more detailed review please click here.
This is another impressive cellulite cream with caffeine to quickly target cellulite. It also firms and tones the skin. It is a very popular cellulite cream because many users say it is really effective. It is also affordable at $36 per container.
It shows the best results if combined with some daily exercise regime, healthy dietary food, and rigorous massage sessions on the affected areas to break the fat around that area making the skin look and moisturized healthier than ever. It reduces cellulite and tightens and firms the skin of the affected area. It has also shown to generate slimming effects.
It is recommended to be used in the target areas at least twice a day, massage for 20-30 seconds, and leave it there. Bliss fat girl targets moderate or light cellulite problems as reviewed by a number of its users. Priced at $36 per ounce, it is less expensive as compared to a number of other brands.
However, there is also some negative customer feedback saying it only reduces the appearance of cellulite a little. Also, there is no information on the product's website on how it works and the active ingredients in the cellulite cream.
To get more detailed review please click here.
#5 Murad Body Firming Cream
This lovely smelling cream for cellulite is deeply hydrating to the skin. It provides a huge amount of moisture, giving the skin definition and smoothing out cellulite and other lines. The cream leaves the skin soft and smooth, and it restores skin tone. It's also high in antioxidants which repair the skin.
Unfortunately, this product is no longer available on the official website, and it's listed as currently unavailable on Amazon and a few other sites. However, you can still find it from some retailers and the cost is about $52.
Customers have been quite happy with this product on the whole. People loved the scent. Users said the cream did remove their cellulite quickly and left their skin really soft and smooth. There weren't a huge number of complaints about this cream.
#6 Perricone MD Cold Plasma Anti-Aging Body Lotion
This cellulite cream is a mix of rich substances that can firm the skin and make it smooth. It contains many ingredients that are high in antioxidants, which can repair damage to the skin barrier. This product is also deeply hydrating.
The cream gives the skin volume, smoothing out cellulite. In addition, it breaks down fat cells. It also moisturizes the skin. The cream is very light in texture, so it's not for someone who prefers a thicker formula.
This is a high-quality product, but at $110 on Amazon, it is rather expensive. There's no official manufacturer's website where you can purchase the cream. The review for this product was somewhat mixed, but there were a lot of users who found this product very helpful in removing cellulite.
#7 Cellulite Cream without Algae
This brand provides a large tub of cellulite cream for a very reasonable cost of $15.38. Although it's much cheaper than a lot of other creams, it contains high-level ingredients such as horse chestnut and Centella. It's a very moisturizing formula that leaves the skin smooth and soft. It also has many antioxidants that repair skin damage, and some firming ingredients.
In addition to getting rid of cellulite, this cream doubles as a massage formula that you can use to ease tension in your muscles. There were some users who didn't find the smell very pleasant, but others liked it. On the whole, the reviews for this product were quite positive.
#8 Luxe Spa
This cream is a potent skin firming and tightening formula that contains rich essential oils, skin-repairing antioxidants, ingredients that deeply hydrate the skin, and caffeine. It improves circulation, leaving your skin with a rosy glow. Caffeine also helps break down the fat cells, eliminating cellulite. Note that this product contains nut-based oils and is not suitable for people who have an allergy.
This cellulite cream is available from the manufacturer's website, Amazon, and other online retailers. The official site sells bottles in 8 ounces, 16 ounces, 32 ounces, and 40 ounces with or without a pump. According to the manufacturer, customers say the results of this cream last about 4 weeks.
The reviews for this product were quite outstanding. Over 80% of users found this cream extremely helpful for removing their cellulite and smoothing their skin.
#9 Anti Cellulite Complex Salve
This cream for cellulite contains a limited list of ingredients compared to some of the other brands, but they are rich substances that are healthy for the skin. Ingredients like jojoba oil deeply hydrate the skin, leaving it smooth, and repair the damage. Substances like beeswax are high in both antioxidants and anti-inflammatory properties.
The manufacturer, Bianca Rose, has been around since the early 1990s producing skin care products. They are a trusted name for many customers. In addition, the cream is fairly reasonably priced on Amazon at $35.28 + shipping. However, look around because you can find lower prices at some retailers.
There were actually very few reviews for this product online, but the ones that did exist were quite positive. Users said this cream did successfully remove their cellulite.
#10 Anti Cellulite Cream with Guarana
This cream is a powerhouse of potent anti-cellulite ingredients. Guarana is its base, and this fruit has 5 times the amount of caffeine you find in coffee. The product also includes additional caffeine. These ingredients will break down the fat cells and eliminate cellulite. Caffeine also stimulates circulation and improves your skin's health. The product is also high in antioxidants and anti-inflammatory agents.
The manufacturer has made this cream PH-neutral, to avoid people absorbing extra acid. The product is also preservative and paraben-free. The company has gone through a lot of trouble to make sure this product is safe. However, it does contain nut derivatives so make sure to avoid it if you have allergies.
The manufacturer is offering a no time limit, no questions asked money-back guarantee, meaning they are very certain about their product. Unfortunately, there are few reviews of this cream online, so we can't check user satisfaction.
This is a product that has a dual purpose: removing cellulite and acting as a massage cream. It heats up as you rub it into your skin, making it ideal for easing sore muscles and eliminating your pain.
Enriching oils like lavender and peppermint soothe the skin. In addition, hydrating and antioxidant-rich substances like shea butter and aloe repair skin damage and get rid of cellulite. The product has 87% organic content.
This cream is not available at the moment on the manufacturer's official website, but you can get it on Amazon for the very reasonable cost of $14.98. Customers have been very happy with this product both as a cellulite remover and as a massage cream.
This cream is both a cellulite reducer and a slimming product that can remove your body fat and help you lose weight. The manufacturer claims the product has a fat-fighting system that has a triple effect on the fat accumulation process. In addition, this product contains ingredients with antioxidants that repair skin damage.
Unfortunately, it's difficult to find a complete list of ingredients online. Sites only list a few substances such as caffeine, grapefruit, hawthorn extract, and Poria cocos. It would be helpful to have the whole list, especially for people with allergies.
Reviewers have been very happy with this product, saying that it was effective at removing cellulite and at burning fat. Most users enjoyed the spicy lemon scent.
#13 ELEMIS Cellutox Active Body Oil
This cream is both a cellulite removal system and cleansing oil. It contains ingredients like Sea Buckthorn, Sea Fennel, Lemon, and Juniper essential oils to detox the body and also contain anti-inflammatory qualities of sea buckthorn oil for face soften and cure the skin. In addition, this product is ideal to use as an oil to massage your body and your sore muscles. It's a luxurious product that can help bring balance back to your body.
You can buy this product from a number of manufacturers, and the prices vary slightly. The cost on Amazon is $53.37, which is somewhat expensive but less than some of the other brands.
This product is very popular with the customers, with over 80% giving a very positive review. Users said this multi-purpose cream helped to remove cellulite and was also an excellent cleanser and massage cream.
How Can We Get Rid of Cellulite Naturally?
At one point or the other, every woman faces the problem caused by cellulite in her life. If you want to minimize the appearance, you can use a few home remedies and you can follow a certain routine.
In order to remove the toxins that create cellulite in the body, you should try and include alkaline in your diet i.e. all fresh fruits and vegetables. Alkaline removes acidic toxins from your cells and then ultimately from your body.
You need to keep hydrated. As we all know that water is the biggest cleanser of our body toxins, why not use it and get rid of those marks.
Replace your regular table salt, which is full-on acetic substances, with the Himalayan crystal salt. Himalayan salt helps maintain the minerals of the body, balanced.
Instead of using moisturizing cream on your body, go for totally organic products like olive oil or coconut oil which are great for the skin.
Doing sweaty exercises lead to the breaking of fat cells and helps to throw toxins out of the body through sweat. It not only keeps the cellulite under control but also tones and strengthens the body.
These remedies are to control the cellulite altogether if taken care of in advance or make its appearance lighter in case it has already happened.
How Does Cellulite Cream Work?
Most cellulite cream contains either caffeine or something that functions similarly. Cellulite cream with caffeine helps to break down the fat cells that lead to cellulite. It also improves circulation, enhancing overall skin health. These products are usually high in antioxidants, which repair damage to the skin barrier.
There are often anti-inflammatory agents that reduce redness and swelling. Some cellulite creams have ingredients that stimulate the production of collagen, which makes the skin firm and can smooth out cellulite.
Can I use Cellulite Cream on my Face?
Most creams for cellulite can be used on your face and are very beneficial at removing lines and wrinkles. This is for some of the same reasons it removes cellulite, repairs damage to the skin, and provides hydration. However, there are some cellulite creams that are not recommended for use on the face. Check the instructions for the product you purchase carefully.
Can I Use Cellulite Cream While Pregnant?
It's tempting to use cellulite cream when you're pregnant since the extra weight can lead to cellulite. However, this product is not recommended during pregnancy. It contains ingredients called methylxanthines which can be damaging to a woman in this condition.
What is the Best Cellulite Cream on the Market?
There are many excellent cellulite creams available for purchase. It's difficult to cite one as the best cellulite cream because it's a matter of preference. Some people prefer certain ingredients or don't like a certain scent. Do your research before you buy to find a cellulite cream that works.
Why Choose Cellulite Creams?
The use of cellulite cream is the best treatment option when it comes to getting rid of the ugly skin condition. It is affordable for everyone unlike laser treatments and other cosmetic procedures that cost several thousand dollars.
It is also very effective but optimal results take time which is the only disadvantage of cellulite cream. On the other hand, it cannot cause serious adverse effects unlike cosmetic procedures like laser therapy which can burn the skin or lead to complications.
How to Find the Best Cellulite Cream?
To find the best cellulite cream, you need to be very thorough in researching the best products. You need to learn what to look for to find a cellulite cream that works.
The key to finding effective and safe products is learning about active ingredients that are actually proven to be effective and safe. For this reason, let's take a look at some more of the top active ingredients in cellulite cream that are clinically proven to be effective and free from side effects.
Adiposlim – This is a scientific breakthrough in Europe that has been shown to shrink fat cells. It works by activating fat-burning beta receptors while at the same time switching off alpha receptors that inhibit the burning of fat. It also improves the oxidation of fat to make sure that it is burned and used as energy to prevent its storage in the body.
Adipoless – This was discovered together with Adiposlim. It also helps inhibit the formation of new fat to prevent the redevelopment of cellulite once it has been diminished. Adipoless and Adiposlim work together to reduce the appearance of stubborn cellulite and prevent the problem from returning in the future.
Hyaluronic Acid – This ingredient helps quickly reduce the appearance of cellulite on the skin by hydrating it. It works by helping with the formation and maintenance of collagen fibers in the skin. Hyaluronic acid is known as one of the most potent natural moisturizers.
Squalane – This is a hydrating, nourishing ingredient that improves the skin's ability to regenerate. It helps reduce skin imperfections by softening the skin and making it smoother. It has been shown to assist in the acceleration of the growth of new skin cells.
Conclusion
There are so many cellulite creams on the market. They range from less than $10 to over $100. Cheap creams either don't work, or their effectiveness is seriously limited. You get what you pay for, and in life, the cheapest usually offer poor value. After all, you buy the cream because you expect it to work, but there are varying levels of "work".
Because of this, we have looked into finding the best cellulite cream and one that actually works and is effective in getting rid of cellulite. The product we recommend is high-quality cellulite cream. It includes all the ingredients and points we have mentioned in this article that is essential for an effective cream to have.
**This is a subjective assessment based on the strength of the available informations and our estimation of efficacy.
*Result may vary. If you are pregnant, nursing, have a serious medical condition, or have a history of heart conditions we suggest consulting with a physician before using any supplement. The information contained in this website is provided for general informational purposes only. It is not intended to diagnose, treat, cure, or prevent any disease and should not be relied upon as a medical advice. Always consult your doctor before using any supplements.
Disclosure of Material connection: Some of the links in the post above are "associate sales links." This means if you can click on the link and purchase an item, we will receive a commission. Regardless, we only recommend products or services which we use personally and/or believe will add value to our readers. We are disclosing this in accordance with the Federal Trade Commission's 16 CFR, Part 255: "Guides Concerning the Use of Endorsements and Testimonials."