While being overweight can have a negative impact on a person's self-esteem, another common problem that any person – even those who do not have a large amount of excess fat – can suffer from is cellulite. Cellulite is often referred to as "cottage cheese skin" and causes an unpleasant appearance on the skin.
Cellulite can affect different parts of the body, with the upper arms and legs being some of the most common parts that get affected by the condition.
Cellulite Disappear is a revolutionary system that has been developed by a specialist in the field of hormone research, and has seen a 100% success rate thus far.
Huffington Post reports that at least 80% of women will experience the effects of cellulite at some stage in their lifetime, with any complaining about cellulite being present in body parts that would be exposed while wearing appropriate clothing in summer months.
They continue to report that eating right, participating in a lot of physical exercises and drinking enough water can contribute to a reduction in cellulite, but, unfortunately, this isn't always enough to completely get rid of cellulite.
Cellulite Disappear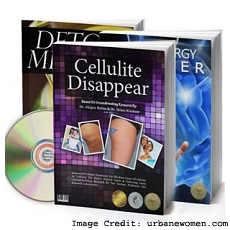 In this post, we would like to introduce you to Cellulite Disappear, an electronic program that has been developed to target the problems behind cellulite in a scientific way. Cellulite Disappear was developed by Doctor Helen Kirshner.
The doctor is a trained medical professional with years of experience in hormone research, as well as in endocrinology. She experienced the dreadful effects of cellulite herself for several years and tried numerous strategies as well, with little success, just like many other people.
After years of research, however, she developed a system that utilizes a certain protein, known as the IGF-1 Protein, which can help to improve collagen synthesis and reduce the appearance of cellulite.
Cellulite Disappear Modules
To better understand how this program will help you get rid of cellulite, we should take a look at the different topics that are covered by the program. This will give you an idea of what you will learn while following the system and implement the formula discussed by the program.
1. Understanding Cellulite – The first module provides in-depth details about what exactly cellulite is and how it works. The module tells the user how cellulite forms underneath their skin and why this happens.
Understanding what cellulite is should be an important part of the process as this will give you more insight into some potential elements in your personal life that may also be contributing to the development of cellulite.
2. IGF-1 Protein – The second module talks about the IGF-1 Protein, a protein that was discovered to have a major impact on the formation of collagen and the reduction of cellulite.
This module tells the user how the production of IGF-1 Protein can be improved in their own bodies and offers information that explains exactly how this protein will help them eliminate that unwanted cellulite.
3. The "Sources" of Cellulite – The third module offers detailed information on environmental factors, as well as certain foods and toxins, which interferes with the body's ability to produce IGF-1 Proteins.
In addition, the module tells the customer what to do to eliminate these factors from their lives to avoid the production of IGF-1 Proteins from being restricted.
4. Detox Solution – The fourth and final module offers a solution to the problem – in the form of a detailed detox diet.
This detox diet is a formula that was researched for many years. It allows the body to increase the production of IGF-1 Proteins and helps to eliminate cellulite throughout the entire body.
What's Included?
When a customer buys the Cellulite Disappear guide, they will immediately gain access to the product. In addition to the main product, however, two additional bonus items are also included for the customer's convenience. This additional bonus material includes:
Detox Miracle – This bonus guide provides a detox diet that helps to get rid of toxins that are causing problems with the user's health. The guide also provides information about different toxins that are found in clothes, the environment and certain foods.
7-Day Energy Turbo Booster – The second bonus guide offers a 7-day diet that helps the user experience a considerable boost in their energy levels. It also helps to clean out the user's colon and it helps to nourish the user's body.
Conclusion
While recommendations such as physical exercise, a healthier diet and more water are often recommended for people who feel self-conscious about their cellulite, these methods do not target the real problem that is contributing to the unpleasant condition.
Cellulite Disappear, however, helps a person eliminate cellulite once-and-for-all by directly targeting the issues that are causing cellulite in the first place.
The program currently has a 100% success rate and the formula used in the program has gone through extensive clinical research to ensure it is safe and effective for any person.
View All