For the longest time, researchers have been working tooth and nail, in an attempt to find a remedy that eliminates cellulite completely, but to no avail.
They have however come close enough with some formulations that give relief off of the unpleasant natural menace, cellulite.
Such include the different varieties of body scrubs. Hellen West continues to explain that though cellulite is not a medical condition, it is seen as unsightly and undesirable which In turn will lead to stress and anxiety. The only known remedy for cellulite is prevention through healthy eating and the right exercise.
Scrubbing With Ground Coffee
"Though using ground coffee can be of some help, it does not provide a permanent solution", explains Dr. Mona Gohara. Ground coffee is a known antioxidant which means that it produces collagens.
Dr. Mona continues to explain that the coffee enables dilation while the massaging of the affected area stimulates blood flow, which reduces the appearance of cellulites.
The Formula For Coffee Scrub Is:
¼ cup ground coffee.
¾ tablespoons water
2 tablespoons of olive oil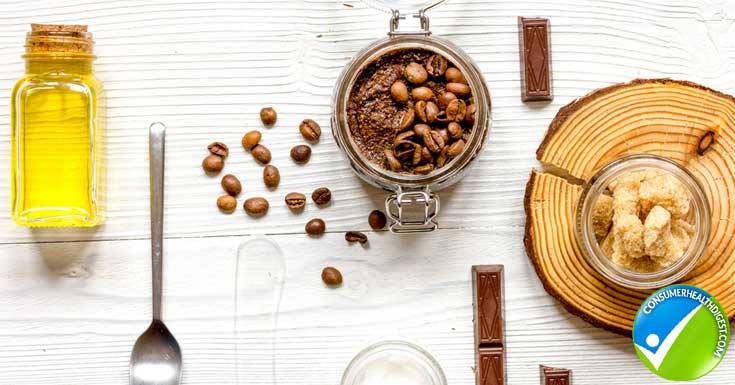 Stir the water and coffee to make a paste, add the olive oil to smoothen it and help it spread easily than using either your hands or a wet cloth, massage through the affected area for roughly 4 minutes. Rinse off with warm water then moisturize.
The effects, however, last about a week. This is a quick fix for a weekend outing where you intend to wear something short that exposes the affected areas.
According to the beauty expert Renee Loux. It works moderately.
Cold Pressed Coconut and Olive Oils with Peppermint Essential Oils
1 cup of coconut sugar.
¼ cup of olive oil.
¼ cup of coconut oil melted.
15 drops of essential peppermint oils
Using the above mixture and dry brushing with essential oils has been proved by Crystal Bonnet to deliver great results. He says, and I quote," the olive and coconut oils leave your body nourished, hydrated and as soft as a babies bottom, while the peppermint boosts metabolism and increases the blood circulation".
Bicarbonate Soda and Honey Scrub
According to the skin therapist Nataliya Robinson, bicarbonate soda and honey are great remedies that help reduce cellulite.
This is because bicarbonate soda exfoliates the skin. This is the process of removing dead skin cells from the outer layer of the skin.
Honey, on the other hand, moisturizes and decongests the skin without overloading the skin with toxins and chemicals most of which are found in other chemical creams. The formula is very simple;
1 tablespoon of soda bicarbonate
1 tablespoon of honey
Water to create the past
Mix the above and apply to the affected area in the form of massage for about 2-3 minutes. Take some honey and apply on your legs then lightly slap them to increase blood flow for about 4 minutes. Rinse the paste off and moisturize as needed.
Brown Sugar and Olive Oil
The latest news from healthy living system (HLS) has revealed that a scrub using some olive oil and brown sugar helps reduce or prevent the occurrence of cellulite. This is because they help to keep the skin moisturized at all times.
Conclusion
All the above are researched kinds of body scrubs seen to have some effective significance in reducing cellulite.
All of which you can perform at home by yourself or with a little help in those areas your hands cannot reach.
The good thing is that all or most of the ingredients are those you have at the comfort of your home which, reduces the expenditure at home that could have otherwise been spent at the spar for a massage loaded on chemicals.
Things like coffee, peppermint, brown sugar, coconut oil, and the likes are all-natural which unless you are allergic to, will be effective with no effects.
It is mandatory that as you read this, you understand that there is not a perfect method that has been found to act as a permanent solution to the eradication of cellulite.
The above and other methods of body scrubs are simply temporary modes that will give you relief for a while especially if you had a summer outing planned at the beach or you were attending a classy event that required you wear something nice and short.
The only permanent solution to cellulite is that you ensure to always eat healthily and to exercise.
This too can be difficult if you happen to inherit your mother's genes if she had a problem with cellulite.
Research has gone to show that 90% of women have cellulite, be it genetic, hormonal or just bad eating habits. The most important thing to always be yourself.
Love yourself, care for your body through exercise and incorporate some of this body scrub remedies to manage or prevent the unending naturally placed menace that is the cellulite.