Toasted Marshmallow Blue CBD Crystal Overview
Toasted Marshmallow Blue CBD Crystal is an advanced CBD supplement that is designed in such a way that taking it will remind you for the day that you camped with smores. It is filled with goodness and consuming it will make you love it more. It comes in oral drops or vapor liquid.
This supplement is also taken through topical application, and it the smartest way to put CBD in your body system. The CBD oil is obtained from natural and organically grown hemp plants, and they are from high quality and trusted sources.
This product is of premium grade, and it has a higher concentration that other CBD supplements from competitors. Results from the lab state that it is 7x more concentrated. This makes it an ideal product for use, as it delivers the results within a short time.
Using it on regular basis benefits the body by enabling it to function well and maintain overall good health. It has the ability to fight stress; anxiety, pain and other conditions that may make you feel uncomfortable.
This product contains crystals isolate, and it is packed in a small container holding 30ml. it is sold online at a retail price of $59.99.
Manufacturer Information and Claims about Toasted Marshmallow Blue CBD Crystal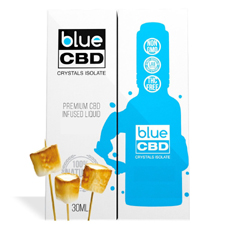 The company that manufactures this product is known as Diamond CBD. A reputable company based in US, and it adheres to the guidelines set and standards of quality manufacturing practices. It is a company that is dedicated to provide the safest means of consuming CBD, and it does this by regulating the extraction process to ensure all the THC is removed.
It has an expertise of manufacturing line of products, and it is greatly concerned at improving the user quality of life. GMP satisfies this company and it is one of the best companies in manufacturing CBD products. It sells its products online through the brands website.
It offers free shipping on the orders within US. This company assures the customers of the quality and satisfaction, and has provided a return policy covering the unwanted products that are returned with 15 days of purchase.
Using this formula benefits the body by enabling to function normally. It improves overall health by reducing stress, anxiety, pain and insomnia.
Working Process and the Ingredients List
This formula is absorbed immediately, and it reaches the body system where it releases its contents. It works to make the body respond positively to stress, anxiety, pain and other discomforts. This will make the user live a better and healthy life.
All the contents of this formula are natural. They include:
Industrial Hemp Cannabidiol – It will relax, calm and improve overall health.
Vegetable Glycerin – It gives this formula an improved texture.
Propylene Glycol – It acts as stabilizing agent.
Artificial Flavors – It improves the taste and smell of this formula, and makes the user to enjoy consuming it.
Toasted Marshmallow Blue CBD Crystal Review – Does it Really Work?
Yes. It works to make you have a healthy and improved quality of living. It soothes, relax and calm the body. It also reduces stress and pain.
The Advantages of Toasted Marshmallow Blue CBD Crystal
The ingredients used are natural
It is 7x more concentrated than other CBD from competitors
It improves the quality of life
It is manufactured in a facility located in UK
The Disadvantages of Toasted Marshmallow Blue CBD Crystal
It causes addiction
There are withdrawal symptoms after stoppage of use
FAQs
How Does it Smell & Taste?
This product has a great taste and smell, which resembles that of the flavor used.
Is it Safe to Use?
This product is considered to be safe, as it features all natural ingredients.
How Long Before I See any Improvements?
It takes few days to notice the results. However, this differs from one person to the other.
Possible Side Effects
The major side effect of using this supplement is that it may cause troubles when it comes to stopping its use. This will be followed by withdrawal symptoms.
Toasted Marshmallow Blue CBD Crystal Review – Final Verdict
Toasted Marshmallow Blue CBD Crystal is manufactured using natural ingredients. It is enriched with CBD oil from hemp plant, and it is extracted using an advanced process that eliminates all the THC. This makes this product to be safe, and it delivers the benefits without causing psychoactive effects.
The company manufacturing this supplement is based in US, and it is certified and known to follow quality-manufacturing standards. Using this oil benefits the body by making you feel cool and relaxed.
It has medicinal value and it improves overall health. It is advisable to use this product on regular basis for you to live a better life.
In our opinion, below you'll find the most effective CBD Hemp Vape Oil & Vaporizers on the market. These products are classified on 5 key factors: Allows for Herb Heating with Activation of Psychoactive Properties*, Increases Herb Potency*, Activates and Unlocks The Cannabis Flower*, Increases* Bioavailability (Medicinal Purposes) and Contains Modern Technology and Design*. Ultimately, we determined the bottom-line value of each product.
Top Rated CBD Hemp Vape Oil & Vaporizers
Liquid Gold 1ml - Jungle Juice

Allows for Herb Heating with Activation of Psychoactive Properties*
Activates and Unlocks The Cannabis Flower*
Increases* Bioavailability (Medicinal Purposes)
Contains Modern Technology and Design*
Chong's Choice CBD Oil 1000MG
Allows for Herb Heating with Activation of Psychoactive Properties*
Activates and Unlocks The Cannabis Flower*
Increases* Bioavailability (Medicinal Purposes)
Contains Modern Technology and Design*
Energy Drink Blue CBD Crystal
Allows for Herb Heating with Activation of Psychoactive Properties*
Activates and Unlocks The Cannabis Flower*
Increases* Bioavailability (Medicinal Purposes)
Contains Modern Technology and Design*