Pear Blue CBD Crystal Isolate Overview
Pear Blue CBD Crystal Isolate is a vapor liquid that will deliver to you benefits of the pure hemp oil constituent. It is designed in a special way that it will promote your body functions and reduce discomforts or pains from ailments or other stressors.
It will improve flexibility, mobility and make you more productive and your activities' performance will be boosted. It will also boost your immunity making you fall ill less as it increases your body's resilience to viruses and bacteria.
It is flavored in pear giving your taste buds a refreshing and topical taste of freshly picked pear fruit. It is tested and has shown a high concentration of 7X more than any other tincture oil out there. It has also been scientifically tested in third-party facilitates and shows high levels of safety, purity and potency.
Pear Blue CBD Crystal Isolate can be reached by consumers from its manufacturer's official website online or any other third-party online retailing store with their authorization. The manufacturer has varying prices just as the product vary in concentration. The lowest concentration of 250mg goes for $59.99 while the highest which is 1500mg is going for $219.99.
This liquid will be shipped for free to you are also given a 15 days period from your date of purchase to return or exchange your product. It this period lapses, to returns or exchanges can be done it is also of importance to note that the policy only applies to unopened products.
To reap all the benefits housed by it, the manufacturer advises users to use it as follows;
a) As Vape Liquid – Load your vaporizer with the liquid and use it at your convenience.
b) Topical Use – Apply on your skin gently rubbing with your fingertips on areas you desire.
c) Oral Drops – Using the dropper that comes with the liquid, place some drops under your tongue, hold them there for a few seconds and then swallow.
Manufacturer Information and Claims about Pear Blue CBD Crystal Isolate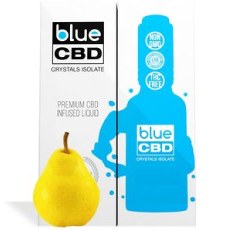 Pear Blue CBD Crystal Isolate is the brain child of the Diamond CBD Company this company is located in Lauderdale, Florida, USA. This company is renowned for making and selling CBD infused products e.g. creams, dabs, oils, edibles and pet supplements among others and availing them to the consumers globally.
This manufacturer only makes use of organically grown hemp plants in their Scandinavian farm to extract their CBD. Their end product is free from harmful substances like fillers, binders, GMOs and artificial ingredients making it highly safe for use as it will not cause adverse reactions. All the components added to this liquid have been scientifically researched and tested and shows positive results of potency and purity.
Working Process And The List of Ingredients
Pear Blue CBD Crystal Isolate works by binding its phytocannabinoids to the endocannabinoid systems's receptors these receptors are mainly placed in the peripheral system and the central nervous system in your body.
Phytocannabinoids are identical in shape and chemical composition to the cannabinoids receptors and are therefore capable of getting into your body and attaching on to the cannabinoid receptors. Their binding prohibits signal transmission to the brain giving a relaxation feeling.
It improves sleep and regulates appetite, cravings for addictive substances, reproduction and hormone production. It also prevents free radicals damage on brain cells and other cells in the body.
Its ingredients are:
Propylene Glycol – A thickening agent.
Vegetable Glycerin – A base-forming agent.
Artificial Flavor – Improves taste and smell.
Industrial Hemp Cannabidiol – Protects cells and reduces pain.
Pear Blue CBD Crystal Isolate Review – Does It Really Work?
It shows ability to promote functions, longevity and generally improve health.
The Advantages of Pear Blue CBD Crystal Isolate
Protects the body from damage and promotes functionality.
Reduces discomforts.
The Disadvantages of Pear Blue CBD Crystal Isolate
Pear Blue CBD Crystal Isolate Similar Products
FAQs
How does it Smell & Taste?
Smells and tastes like pear fruit.
Is it Safe to Use?
It has been scientifically proven to be safe for human use.
How Long Before I See Any Improvements?
Results will show in at most an hour of usage.
Possible Side Effects
It may cause addiction.
Read Next – Lemon Lime Blue CBD Crystal
Pear Blue CBD Crystal Isolate Review – Final Verdict
Pear Blue CBD Crystal Isolate is a liquid derived from high quality crystal isolates. It is infused with CBD derived from natural and organic plants grown by the manufacturer without the use of chemicals for pests control or artificial fertilizer in their farm in Scandinavia.
It is free from THC and has shown high concentration of CBD which goes up to 7X making it a good product to settle for as it will deliver its benefits with no energy crash or psychoactivity after use.
It is also important to note that it has no binders, fillers, banned substances, preservatives and GMOs. It has been scientifically researched and has shown high levels of potency, safety and purity.
This liquid will improve functions like cognition, reproduction and production of hormones. It will also regulate appetite. Reduce craving for addictive substances and pain.
We recommend that you only get this liquid from the manufacturer's official website.
In our opinion, below you'll find the most effective CBD Hemp Vape Oil & Vaporizers on the market. These products are classified on 5 key factors: Allows for Herb Heating with Activation of Psychoactive Properties*, Increases Herb Potency*, Activates and Unlocks The Cannabis Flower*, Increases* Bioavailability (Medicinal Purposes) and Contains Modern Technology and Design*. Ultimately, we determined the bottom-line value of each product.
Top Rated CBD Hemp Vape Oil & Vaporizers
Liquid Gold 1ml - Jungle Juice

Allows for Herb Heating with Activation of Psychoactive Properties*
Activates and Unlocks The Cannabis Flower*
Increases* Bioavailability (Medicinal Purposes)
Contains Modern Technology and Design*
Chong's Choice CBD Oil 1000MG
Allows for Herb Heating with Activation of Psychoactive Properties*
Activates and Unlocks The Cannabis Flower*
Increases* Bioavailability (Medicinal Purposes)
Contains Modern Technology and Design*
Energy Drink Blue CBD Crystal
Allows for Herb Heating with Activation of Psychoactive Properties*
Activates and Unlocks The Cannabis Flower*
Increases* Bioavailability (Medicinal Purposes)
Contains Modern Technology and Design*