Fruit Circle Cereal Diamond CBD Oil Overview
Fruit Circle Cereal Diamond CBD Oil is a high-end vapor liquid as well as oral drops which are almost entirely natural.
They contain artificial flavors which are absolutely harmless. This particular unit is designed to remind you of a bowl of flavored cereal – something that all of us love. It resembles the taste which is blended with milk in order to deliver a nice aroma and a precious taste.
This is high-end CBD Tincture oil. It is also infused with hemp oil that's very rich when it comes to its CBD content. This is quite beneficial.
There are a lot of positive effects of CBD which are already backed up by some serious medicinal research. That's why this product is legal in all of the 50 states of the country.
Manufacturer Information And Claims About Fruit Circle Cereal Diamond CBD Oil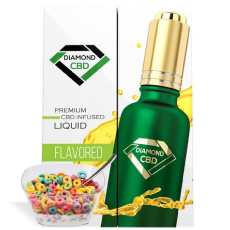 One of the things that we tend to look forward the most is the manufacturer. It is a company called Diamond CBD. It is well-known in the industry and it's one of the leading producers. It focuses towards the production of 100% natural CBD-infused hemp oil. It abides by the most stringent industry standards and all of its oils are derived from a GMO-free hemp farm. They use absolutely no artificial ingredients, chemicals, pesticides or herbicides to produce their plants.
This is also why you won't find any serious claims. The company is well aware of the benefits of CBD and it doesn't need to oversell its products. This particular one has a different taste which is the only difference between it and other CBD oils of the same manufacturer.
It could be used orally or as vapor liquid for your e-cigarette. This is something quite beneficial. It is capable of reducing stress, anxiety and to soothe your nerves a great deal.
Furthermore, the product is going to bring in serious digestive support and to induce a proper sleep if you are troubled with insomnia, for instance.
Working Process And The Ingredients List
The main thing that's worth noticing here is the lack of THC. This is one of the most important considerations that you'd have to account for when it comes to it. The product isn't going to get you high, even if you smoke it with an e-cig as it could be used as a vapor liquid.
This is quite beneficial. The only ingredient that you'd interact with is the CBD and it has no psychoactive functions.
The ingredients are:
Vegetable Glycerin – This is a powerful natural agent which brings in additional water molecules and cleanses your body
Industrial Hemp Cannabidiol – This is what's going to bring in the benefits in general. It is the main ingredient and the one that you would have to account for.
Propylene Glycol – This is usually found in nature as a product which results from fermentation.
Artificial Flavors – These are completely harmless but induce a very nice taste and smell to the liquid
Fruit Circle Cereal Diamond CBD Oil Review – Does It Really Work?
This is a product which is working and it is quite popular. The fact that it has an added flavoring to it makes it even more interesting to the regular user. The truth is that the natural taste and aroma of hemp oil could be a bit off-putting to certain people and that's something to account for. This one takes care of the issue.
The Advantages of Fruit Circle Cereal Diamond CBD Oil
It reduces anxiety
It could help with conditions such as PTSD
It has an awesome flavoring
The Disadvantages of Fruit Circle Cereal Diamond CBD Oil
The FDA approval is yet to be issued
FAQ's
How Does It Smell & Taste?
The smell and taste resemble fruit circle cereal. They are particularly enticing and very enjoyable – something that you ought to take into serious consideration when it comes to it.
Is It Safe To Use?
The product is safe to use.
How Long Before I See Any Improvements?
If you use it as vapor liquid – the effects will be instant. If used orally – they will be a bit slower.
Possible Side Effects
No side effects are associated with the product.
Read Next – Grape Diamond CBD Oil
Fruit Circle Cereal Diamond CBD Oil Review – Final Verdict
This is a highly-beneficial product with a lot of potent effects. It is brought to you by one of the most reliable manufacturers and it is definitely worth your attention.
Furthermore, it brings 7 times the CBD concentration of other competitive products on the market. This is definitely something that you should account for.
The product is backed up by actual science and there is a lot of research on CBD which supports it. We strongly recommend this one, especially if you are a fan of the flavor.
In our opinion, below you'll find the most effective CBD Hemp Oil Drops products on the market. These products are classified on 5 key factors: Improves* General Health and Well Being, Reduces* Anxiety Levels, Increases* Brain Focus and Concentration, Decreases* Stress Hormone Levels and Restores Hormonal Balance. Ultimately, we determined the bottom-line value of each product.
Top Rated CBD Hemp Oil Drops
Meds Biotech CBD Oil

Improves General Health and Well Being*
Increases Brain Focus and Concentration*
Decreases Stress Hormone Levels*
Restores Hormonal Balance*
Blue CBD Crystals Isolate
Improves General Health and Well Being*
Increases Brain Focus and Concentration*
Decreases Stress Hormone Levels*
Restores Hormonal Balance*