Daytime Formula by Organix Herbal Overview
Daytime Formula by Organix Herbal is a dietary supplement developed to relieve moderate to severe health conditions. These include pain, spasms, muscle stiffness, and even more serious problems like multiple sclerosis.
The formula also provides that energy boost needed to improve athletic and sexual performance. Proper use of this formula on a regular basis shall help improve your overall physical and mental health.
Manufacturer Information and Claims about Daytime Formula by Organix Herbal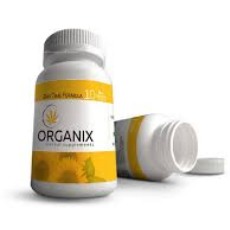 Organix Herbal Supplements, as the name suggests, is a company that specializes in producing supplements derived from healing herbs. These herbs are sourced from different parts of the Americas, Africa, and Asia and combined to come up with solutions that intend to produce long-lasting relief from various health problems and chronic conditions.
The herbs used in each and every product are grown organically to ensure maximum safety, purity, and potency. The company's aim is to introduce supplements that are not only high-quality, but of the best value as well.
Working Process and the Ingredients
Daytime Formula by Organix Herbal consists of a powerful blend of herbs that work together to provide multiple health benefits. The key ingredient cannabis sativa, however, is the one mainly responsible for the supplement's ability to promote overall health and wellness of the mind and body. But to explain the role of each ingredient in the formula, here's how they contribute:
Cannabis sativa concentrate – Known for its long list of health benefits, among which include: relief of stress and anxiety, inducing deep restful sleep, improving digestion, reducing pain caused by autoimmune diseases and cancer, regulating blood pressure, and promoting cardiovascular health.
Ginseng – Like cannabis, this herb also has numerous health benefits, the most important of which are providing the body with energy it needs to get through the day, lowering blood sugar and cholesterol levels, reducing stress and promoting relaxation, and treating sexual problems in men.
Ginger – Contains beneficial compounds that helps fight common cold, nausea and vomiting, fever, and digestive problems; it also has some potent antioxidant and anti-inflammatory properties.
Ginkgo biloba – Has many brain-boosting benefits like improved memory, cognition, and concentration; it is also helpful in relieving headaches and migraines, reducing anxiety and depression, and preventing Alzheimer's disease.
Maca – Helps boost energy levels and promote the body's homeostatic balance.
White pepper – Aids in energy production, proper digestion, and prevention of free radical-induced damage.
Sunflower oil – Loaded with essential fatty acids that help maintain heart health and reduce the risk of cardiovascular diseases.
Daytime Formula by Organix Herbal – Does It Really Work?
There aren't many actual customer reviews for the product, so we won't know for sure if Daytime Formula by Organix Herbal is really as effective as its manufacturers would like us to believe. However, given the impressive list of ingredients, it is safe to assume that it works as each one of these ingredients have a long history of use in many supplements due to their safety and effectiveness.
The Advantages of Daytime Formula by Organix Herbal
It may consist of a powerful blend of organic herbs.
It helps manage various health problems.
It improves both athletic and sexual performance.
It relieves stress and anxiety.
It calms the mind and induces deep, restful sleep.
It may reduce pain caused by chronic health problems.
The Disadvantages of Daytime Formula by Organix Herbal
There seems to be no actual customer testimonials to attest to the effectiveness of this product.
FAQs
How does it smell and taste?
There is no indication of how Daytime Formula by Organix Herbal taste or smell like. Nonetheless, one should expect an earthy or herbal aroma brought about by the product's ingredients.
Is it safe to use?
Daytime Formula by Organix Herbal is safe to use as long as you follow the recommended dosage and instructions for use. If you have doubts, consult your physician for some advice.
How long before I see any improvements?
The manufacturers did not mention how long it would take for Daytime Formula by Organix Herbal to start working, but it is safe to assume that consistent use for a few days to weeks will give you the improvements you're looking for.
Possible Side Effects
The products does not produce any side effects, unless you have allergy to one of the ingredients in the formula. If you're in doubt consult your specialist to find out.
Daytime Formula by Organix Herbal – Final Verdict
Organix Herbal Supplements is a great option for individuals who are looking for a power-packed product to improve not just their specific health problems, but their overall health as well. Its list of ingredients is impressive, and we're not referring to cannabis sativa alone but to the entire formula.
There may be a few downsides like the lack for customer testimonials to attest to the product's effectiveness, but overall it is a worthy option. If these isnt enough for you, you can always search for other supplements that could meet your standards and health needs.
In our opinion, below you'll find the most effective CBD Hemp Oil Drops products on the market. These products are classified on 5 key factors: Reduces Chronic Stress and Anxiety*, Supports Mental Health*, Reduces Blood Sugar Levels*, Supports Bone Growth* and Improves Cognitive Functioning*. Ultimately, we determined the bottom-line value of each product.
Top Rated CBD Hemp Capsules
Meds Biotech CBD Collagen Capsules

Reduces Chronic Stress and Anxiety*
Reduces Blood Sugar Levels*
Improves Cognitive Functioning*
Reduces Chronic Stress and Anxiety*
Reduces Blood Sugar Levels*
Improves Cognitive Functioning*