In This Review
Natureday Enlargement Cream Overview
The Natureday Enlargement Cream is a full body cram that, according to claims made by the manufacturer, can help women with achieving the perfect set of breasts for them.
The product was made with the aim of helping women increase the size of the breasts in a non-invasive and safe manner, and the cream claims to be able to provide other benefits as well, including firming and toning the breasts and boosting the appearance of the user's skin.
The confidence that a woman feels is tied majorly to her outlook of herself, and the appearance of a woman is definitely important to her. Over the years, women with smaller breasts have been looking or a means of helping with enlargement, and this is an area where the Natureday Enlargement Cream just might be of help.
How Does It Rate?
Overall Rating: 3.3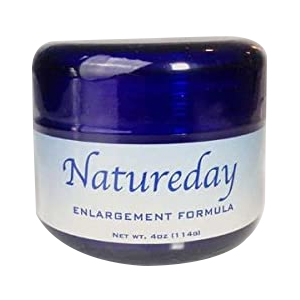 Natureday Enlargement Cream
Natureday Enlargement Cream was manufactured by Natureday.
The brand is a skincare and wellness company that claims to help both women and women with a wide array of products that can help them optimize their bodies as regards specific parts and functions.
According to the company's website, they manufacture their products with natural and safe ingredients, and they claim to provide a safe and inexpensive alternative to surgical procedures.
Key Ingredients
Water
Glyceryl Stearate
Cumin
Glycerin
Saw Palmetto
Dandelion
Pros
It might be able to help tighten the breasts, essentially giving them a firmer and more balanced look
It might also be able to help make the breasts larger, thereby improving the user's confidence
According to the manufacturers, the cream has some benefits for the appearance and texture of the skin as well
It might be able to provide some nutrients to the body as well, thereby improving overall health
Cons
Considering the fact that it is a cream, there is always the possibility of dangerous irritation (especially for women with sensitive skin)
It might also tend to be a tad addictive
It might not be able to deliver on all of its promises, especially considering the fact that it made some bold claims
It might take a while before the benefits begin to show
The scent of the product might also not be palatable for everyone
---
How Does the Natureday Enlargement Cream Work?
Natureday Enlargement Cream works by stimulating the growth of new cells in the mammary glands. When the cream is rubbed on the skin, the ingredients get absorbed by the skin and begin to work, essentially helping to enlarge, the and tone the breasts
Natureday Enlargement Cream Ingredients – Are They Safe & Effective
This Breast Enlargement Cream makes use of a combination of ingredients that work by helping to increase the rate of cell generation around the breasts. By doing so, they can help with enlargement, firming and rejuvenation.
Some of the ingredients used by the manufacturer include:
Water
– The water acts as the major hydrant, and it provides mister and hydration to the skin
Glyceryl Stearate
– The Glyceryl Stearate is also present to help with the conditioning of the skin
Cumin
– Cumin helps with the rate of blood circulation, and it also improves the rate of fat loss. [1]
Glycerin
– Glycerin provides anti-aging effects for the skin and helps with improving the rate of cell maturation. [2]
Saw Palmetto
– Saw Palmetto can help to build muscle mass, which helps in the breast enlargement process
Dandelion
– For help in reducing the appearance of acne, Dandelion is here for you. [3]
Natureday Enlargement Cream FAQ's
Q: How Should You Use Natureday Enlargement Cream?
A: Products like these are usually best used according to the recommendations of the manufacturers. However, since it is a cream, all you will need to do is rub it on the areas where you desire enlargement and tightening and it should be able to work from there.
However, the manufacturer also recommends that you massage it properly for the best results. Also, make sure to wash it off if you have a child to breastfeed and before you go to bed at night.
Q: How Much is Natureday Enlargement Cream?
A: As of this writing, thee Natureday Enlargement Cream retails for $37.00
Q: What Is Natureday Enlargement Cream Return Policy?
A: The manufacturer's website does say that they provide returns for products that customers might not be satisfied with. However, there is no specification as regards the time frame within which a claim for a return will be valid.
Q: Does Natureday Enlargement Cream offer a free trial?
A: The manufacturer's website doesn't provide any information about regards this, so it will be a tad difficult to ascertain whether they provide free trials
Natureday Enlargement Cream Reviews – Final Verdict
It might be able to help improve and increase the size of the user's breasts
It might also be able to help protect the skin and improve its texture
There is a tendency for the product to be a tad addictive
It might take a while before you begin to see the desired effects
All in all, the Natureday Enlargement Cream does make some bold claims. The manufacturers say that it might be able to help improve the appearance and size of the breasts, while also eliminating side effects and giving the skin a better appearance as well.
However, you might also want to take note of the act that for women who will like to get a sporadic increase in the size of their breasts, this product might tend to be a tad addictive. Also, if you have excessively sensitive sin, there are some chances of irritation as well.
Keep in mind that these are some alternatives that claim to be able to provide you with the same benefits as this cream. In the event that you don't get proper value for your money with this product feel free to check those out as well.
To help you find the best breast enhancers which are both effective and free from side effects, we have ranked the top products being sold today. We were able to rank the products based on important factors like the product's ability to enhance breasts long term, potential to Increases* Bust Size and quality of ingredients. Here are the top breast enhancement products available today. Ultimately, we were able to determine the bottom-line value of each product. Now, you no longer have to spend a lot of time researching just to find the best breast enhancement creams and pills for you.
Below are some of the best Breast Enhancement products on the market today, in our opinion.
Our Top Breast Enhancement Choices
Verdict on Claimed Benefits: Below is our summary of the available evidence for the claimed benefits of below mentioned breast enhancement supplements and creams based on the available research:
Total Curve | Intensive Breast Improvement Formula

Balanced Breast Symmetry*
Gold Star Evidence
Improves Breast Volume*
Gold Star Evidence
Enhances the Breast Size*
Gold Star Evidence
Strengthens Breast Tissue*
Strong Evidence
Bravona Forte | Breast Augmentation Product
Get Bigger Breasts*
Gold Star Evidence
Enhances Cleavage*
Strong Evidence
Contributes to Hormonal Balance*
Gold Star Evidence
Increase Bust Size*
Strong Evidence
ProBreast Plus | Breast Firming Formula
Supports the Endocrine System*
Gold Star Evidence
Prevent Breast Sagging*
Strong Evidence
Reduces PMS Symptoms*
Strong Evidence
Improves Overall Breast Health*
Strong Evidence
Product reviews are provided for informational purposes only and reflect solely the views and opinions expressed by the contributors and not those of Consumer Health Digest. We do not verify or endorse any claims made in these reviews. Please read the full product reviews disclaimer. *All individuals are unique. Your results can and will vary.
Ask a Question
Have a Question? Please Tell Us What We Are Missing Here!
PRODUCT NAME
Natureday Enlargement Cream
PRODUCT BRAND
Natureday
PRICE (in USD)
$35.00
ITEM FORM
Cream
VOLUME
6.4 Ounces
INGREDIENTS
Water, Glyceryl Stearate, Cumin, Glycerin, Saw Palmetto, and Dandelion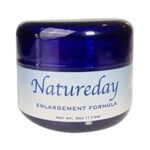 $35.00 At Amazon
Walmart
3 Sources
We review published medical research in respected scientific journals to arrive at our conclusions about a product or health topic. This ensures the highest standard of scientific accuracy.
[1] Taghizadeh M, Memarzadeh MR, Abedi F, et al. The Effect of Cumin cyminum L. Plus Lime Administration on Weight Loss and Metabolic Status in Overweight Subjects: A Randomized Double-Blind Placebo-Controlled Clinical Trial. Iran Red Crescent Med J. 2016;18(8):e34212. Published 2016 May 23. doi:10.5812/ircmj.34212
[2] Anti-Aging Properties of Plant Stem Cell Extracts :
https://doi.org/10.3390/cosmetics5040055
[3] Yang Y, Li S. Dandelion Extracts Protect Human Skin Fibroblasts from UVB Damage and Cellular Senescence. Oxid Med Cell Longev. 2015;2015:619560. doi: 10.1155/2015/619560. Epub 2015 Oct 20. PMID: 26576225; PMCID: PMC4630464.
**This is a subjective assessment based on the strength of the available informations and our estimation of efficacy.
*Result may vary. The information contained in this website is provided for general informational purpose. No medical claims are implied in this content, and the information herein is not intended to be used for self diagnosis or self treatment of any condition.
*Disclosure of Material connection: Some of the links in the post above are "associate sales links." This means if you can click on the link and purchase an item, we will receive a commission. Regardless, we only recommend products or services which we use personally and/or believe will add value to our readers. We are disclosing this in accordance with the Federal Trade Commission's 16 CFR, Part 255: "Guides Concerning the Use of Endorsements and Testimonials."