In This Review
What Is Bustmaxx?
Women are starting to realise there is a cheaper and easier way to increase their breast size. Surgery is invasive and expensive. Bustmaxx is one of the breast enlargement products with a high success rate.
Bustmaxx is a pill that enlarges breast size if it is taken properly and is claimed to be a proven solution that delivers fast and long-term results.
How Does It Rate?
Overall Rating: 3.2
Bustmaxx
Brand Highlights
Top Rated Breast Enhancement Formula.
Safe, all-natural alternative to risky, expensive surgery.
Premium, Natural Ingredients, No Cheap Fillers.
It is independently lab tested for purity and potency.
Key Ingredients
Fenugreek
Saw Palmetto
Fennel
Wild Yam
Dong Quai
Blessed Thistle
Damiana.
Pueraria Mirifica
Pros
Bustmaxx has no known side effects.
The ingredients are safe to use.
It can be purchased online, which is very convenient.
Cons
There are no clinical studies cited to prove that Bustmaxx is safe and works well.
It is relatively expensive considering the fact that it is recommended to be used for at least five months.
---
Does Bustmaxx Really Work?
Bustmaxx breast enlargement pills before and after results are quite astonishing, as Bustmaxx has worked for a lot of women. Bustmaxx claims to be able to increase women's breast sizes by up to three cup sizes if taken at the right dosage. It also claims to make the breasts larger and fuller.
Results should start showing within four to six weeks. Some women have seen results in six weeks; others have seen results in four months. It must be taken for at least five months for optimal benefits.
Bustmaxx Ingredients – Are They Safe & Effective?
Bustmaxx contains numerous herbal ingredients such as: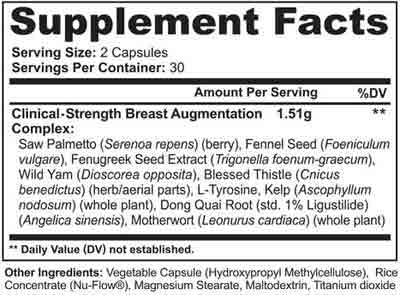 Fenugreek
– It is a plant whose seeds are used to make medicine. Fenugreek has been used for many conditions. It is used for digestive problems, kidney ailments, and erectile dysfunction; and to promote breast milk flow in women. According to fenugreek boosts the estrogen levels in the body.[1]
Saw Palmetto
– The fruit contains compounds that boost hormonal health. It contains phytosterols (beta-sitosterol, stigmasterol, and campesterol). It is known as a natural remedy in the body. for symptoms of benign prostatic hypertrophy (enlarged prostate). It also regulates hormones in the body and relieves menopausal symptoms.[2]
Fennel
– It is indigenous to the shores of the Mediterranean. Organic Facts Study says it is used for various digestive problems. It is also used for increasing sex drive, the flow of breast milk, and promoting menstruation. The seeds are a great source of minerals like copper, iron, calcium, potassium, zinc, and magnesium.[3]
Wild Yam
– It is indigenous to North America. It contains diosgenin which is often said to be an alternative to estrogen therapy. It is used to relieve the symptoms of PMS (Premenstrual syndrome), menstrual cramps, increase sexual drive, and enlarged breast size.[4]
Dong Quai
– It is also known as female ginseng. It is indigenous to China and has been used in traditional Chinese medicine for years. The phytochemicals consist of coumarins, phytosterols, polysaccharides, ferulate, and flavonoids. It has antioxidant activity. It is used for menstrual cramps, premenstrual syndrome (PMS), and menopausal symptoms.[5]
Blessed Thistle
– It is indigenous to the Mediterranean region, from Portugal to Southern France and Iran. It is known also and used in other parts of the world. It is used for loss of appetite and indigestion. Blessed Thistle is also used to promote breast milk flow.[6]
Damiana
– It is indigenous to Central America, Mexico, South America, Texas in the United States, and the Caribbean. It has long been claimed to have a stimulating effect on libido.[7]
Pueraria Mirifica
– This plant is found in Northern and North Eastern Thailand and Myanmar. It contains various phytoestrogens like deoxymiroestrol, miroestrol, daidzeinm sitosterol, stigmasterol, coumestrol, genistin, campesterol, pueraria, and mirificine.[8]
Also See – Breast Actives
Bustmaxx – FAQs
Q: How much does it cost?
A: Bustmaxx prices ranged from $32 to $38 for one bottle. There is a special package price of $70.95 for three bottles of Bustmaxx. Each bottle contains 60 capsules.
Q: How does Bustmaxx work?
A: Bustmaxx contains exclusive ingredients that stimulate new cell growth in the mammary glands for natural breast enhancement in a woman's body.
Q: Is Bustmaxx FDA approved?
A: Bustmaxx is a highly concentrated breast augmentation formula made in GMP-certified* and FDA-approved* facilities from the highest grade ingredients.
Q: Is Bustmaxx safe to use?
A: It is blended with natural ingredients, and there are no major side effects associated with Bustmaxx as far as customer reviews are concerned.
Q: What are the results of Bustmaxx before and after?
A: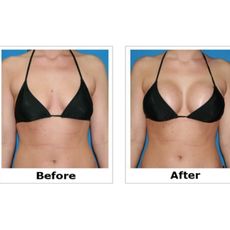 The Bustmaxx reviews are all positive and show that customers like the products for helping to achieve naturally enhanced breasts. Bustmaxx helps you achieve naturally enhanced breasts thanks to its trusted herbal ingredients that stimulate new cell growth in the mammary glands in a woman's body.
The importance of maintaining long-lasting youthful breasts with regular care is proven by the Bustmaxx results, as you can notice visible changes in your breasts. For an accurate answer to how to enhance all-natural, fuller breasts, check out the reviews of Bustmaxx pills that we have included in the review section.
Customer Reviews for Bustmaxx
Was hesitant to try. Previously tried fenugreek and experienced bad side effects. With Bustmaxx I have not had any. It actually works. In the first few days I could see and feel a difference. I would definitely recommend giving it a try.~ Review by Huyck G.
no difference…have been consuming the product for over 4 months now with zero effect….looks like waste of money to me…have another 3 bottles to finish if it does work then will change the ratings. ~ Review by lilith
Hasn't seen any results at all.~ Review by Rebecca K.
Bustmaxx Review – Final Verdict
There are no clinical studies to prove the effectiveness of BustMaxx. It is uncertain if it will work. However, a lot of women who have used Bustmaxx have been satisfied. A website states that Bustmaxx offers a 100% money-back guarantee, but we do not know how accurate that is.
To help you find the best breast enhancers which are both effective and free from side effects, we have ranked the top products being sold today. We were able to rank the products based on important factors like the product's ability to enhance breasts long term, potential to Increases* Bust Size and quality of ingredients. Here are the top breast enhancement products available today. Ultimately, we were able to determine the bottom-line value of each product. Now, you no longer have to spend a lot of time researching just to find the best breast enhancement creams and pills for you.
Our Top Breast Enhancement Choices
Total Curve

Improves Firmness of Bust*
Provides Well-rounded Appearance*
Improves Firmness of Bust*
Provides Well-rounded Appearance*
Product reviews are provided for informational purposes only and reflect solely the views and opinions expressed by the contributors and not those of Consumer Health Digest. We do not verify or endorse any claims made in these reviews. Please read the full product reviews disclaimer. *All individuals are unique. Your results can and will vary.
Ask a Question
Have a Question? Please Tell Us What We Are Missing Here!
PRODUCT NAME
Bustmaxx
PRODUCT BRAND
BustMaxx
PRICE (in USD)
$32.00
ITEM FORM
Capsule
UNIT COUNT
60 Count
INGREDIENTS
Fenugreek, Saw Palmetto, Fennel, Wild Yam, Dong Quai, Blessed Thistle, Damiana and Pueraria Mirifica.
$71.99 At Amazon
$31.95 At Walmart
8 Sources
We review published medical research in respected scientific journals to arrive at our conclusions about a product or health topic. This ensures the highest standard of scientific accuracy.
**This is a subjective assessment based on the strength of the available informations and our estimation of efficacy.
*Result may vary. The information contained in this website is provided for general informational purpose. No medical claims are implied in this content, and the information herein is not intended to be used for self diagnosis or self treatment of any condition.
*Disclosure of Material connection: Some of the links in the post above are "associate sales links." This means if you can click on the link and purchase an item, we will receive a commission. Regardless, we only recommend products or services which we use personally and/or believe will add value to our readers. We are disclosing this in accordance with the Federal Trade Commission's 16 CFR, Part 255: "Guides Concerning the Use of Endorsements and Testimonials."