In This Review
Bust Bunny Breast Enhancement Overview
Bust Bunny is a breast enlargement cream that has been around for nearly two decades.
The product has been designed with the aim of helping women looking to enhance their breast size.
The drug might help you get fuller, rounder, and firmer breasts.
To avoid possible side effects, the manufacturer claims to make use of natural herbs which they believe would sound appealing to women.
With Bust Bunny, the manufacturer believes that there is no need for expensive surgeries that might end up causing some life-changing complications.
If you are looking for a supplement that would help increase your breasts to a desirable size naturally without undergoing surgery or plastic enlargement, then this product might be of help to you.
The market is flooded with supplements that would help you achieve breast enlargement but Bust Bunny is one of the standout few. Let us take a closer look at this Bust Bunny review.
How Does It Rate?
Overall Rating: 3.5
Miracle Bust
The manufacturer of this product is also Bust Bunny.
This is a company that has built a reputation over the past two decades.
The company has become a community where women can comfortably share the history of their insecurities and needs.
Their products are developed by scientists with more than 45 years of experience in the field of dietary supplements. The company claims to have helped women find ways to achieve breast increase without the pain and scar usually attained via surgeries.
In addition to that, the company has also helped women attain clearer skin, and painless cramps, thus making them happier.
Loads of information available on its website have increased the credibility of the company.
Key Ingredients
Fennel Seed
Red Clover
Motherwort
Flaxseed
Chasteberry
Hops
Fenugreek
Pros
Ingredients used are all natural.
The supplement might help increase breast size, making them fuller, rounder, and firmer.
The supplement may save you from the pain and scar you will encounter when you undergo breast enlargement surgery.
Best Bunny capsules might help calm hormonal swings, dramatically reduce menstrual discomfort, and increase sexual desires.
Best bunny doesn't have any recovery period.
Cons
Bloating is experienced during the first few weeks of taking this supplement.
Changing diet while taking this drug could affect your body's performance during the adjustment phase.
They do not offer a free trial of the supplement.
Results differ from one person to another.
While taking the supplement, you will have to avoid some meals as taking them could delay the results.
---
How Does Bust Bunny Work?
Bust Bunny contains organic breast pills that were developed using natural herbs.
The ingredients work together to hasten the development of the breast tissues. The herbal ingredients used do have estrogen-like benefits, thus leading to water retention inside the breast. This process improves the bustline measurements.
Bust Bunny pills have phytoestrogens which are estrogen but are usually available in diets.
The company claims that phytoestrogens are like the hormone already present in the female body, thus the side effects of the pills would be like that of birth control pills.
The pills might help in increasing the size of your bust while also fuller, rounder, and firmer, with the side effects associated with surgery, avoided.
Bust Bunny Ingredients – Are they Safe & Effective?
The manufacturer claims to make use of natural herbs.
The Bust Bunny pills were developed using a unique formula that combines 13 essentials botanicals mixed with hard-to-find extracts, which the manufacturer claims to have made the supplement even stronger.
Fennel Seed
– This ingredient stimulates the production of flavonoids which have mild estrogenic effects. This helps to stimulate the growth of breast tissue and also repair them.
It is a cooling spice that helps calm the nerves, relaxing the muscle and helping stimulate mental alertness. [1]
It also serves as an aphrodisiac that helps increase female libido.
Red Clover
– This ingredient contains isoflavone which serves similar functions to estrogens and helps make the breast perky.
According to study from Breast Cancer Organisation red clover is used to treat menopausal symptoms and breast pain. [2]
Motherwort
– It is used in the treatment of heart conditions, anxiety and menstrual periods.
Flaxseed
– It is a source of antioxidant that protects against cardiovascular issues.
Chasteberry
– Also known as Vitex, this herb helps in relieving cramps and enlarging breasts.
Hops
– The herb contains estrogen that aids in breast enlargement as it plays a major role in the breast growth process.
Fenugreek
– It helps boost breast milk production by stimulating the mammary gland which aids breast tissue growth. According to Medical News Today fenugreek boosts the estrogen levels in the body. [3]
Bust Bunny Before and After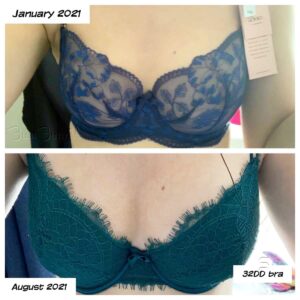 Bust Bunny before and after pictures of users show that they experienced a couple of changes after a month of use. Users experienced breast enhancement, and their breasts were noticeably fuller and firmer without any side effects. You can also read real customer reviews and see Bust Bunny before and after pictures on the official website.
I have been taking this supplement for over a month and absolutely am seeing results. My breasts are noticeably fuller with no side effects. ~review by Tyra Miller
I have tried other products but Bust Bunny works wonders. I'm on my second bottle and have gone up one full cup size. Very happy ~review by Tiffany Smith
I have been using Breast Enhancement for over 6 months and I couldn't be happier. My chest size has increased and is firmer. After having 3 kids this was exactly what I needed and is life-changing. ~review by Jessica
Bust Bunny Breast Enhancement FAQ's
Q: How Should You Take Bust Bunny?
A: The Bust Bunny supplement is taken twice a day, once in the morning, and once in the evening, and with 8 to 16 ounces of water.
The manufacturer claims that if taken regularly, then the results should be visible in 6 to 8 weeks.
Once the required breast size is achieved, it is recommended to reduce the dosage to one pill per day for the next 90 days. This is to ensure that the breast size is maintained and fullness is attained.
Q: How Much is Bust Bunny?
A: One bottle of the Bust Bunny supplement goes for $39.95, which is a discount of $20. You can save $40 when you order for three months which is sold for $48.99 instead of $89.95.
For six months, you can save more than $100 as the company sells six bottles for $74.95 instead of $179.95, while for 12 months' supply, you can save more than $150 when you buy for $129.95 instead of $299.95.
Q: What is Bust Bunny's Return Policy?
A: The Bust Bunny has a 90-day return policy, with the company to refund you full of your fund if you use the product within that period and didn't achieve the required result.
Q: Does Bust Bunny Offer a Free Trial?
A: The manufacturer doesn't offer a free trial for this supplement but you can make use of your coupon to get 5% off your entire order this September.
Similar Product to Bust Bunny – Bustmaxx
Bust Bunny Reviews – Final Verdict
Bust Bunny is a supplement that might help you increase the size of your breasts while keeping them rounder and more firm.
The ingredients in the supplement produce estrogen which might be able to help boost breast tissues and enhance their growth.
The manufacturer claims that the ingredients are all-natural and could have few side effects that breast enlargement surgery usually comes with.
However, this supplement has some restrictions as it is not recommended for pregnant and lactating women.
The supplement doesn't also go well with a change in diet and some drugs. Therefore it is recommended that you consult your physician before starting to make use of the Bust Bunny supplement.
To help you find the best breast enhancers which are both effective and free from side effects, we have ranked the top products being sold today. We were able to rank the products based on important factors like the product's ability to enhance breasts long term, potential to Increases* Bust Size and quality of ingredients. Here are the top breast enhancement products available today. Ultimately, we were able to determine the bottom-line value of each product. Now, you no longer have to spend a lot of time researching just to find the best breast enhancement creams and pills for you.
Below are some of the best Breast Enhancement products on the market today, in our opinion.
Our Top Breast Enhancement Choices
Verdict on Claimed Benefits: Below is our summary of the available evidence for the claimed benefits of below mentioned breast enhancement supplements and creams based on the available research:
Total Curve | Intensive Breast Improvement Formula

Balanced Breast Symmetry*
Gold Star Evidence
Improves Breast Volume*
Gold Star Evidence
Enhances the Breast Size*
Gold Star Evidence
Strengthens Breast Tissue*
Strong Evidence
Bravona Forte | Breast Augmentation Product
Get Bigger Breasts*
Gold Star Evidence
Enhances Cleavage*
Strong Evidence
Contributes to Hormonal Balance*
Gold Star Evidence
Increase Bust Size*
Strong Evidence
ProBreast Plus | Breast Firming Formula
Supports the Endocrine System*
Gold Star Evidence
Prevent Breast Sagging*
Strong Evidence
Reduces PMS Symptoms*
Strong Evidence
Improves Overall Breast Health*
Strong Evidence
Product reviews are provided for informational purposes only and reflect solely the views and opinions expressed by the contributors and not those of Consumer Health Digest. We do not verify or endorse any claims made in these reviews. Please read the full product reviews disclaimer. *All individuals are unique. Your results can and will vary.
Ask a Question
Ques and Ans
Q: Does taking a bust bunny breast enlargement really work for my breast?

A: Bust Bunny is a natural breast enhancement supplement. The effectiveness of such supplements can vary by individual. While some users report positive results, scientific evidence on its efficacy is limited. It's always best to consult with a healthcare professional before trying any new supplement.
Have a Question? Please Tell Us What We Are Missing Here!
PRODUCT NAME
Bust Bunny
PRODUCT BRAND
Bust Bunny
PRICE (in USD)
$49.99
ITEM FORM
Capsule
UNIT COUNT
60 Veggie Capsules
INGREDIENTS
Fennel Seed, Red Clover, Motherwort, Flaxseed, Chasteberry, Hops, and Fenugreek
$169.95 At Amazon
$49.99 At Walmart
3 Sources
We review published medical research in respected scientific journals to arrive at our conclusions about a product or health topic. This ensures the highest standard of scientific accuracy.
[1] Effect of Fennel seed: On women health:
https://doi.org/10.52711/2454-2652.2022.00024
[2] Mannella P, Tosi V, Russo E, Zullino S, Pancetti F, Gompal S, Polak K, Genazzani AR, Genazzani AD, Simoncini T. Effects of red clover extracts on breast cancer cell migration and invasion. Gynecol Endocrinol. 2012 Jan;28(1):29-33. doi: 10.3109/09513590.2011.579660. Epub 2011 May 26. PMID: 21615235.
[3] Ben Hameid AS, Al-Sindi TA, Allow AK, Nafie EM, Alahmad BE, Faisal GG. Substantial Effect of Fenugreek Seeds Aqueous Extract on Serum Estradiol Level in Ovarian Hyperstimulation Syndrome Rat Model. Oman Med J. 2019;34(3):238-243. doi:10.5001/omj.2019.45
**This is a subjective assessment based on the strength of the available informations and our estimation of efficacy.
*Result may vary. The information contained in this website is provided for general informational purpose. No medical claims are implied in this content, and the information herein is not intended to be used for self diagnosis or self treatment of any condition.
*Disclosure of Material connection: Some of the links in the post above are "associate sales links." This means if you can click on the link and purchase an item, we will receive a commission. Regardless, we only recommend products or services which we use personally and/or believe will add value to our readers. We are disclosing this in accordance with the Federal Trade Commission's 16 CFR, Part 255: "Guides Concerning the Use of Endorsements and Testimonials."