In This Review
What is Vito Brain?
Vito Brain is a cognitive enhancement supplement which is made out of natural, organic ingredients. The manufacturer claims that it will improve your cognitive functioning and elevate your memory capacity and functioning.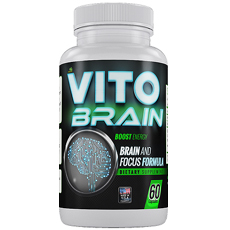 Vito Brain can apparently improve distractibility by enhancing your attention span. In addition, it may motivate you so that you're more productive and successful in your life. The product manufacturer does suggest that this supplement can improve your overall intelligence.
Who is the Manufacturer of Vito Brain?
The manufacturer of this product is Vito Brain. This organization is in the health supplement industry and produces primarily cognitive enhancement supplements. The purpose of their products is to help people to recover lost memory capacity and improve mental functioning.
They are targeted towards anyone who wants to improve their cognitive acuity, memory and attention span. However, they may be particularly helpful for people who have lost some memory function as they get older. This manufacturer is focused on producing supplements that include only natural, herbal ingredients and have very few side effects.
How Does Vito Brain Work?
Vita Brain is a supplement which aims to enhance memory skills and mental acuity. The ingredients aren't listed anywhere for this product, except for generally stating that it has vitamins[1], minerals[2], and vital nutrients[3]. However, what nootropics normally do is target the some of the brain's neurotransmitters, and specifically those that have to do with mental acuity and brain health. The supplement tries to optimize the number of these neurotransmitters, in particular acetylcholine. The chemical has a significant impact on memory and critical thinking, as well as attention span.
Vito Brain Ingredients – Are they Safe & Effective?
The ingredients in this product serve to optimize the number of neurotransmitters related to mental acuity and memory, especially acetylcholine. It is strongly related to memory and cognition. There are also vitamins, mineral, and nutrients to resolve any deficiencies in the body.
Some of the primary active ingredients in the supplement are:
Vitamins: These micronutrients serve a number of key functions in the body, so we require them for our bodies to run properly. In order to get all of the vitamins that you need, you have to eat a varied and balanced diet. The other way is to take a supplement or multi-vitamin.
Minerals: This is some type of solidified chemical compound. We also require many minerals for the proper functioning of the body, such as potassium and calcium.
Nutrients: Nutrients are essential for the body to grow and properly function. These compounds are found in food. They include, for example, fats, carbohydrates, and protein. Nutrients are essential for the proper growth and repair of the body.
Advertisement
*All individuals are unique. Your results can and will vary.
---
What are the Pros of Vito Brain?
This supplement may boost your cognitive acuity.
Vito Brain could greatly improve your memory.
The product can elevate your intelligence.
It might improve your attention span.
Vito Brain could give you additional motivation and productivity.
What are the Cons of Vito Brain?
The allergens are not provided on the websites.
There's not enough information to determine the product quality.
When you stop taking nootropics[4] there are withdrawal symptoms.
These supplements may interact with common medications.
The product may contain caffeine, but we don't know for sure.
---
Vito Brain Questions and Answers
Q: How Should You Take Vito Brain?
A: The recommended dosage of Vito Brain is 2 supplements every day, with a glass of water. The manufacturer doesn't indicate when during the day the capsules should be taken, or whether they should be taken together.
Q: How Much Does Vito Brain Cost?
A: The price of the supplement is not listed anywhere on the official websites. Since it's only available from the official website, there's no price listed anywhere else online either.
Q: What is Vito Brain's Return Policy?
A: There's no return policy listed on the official product website. Since the product isn't sold by any other online retailer, you can't find a different policy to cover your purchase. If you want this information you can probably get it by contacting the customer service department.
Q: Does Vito Brain Offer a Free Trial?
A: Yes, the company is offering a risk-free trial offer. Although there is no more information that that on the official webpage, a trial usually involves getting a free one-month supply of the product for a small shipping and handling fee.
Read Next
Vito Brain Review – Final Verdict
Vito Brain is a natural, organic supplement that is intended to give you added mental acuity, memory skills, and attention span. According to the manufacturer, the product can also give you a boost of energy and extra motivation. This could lead to greatly enhanced productivity. The company actually states that this product could improve your overall intelligence.
The biggest downfall is the lack of detailed product information provided by the manufacturer, mostly notably, the product ingredients. With no ingredient list it's impossible to check the quality of the product, or to see if there are any allergens included on the list. In addition, you can't find the pricing information for the product, the details on the trail offer, or the return policy. There actually are some potential side effects that are listed on the website, such as nausea, headaches, and depression.
The website does mention that this nootropic is filled with healthy vitamins, minerals, and nutrients. The supplement is very healthy for the body and should fill any vitamin and mineral deficiencies in the body. However, it is true that nootropics can have strong withdrawal effects when you go off of them.
Remember that before you purchase this supplement, you should research all the other competing brands to make comparisons in term of price, quality, and other features. In addition, you should always meet with your doctor before beginning a new supplement, to get approval.
More than ever people of all ages are struggling with memory problems. People are unable to disconnect from their work, while students are under immense pressure to perform. Brains are overloaded with information that must be remembered. A quality memory enhancement product might contain clinically proven ingredients that will help to enhance not only memory, but also focus and night concentration. Memory products might help to optimize overall mental health and brain function.
Below you'll find some of the most effective memory products on the market today, in our opinion.
Our Top Memory Supplements
Verdict on Claimed Benefits: Below is our summary of the available evidence for the claimed benefits of below mentioned brain health supplements and nootropic based on the available research: