In This Review
What is SG-11?
SG-11 is a comprehensive product that is designated to enhance the overall mental faculties of your brain.
This is something that is going to ensure that you receive proper focus and concentration and that you are not distracted by everything every couple of seconds. All of you who have busy schedules can understand how important and valuable concentration and focus is.
How Does It Rate?
Overall Rating: 3.7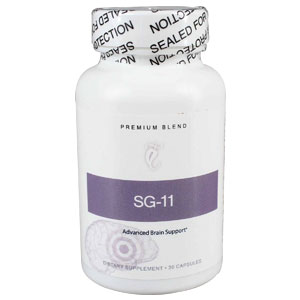 SG-11 Reviews
Brand Highlights
The manufacturer goes by the same name 'SG-11'.
Product enhance your overall mental performance
The manufacturer is claiming that it boost energy, increased concentration.
Also claim that it is made from natural ingredients.
Key Ingredients
Amino Acids
Vitamins and Minerals
Pros
It could enhance your mental performance
It could provide stronger focus
It could increase your memory and recall[3]
Cons
The ingredients could be better
---
How Does SG-11 Work?
What is more, the ability to remain focused for longer than a few minutes on a single task is something absolutely invaluable – this is why this memory booster medicine might be able to help you out.
Let's drill down and find out whether or not this is something that you should take into account.
Due to the numerous ambiguous reviews, we are unable to determine whether or not the product works as it is intended.
This is something that you ought to take into proper consideration as there are obvious people who are not content.
SG-11 Ingredients – Are they Safe & Effective?
This is a regular nootropic and you really shouldn't expect something entirely out of the box. The working process is reliable but that's as good as it goes.
The ingredients are quite average and they are all safe and natural. The company doesn't disclose them individually but mentions their categories which are at least something to work with.
Following are the ingredients which can also be found in the best nootropics:
Amino Acids
– These are going to help you with the foundation of your healthy mind. Study says amino acid may improve cognitive performance and brain function.
Vitamins and Minerals
– These are going to deliver additional benefits. Some of the main types of vitamins included in the product are B6[1], B12[2] as well as B3.
SG-11 Questions and Answers
Q: What are the side effects of SG-11?
A: There are no side effects encountered by users until now on taking this product.
It is made of all-natural ingredients that will not harm your health when ingested.
Q: How Should You Take SG-11?
A: The best thing for you to do is to ensure that you follow the instructions which are set forth by the company that manufactured it.
Q: What are the Precautions To Take When Using This Supplement?
A: Even though this is a completely harmless product and all the ingredients are natural, it is very important that you use it with caution – make sure that you are over 18 years of age and healthy.
Q: How Long Before I See Any Improvements?
A: The benefits are fairly individual but they should come within the first few days or even less of active usage.
SG-11 Review – Final Verdict
The truth is that there are a lot of nootropics out there and there is a lot of merit to using one.
This is something that could potentially enhance your productivity quite substantially and this is not something that you ought to disregard.
With this said, it is also important to understand that products of this kind do have merit to them.
However, there are a lot of negative reviews despite all this – this suggests that they fail at certain criteria and this could be quite harmful.
Do keep this in mind when it comes to it as it is quite important for you to consider.
We recommend our readers explore other best cognitive supplements to find the most suitable and convenient option.
More than ever people of all ages are struggling with memory problems. People are unable to disconnect from their work, while students are under immense pressure to perform. Brains are overloaded with information that must be remembered. A quality memory enhancement product might contain clinically proven ingredients that will help to enhance not only memory, but also focus and night concentration. Memory products might help to optimize overall mental health and brain function.
Below you'll find some of the most effective memory products on the market today, in our opinion.
Our Top Memory Supplements
Verdict on Claimed Benefits: Below is our summary of the available evidence for the claimed benefits of below mentioned brain health supplements and nootropic based on the available research: