In This Review
What is Ryno Power Motivation?
This is a supplement that is meant to enhance focus among the users especially those who are engaged in tough exercises such as weightlifters as well as cyclists who may need a lot of focus in the course of their training activities.
The nootropic supplements are made up of naturally extracted ingredients that have been found to support the functioning of the brain a great deal and hence suited for enhancing the focus among the users.
How Does It Rate?
Overall Rating: 3.7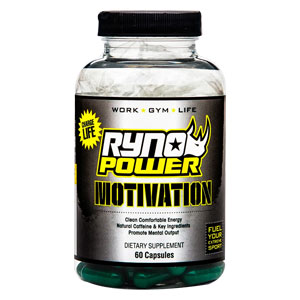 Ryno Power Motivation Reviews
Brand Highlights
The brand name is Ryno Power & Product name is Motivation.
Brand company is resorting to natural ingredients.
This is a company claiming to render the power of a rhino to the users of this supplement.
Key Ingredients
Bacopa Monnieri
Inositol
Bioperine
Guarana Seed Extract
L-Tyrosine
Vitamin C
Pros
There may be heightened focus among the users of the supplement.
Functioning of memory of the users of the supplement may be boosted.
There could be enhanced mental energy in the body.
Recall of information may be better supported by use of this formulation.
The formula is made up of natural ingredients.
Cons
The performance of the supplement has been criticized as not being strong enough as a nootropic.
It may feature some ingredients which are not preferred by some users.
The stimulant content in the supplement is quite high hence not preferred.
There could be a need to engage in other physical activities to notice better results in terms of focus.
Some users have complained about dry mouth.
---
How Does Ryno Power Motivation Work?
There are numerous support and working processes which are associated with the use of the supplement in the body. the ingredients are very helpful in the body as they enable better focus.
The ingredients are working well by inhibiting the conditions associated with aging in the brain hence making the users of the supplement stay young and better focused.
They also rejuvenate the brain cells hence enhancing the concentration and cognitive ability of the users. These working processes are combined together to allow users to gain overall health support in the brain.
Advertisement
*All individuals are unique. Your results can and will vary.
Ryno Power Motivation Ingredients – Are they Safe & Effective?
There are several ingredients that have been formulated together in order to give the users of Ryno Power Motivation support in focus as indicated below:
Bacopa Monnieri
– This is a natural herbal ingredient that is normally included in brain-boosting supplements. This is boosting physical brain health and allows better flow of blood to the brain.
Inositol
– This is acting in the body in several ways as a vitamin. It may depict anti-anxiety properties hence enhancing endurance [1].
Bioperine
– Enhances concentration of choline in the brain. It is also contributing to the effective absorption of other nutrients in the body for effective support [2].
Guarana Seed Extract
– This may be giving a boost to the functioning of the brain by stimulating the body in a natural and safe manner.
L-Tyrosine
– This is enhancing focus, drive, and motivation when used in order to enhance focus and endurance.
Vitamin C
– This is serving to cleanse the body including the vision and mental focus in the body.
You May Also Like – Calm-PRT Reviews
FAQ's
Q: How Should You take Ryno Power Motivation?
A: The serving size of the supplement is stated as 2 capsules hence a bottle of 60 capsules has 30 servings. However, it is not stated how to consume them.
Advertisement
*All individuals are unique. Your results can and will vary.
Q: How Much Does Ryno Power Motivation Cost?
A: The price of the supplement is stated as $24.95. This price does not include the costs for shipping and handling of the supplement.
Q: What is Ryno Power Motivation Return Policy?
A: There is no mentioned money-back guarantee on the supplement according to the official website of the brand. One may notice varied policies in retail stores.
Q: Does Ryno Power Motivation Offer a Free Trial?
A: There is no free trial of the supplement. One will have to pay for it to gain its claimed benefits in the body.
Alternatives
Ryno Power Motivation Review – Final Verdict
The brain supplement is making a number of claims concerning its suitability in the body especially in boosting focus.
It is claimed that it may enhance the mental energy in the body as well as focus levels. There is also a claim that the supplement may support endurance and cognitive function of the brain when used.
However, there may appear some drawbacks concerning the use of the formula since it is having some ingredients which may not give immediate results in the body.
Further, it is not considered a strong enough nootropic to use at the same time has no benefits in long-term usage hence users may consider looking for other supplements to boost their brain.
More than ever people of all ages are struggling with memory problems. People are unable to disconnect from their work, while students are under immense pressure to perform. Brains are overloaded with information that must be remembered. A quality memory enhancement product might contain clinically proven ingredients that will help to enhance not only memory, but also focus and night concentration. Memory products might help to optimize overall mental health and brain function.
Below you'll find some of the most effective memory products on the market today, in our opinion.
Our Top Memory Supplements
Verdict on Claimed Benefits: Below is our summary of the available evidence for the claimed benefits of below mentioned brain health supplements and nootropic based on the available research: