In This Review
What is NeuroQ?
Have you started to misplace your things and stuff lately? Have you been forgetting names and faces? Do you find it hard to focus on your work and tasks? Do you find your memory waning? If you nodded a yes to any of these questions, it's probably time to fine-tune your brain.
While a balanced diet and consistent exercise regime can greatly contribute to optimum brain health, it's sometimes hard to achieve them. That's where brain supplements like NeuroQ can help bridge the gap. From improving your working memory to increasing your focus and concentration, NeuroQ offers several promises. But does it deliver on them? Let's find out.
Manufactured by LifeSeasons, NeuroQ is a natural brain supplement created to support different aspects of cognitive health, primarily memory, and concentration. It is a memory enhancer that helps combat age-related cognitive declines symptoms like slower response time, shorter attention span, and gradual memory loss.
How Does It Rate?
Overall Rating: 3.8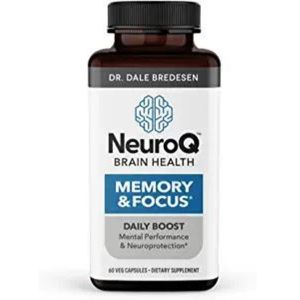 NeuroQ
Brand Highlights
NeuroQ is manufactured by LifeSeasons.
Science-backed ingredients and clinically tested products.
Neuroq memory & focus contains no artificial colours or preservatives.
Dr. Bredesen is one of the co-founders of this product.
Key Ingredients
Gotu kola
Ginkgo leaf
Phosphatidylserine
Coffee fruit extract
Propolis
Turmeric
Pros
Neuroq Brain Supplement supports improved memory, focus, mental quickness, clear thinking, and other cognitive benefits.
NeuroQ is made with science-backed ingredients and clinically tested products.
They display transparency regarding ingredients.
It has a reliable website with convenient contact details.
Neuro Q provide a 90-day return policy.
Lifeseasons NeuroQ Cognitive Support is Gluten-free and vegan
Cons
This is an expensive product.
No bulk discount is available.
It does not offer a free trial.
NeuroQ is only available online.
---
Who Is The Manufacturer of NeuroQ?
Life Season is the manufacturer of NeuroQ. This company creates supplements to treat different medical conditions. They produce accessories for general health care in addition to cognitive supplements.
They exercise extreme care in the sourcing, picking, and testing processes. Each herb is evaluated by the company's botanist before a product is released.
Life Season goes above and above to guarantee the level of quality and effectiveness of its products.
What is the Science Behind NeuroQ?
According to the company's official website, Neuro Q raises BDNF levels, which functions as a brain enhancer.
It enhances memory retention and information storage. It offers benefits for age-related neurological deterioration.
A high level of BDNF directly lowers the likelihood of getting Alzheimer's. Gotu kola boosts blood circulation and concentration a few hours after taking it. Neuro Q promotes growth in the area of memory.
How Does NeuroQ Work?
NeuroQ was developed after taking into consideration the six vital factors responsible for cognitive decline: Trauma, toxins, blood sugar, inflammation, circulation, and brain resilience.
NeuroQ supplement helps tackle these issues directly through its formulation of natural ingredients.
By delivering the essential nutrients, NeuroQ gives your brain a daily boost of focus and clarity while providing long-term benefits like improving memory, attention span, and processing speed.
It contains an active ingredient coffee fruit extract which is proven to increase BDNF levels in the brain.
BDNF ( brain-derived neurotrophic factor) levels are like brain fertilizers that assist in boosting your brain's ability to process, store and recall information.
Ultimately, it protects your brain against neurological diseases by preventing age-related cognitive decline.
NeuroQ Ingredients – Are They Safe & Effective?
Here's a breakdown of the active ingredients found in NeuroQ.
– a traditional replacement for folic acid, helps improve cognitive functions like memory, learning, and retention[1].
Studies have found that they also help in improving vascular cognitive impairment after stroke. Besides this, Gotu kola is also found to possess anti-anxiety properties and is often used to treat depression, insomnia, and other cognitive diseases.
Dr. Axe, a certified doctor of natural medicine and chiropractor, suggests that Gotu kola, which has been utilized for centuries in traditional Chinese and Ayurvedic medicine, offers cognitive benefits.
It is thought to enhance cognitive function, memory, and concentration by promoting blood flow to the brain and reducing oxidative stress.
– is an antioxidant-rich herb that has several benefits[2]. Like Gotu kola, it offers several cognitive benefits like improving memory and attention span, reducing symptoms of brain disorders like dementia and Alzheimer's disease, and treating depression.
It is also used in the treatment of insufficient blood flow to the brain.
As per Dr. David Perlmutter, a certified neurologist and author, Ginkgo leaf extract is an integral part of an all-inclusive approach to brain health.
Dr. Perlmutter highlights that Ginkgo is known to augment cerebral blood flow, diminish inflammation, and safeguard brain cells from oxidative stress, all of which are critical factors for optimal brain function.
– It is a fatty acid that provides structure and support to your brain cells and carries information between them[3]. It also plays a vital role in maintaining an H3 mind and memory. Phosphatidylserine is found to increase a person's cognitive functions during stressful situations and has also been shown to improve mood, focus, and stress resilience.
Phosphatidylserine is a commonly occurring compound in brain enhancement supplements. In our review article on dynamic brain. And we documented the inclusion of this ingredient, offering detailed insights and analysis. The purpose of including phosphatidylserine in these supplements is to promote brain health and improve cognitive function.
Coffee fruit extract
– is a well-known brain booster responsible for improving nerve transmissions and the BDNF levels in the brain.
It works to block the inhibitory neurotransmitters in the brain and increases mood, focus, and energy levels.
Some studies also prove caffeine's efficacy against age-related cognitive decline like dementia.
Coffee fruit extract could potentially enhance cognitive function and provide neuroprotective benefits, according to Dr. Mark Hyman, is an author and expert in functional medicine.
Dr Hyman highlights that the extract contains a high concentration of antioxidants and polyphenols, which are known to reduce inflammation and shield brain cells from harm.
– is an antioxidant with neuroprotective properties that supports the healthy development of nerve tissues and has anti-inflammatory, antibacterial, and antifungal properties[4].
– Turmeric or curcumin is an anti-inflammatory agent with several cognitive benefits like boosting mood and memory[5]. It is also used in combating stress-induced anxiety and depression.
According to Dr. Andrew Weil, a respected specialist in integrative medicine, turmeric could potentially enhance brain function as a result of its anti-inflammatory characteristics.
Dr. Weil emphasizes that prolonged inflammation has been associated with a decrease in cognitive abilities and proposes that turmeric may provide protection against this issue.
In our comprehensive article on Avantera Elevate Reviews, we thoroughly documented the presence of this ingredient and provided detailed insights and analysis.
NeuroQ – FAQ's
Q: Is NeuroQ Worth it?
A: NeuroQ contains a powerful formula of natural ingredients that are science-backed and hold proven benefits.
It also comes with a no-risk money-back guarantee, which makes it one of the worthiest supplements on the market today.
Q: What is Neuroq Quiz?
A: The NeuroQ evaluation is a four-part test that takes about 15 minutes to complete. Assessments will be done for executive function, processing speed, and verbal, visual, and composite memory.
The Neuroq score range from very low (less than 70) to high (more than 110). (above average). A higher score indicates more neurocognitive capacity and function.
Q: How Much Does NeuroQ Cost?
A: The cost of NeuroQ is $69.99 for a bottle of 60 capsules. You can purchase it from their official site or third-party sites like Amazon.
There's no discount available on bulk purchases, but the company has a subscription program that includes a customer discount. They also provide 90-day money-back on all their supplements.
Q: Is NeuroQ approved by FDA?
A: No, NeuroQ is not an FDA-approved product. However, it claims to work effectively in improving focus and concentration as per NeuroQ supplement reviews.
Here is a statement on the FDA website:
The FDA doesn't approve compounded drugs. — Compounding is generally a practice in which a pharmacist or a doctor combines ingredients to create medications that meet the needs of individual patients, including those who are allergic to ingredients in FDA-approved medicines or who cannot swallow an FDA-approved pill.
Be aware that compounded drugs are not FDA approved.
Q: Where to Buy Neuroq?
A: You can purchase Neuroq from Amazon and Walmart. NeuroQ Amazon may be a reliable option for those looking to purchase the supplement.
Q: Does the NeuroQ really work?
A: As per the NeuroQ pill reviews, It works very well, if you take the dosage as per recommendation. It contains highly effective and science-backed ingredients which improve focus and concentration.
Q: Are there any NeuroQ Side Effects Present?
A: As per Neuro Q reviews, There are no reported side effects and NeuroQ complaints present on the internet but the caffeine content in it can cause issues in people sensitive or allergic to caffeine.
If consumed late, it can also cause sleep disruption.
Q: Does NeuroQ Offer A Free Trial Or Refund Policy?
A Although the company does not offer free trials, its refund policy is commendable. There's a 90-day money-back guarantee if you don't experience the marketed results.
Q: How Should I Take NeuroQ Pills?
A: The manufacturer recommends starting with one capsule a day. Then gradually increase the dose to 2 capsules a day after about 2 weeks. You can have it with or without food.
Q: What Are The Alternatives to NeuroQ?
A: There are some NeuroQ alternatives present in the market, check out these option before setting on one product-
Q: Does NeuroQ Cause Addiction?

A: According to NeuroQ cognitive support reviews, when consumed in the recommended dosage, NeuroQ doesn't cause addiction.

Neuroq Customer Care

If you have any questions or queries and want to connect, Here are the Neuroq customer care details-
They are available Monday – Saturday, 8 AM–8 PM EST.

Email – [email protected]
Call – (833) 638-7674

NeuroQ Vs Prevagen

Comparison
NeuroQ
Prevagen
Product

Ingredients
A blend of natural compounds, including flavonoids, turmeric, resveratrol, and green tea extract
A protein called apoaequorin, derived from jellyfish
Price
$53.95
$44.96
Pros and Cons

The website of Neuro Q is trustworthy and provides easy access to contact information.
Neuro Q offers a 90-day return policy for their products, ensuring customer satisfaction.
Lifeseasons NeuroQ Cognitive Support is suitable for those with dietary restrictions as it is both gluten-free and vegan-friendly.

This product has the potential to significantly improve memory.
It may enhance mental clarity and help you think more clearly.
While there are some mild potential side effects, they are generally well-tolerated.
It may be beneficial for memory loss associated with aging.

Money Back Guarantee
30-day money-back guarantee
45-day money-back guarantee
Side Effects
Generally considered safe; possible side effects include gastrointestinal discomfort, allergic reactions, or interactions with other medications
Generally considered safe; possible side effects include headaches, dizziness, and gastrointestinal issues
Online Product Reviews
4.8 / 5
3.6 / 5

Lifeseasons Neuroq Reviews – Safety, Side Effects, and Benefits

NeuroQ Side Effects and Safety

If taken in the recommended dosage and at the right time and frequency, NeuroQ is safe to consume for all. However, if you're pregnant, nursing, or on any prescribed medication, you must consult your physician first.

Going by customer reviews, there are no known harmful side effects of NeuroQ.

Benefits
How good Is NeuroQ? What are its benefits? Here's a breakdown.

Through its natural, safe, and effective ingredients, it helps you feel your best.
Boosts cognitive performance.
Supports memory, recall, and focus.
Support overall brain health.
Contains a formulation that fights neurotoxicity.
Reduces symptoms of neurodegenerative diseases like Alzheimer's
Helps to improve overall well-being.

Read Next – NeuroActives BrainSustain

NeuroQ Customers Reviews

"I have been using NeuroQ for about 5 months and NeuroQ really works for my husband. It helps to improved focus and concentration."- hazel

I've been battling brain fog for a few months, but I think it's finally gone. I'm extremely grateful for NeuroQ; it's changed the game! I would strongly advise this product to anyone looking for nutrients for their brain."- Katty J.

"I made the decision to test NeuroQ after reading reviews on Amazon. One of my friends has already purchased a LifeSeasons product. Since I started taking NeuroQ vitamins three weeks ago, my memory and focus have improved. The price of this product is the only issue."-Janice H.

NeuroQ Review – Conclusion

If you've been struggling to focus on your work or have been facing issues with your memory and retention, it's a sign that you need to do something about it.

While exercise and a good diet are necessary for maintaining brain health, brain booster vitamins like NeuroQ can simplify your problem to a large extent with easy, natural solution.

NeuroQ is a great mind-enhancing supplement that offers several cognitive benefits like improved memory, focus, concentration, and better mood.

Packed with science-backed ingredients that are safe and natural, its formulation is clinically tested and has proven benefits.

Make sure to consume it in the recommended dosage and if you're a pregnant woman or on any medication, consult your doctor before adding this supplement to your routine.

Meanwhile, there is an alternative like Brain Link Complex so you should check them out and decide for yourself.
More than ever people of all ages are struggling with memory problems. People are unable to disconnect from their work, while students are under immense pressure to perform. Brains are overloaded with information that must be remembered. A quality memory enhancement product might contain clinically proven ingredients that will help to enhance not only memory, but also focus and night concentration. Memory products might help to optimize overall mental health and brain function.
Below you'll find some of the most effective memory products on the market today, in our opinion.
Our Top Memory Supplements
Verdict on Claimed Benefits: Below is our summary of the available evidence for the claimed benefits of below mentioned brain health supplements and nootropic based on the available research: