In This Review
NeuroQ Overview
Have you started to misplace your things and stuff lately? Have you been forgetting names and faces? Do you find it hard to focus on your work and tasks? Do you find your memory waning? If you nodded a yes to any of these questions, it's probably time to fine-tune your brain.
While a balanced diet and consistent exercise regime can greatly contribute to optimum brain health, it's sometimes hard to achieve them. That's where brain supplements like NeuroQ can help bridge the gap.From improving your working memory to increasing your focus and concentration, NeuroQ offers several promises. But does it deliver on them? Let's find out.
Manufactured by LifeSeasons, NeuroQ is a natural brain supplement created to support different aspects of cognitive health, primarily memory, and concentration. It is a memory enhancer that helps combat age-related cognitive decline symptoms like slower response time, shorter attention span, and gradual memory loss.
How Does It Rate?
Overall Rating: 3.8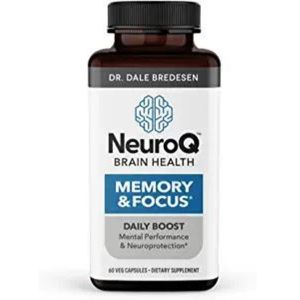 NeuroQ
Brand Highlights
NeuroQ is manufactured by LifeSeasons.
Science-backed ingredients and clinically tested products.
Key Ingredients
Gotu kola
Ginkgo leaf
Phosphatidylserine
Coffee fruit extract
Propolis
Turmeric
Pros
Supports improved memory, focus, mental quickness, clear thinking, and other cognitive benefits.
Science-backed ingredients and clinically tested products.
They display transparency regarding ingredients.
Has a reliable website with convenient contact details.
90-day return policy.
Gluten-free, vegan
Contains no artificial colors or preservatives.
Cons
Expensive product.
No bulk discount is available.
Offers no free trial.
Only available online.
---
How Does NeuroQ Work?
NeuroQ was developed after taking into consideration the six vital factors responsible for cognitive decline: Trauma, toxins, blood sugar, inflammation, circulation, and brain resilience.
NeuroQ supplement helps tackle these issues directly through its formulation of natural ingredients. By delivering the essential nutrients, NeuroQ gives your brain a daily boost of focus and clarity while providing long-term benefits like improving memory, attention span, and processing speed.
Advertisement
*All individuals are unique. Your results can and will vary.
It contains an active ingredient coffee fruit extract which is proven to increase the BDNF levels in the brain. BDNF ( brain-derived neurotrophic factor) levels are like brain fertilizers that assist in boosting your brain's ability to process, store and recall information.
Ultimately, it protects your brain against neurological diseases by preventing age-related cognitive decline.
NeuroQ Active Ingredients – Are They Safe & Effective?
Here's a breakdown of the active ingredients found in NeuroQ.
– a traditional replacement for folic acid, helps improve cognitive functions like memory, learning, and retention[1]. Studies have found that they also help in improving vascular cognitive impairment after stroke. Besides this, Gotu kola is also found to possess anti-anxiety properties and is often used to treat depression, insomnia, and other cognitive diseases.
– is an antioxidant-rich herb that has several benefits[2]. Like Gotu kola, it offers several cognitive benefits like improving memory and attention span, reducing symptoms of brain disorders like dementia and Alzheimer's disease, and treating depression. It is also used in the treatment of insufficient blood flow to the brain.
– is a fatty acid that provides structure and support to your brain cells and carries information between them[3]. It also plays a vital role in maintaining a h3 mind and memory. Phosphatidylserine is found to increase a person's cognitive functions during stressful situations and has also been shown to improve mood, focus, and stress resilience.
Coffee fruit extract
– is a well-known brain booster responsible for improving nerve transmissionsand the BDNF levels in the brain. It works to block the inhibitory neurotransmitters in the brain and increases mood, focus, and energy levels. Some studies also prove caffeine's efficacy against age-related cognitive decline like dementia.
– is an antioxidant with neuroprotective properties that supports the healthy development of nerve tissues and has anti-inflammatory, antibacterial, and antifungal properties[4].
– or curcumin is an anti-inflammatory agent with several cognitive benefits like boosting mood and memory[5]. It is also used in combating stress-induced anxiety and depression.
Advertisement
*All individuals are unique. Your results can and will vary.
NeuroQ – FAQ's
Q: Is NeuroQ Worth it?
A: NeuroQ contains a powerful formula of natural ingredients that are science-backed and hold proven benefits. It also comes with a no-risk money-back guarantee, which makes it one of the worthiest supplements on the market today.
Q: What is NeuroQ Pricing?
A: The cost of NeuroQ is $69.99 for a bottle of 60 capsules. You can purchase it from their official site or third-party sites like Amazon. There's no discount available on bulk purchases, but the company has a subscription program that includes a customer discount. They also provide 90-day money-back on all their supplements.
Q: What Are the NeuroQ Dosage?
A: Manufacturers vouch for its efficacy and potency. They suggest taking one capsule a day for the first two weeks so that your brain and body get enough time to adjust to the increased circulation to your brain.
Once regularized, you can take two capsules a day with or without food.
Q: What are the Side Effects of NeuroQ?
A: There are no reported side effects related to NeuroQ but the caffeine content in it can cause issues in people sensitive or allergic to caffeine. If consumed late, it can also cause sleep disruption.
Q: Does NeuroQ Offer A Free Trial Or Refund Policy?
A Although the company does not offer free trials, its refund policy is commendable. There's a 90-day money-back guarantee if you don't experience the marketed results.
Q: How Should I Take NeuroQ Pills?
A: The manufacturer recommends starting with one capsule a day. Then gradually increase the dose to 2 capsules a day after about 2 weeks. You can have it with or without food.
Q: How Much Does NeuroQ Cost?
A: NeuroQ costs $69.99 for a bottle of 60 capsules. You can buy it from their official site or any other third-party site.
Q: What Are The Alternatives to NeuroQ?
A:
Q: Does NeuroQ Cause Addiction?

A: No, when consumed in the recommended dosage, NeuroQ doesn't cause addiction.

NeuroQ Review – Safety, Side Effects, and Benefits

NeuroQ Side Effects and Safety

If taken in the recommended dosage and at the right time and frequency, NeuroQ is safe to consume for all. However, if you're pregnant, nursing, or on any prescribed medication, you must consult your physician first.

Going by customer reviews, there are no known harmful side effects of NeuroQ.

Benefits
How good Is NeuroQ? What are its benefits? Here's a breakdown.

Through its natural, safe, and effective ingredients, it helps you feel your best.
Boosts cognitive performance.
Supports memory, recall, and focus.
Support overall brain health.
Contains a formulation that fights neurotoxicity.
Reduces symptoms of neurodegenerative diseases like Alzheimer's
Helps to improve and overall well-being.

Read Next – NeuroActives BrainSustain

Advertisement

*All individuals are unique. Your results can and will vary.

NeuroQ Reviews from Customers

"I have been using NeuroQ for about 5 months and NeuroQ really works for my husband. It helps to improved focus and concentartion."- hazel

NeuroQ Review – Conclusion

If you've been struggling to focus on your work or have been facing issues with your memory and retention, it's a sign that you need to do something about it. While exercise and a good diet are necessary for maintaining brain health, brain booster vitamins like NeuroQ can simplify your problem to a large extent with an easy, natural solution.

NeuroQ is a great mind-enhancing supplement that offers several cognitive benefits like improved memory, focus, concentration, and better mood. Packed with science-backed ingredients that are safe and natural, its formulation is clinically tested and has proven benefits.

Make sure to consume it in the recommended dosage and if you're a pregnant woman or on any medication, consult your doctor before adding this supplement to your routine.
More than ever people of all ages are struggling with memory problems. People are unable to disconnect from their work, while students are under immense pressure to perform. Brains are overloaded with information that must be remembered. A quality memory enhancement product might contain clinically proven ingredients that will help to enhance not only memory, but also focus and night concentration. Memory products might help to optimize overall mental health and brain function.
Below you'll find some of the most effective memory products on the market today, in our opinion.
Our Top Memory Supplements
Verdict on Claimed Benefits: Below is our summary of the available evidence for the claimed benefits of below mentioned brain health supplements and nootropic based on the available research: