In This Review
NeuroIQ formula from Meta Herbal Overview
NeuroIQ is a brain enhancement supplement advertised as an advanced brain health product for Concentration, Memory, and Focus. It is designed to improve cognitive abilities, wake up your mind, help you remember and focus, slow the aging process, and increase learning abilities.
The company that manufacture is known as Meta Herbal. They sell this product through their official website or Amazon. Purchasing one bottle from the company's website, it retails for $19.95. They offer discounts when you purchase more than one bottle. One thing to note is that the prices of this product at Amazon and the company's official website is the same.
How Does It Rate?
Overall Rating: 3.2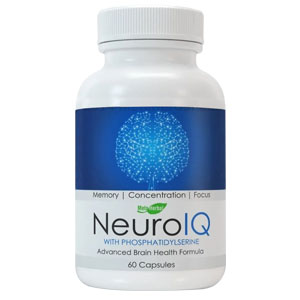 NeuroIQ

Brand Highlights
This product is good for those working for long hours, studying whereby it improves their memory and attention abilities.
It can help you operate at your best no matter what you are going through.
Help to reduce frustration and improve mood.
Made in the USA.
90-Days Refund Policy.
Key Ingredients
Phosphatidylserine
Ginkgo Biloba
Lecithin
DMAE
DHA
Pros
The ingredients used to manufacture this formula have been studied and found to enhance cognitive functions
The product is reasonably priced
The company provides 100 percent 90 day money back guarantee if you are not satisfied with their product
Many customers say that this product may indeed be effective in enhancing cognitive function.
Cons
It is unknown whether or not the ingredients in this product are included in appropriate levels. My instinct tells me that the formula has few ingredients and their levels are sufficient.
One customer review reported hallucinations when taking the capsules.
---
How Does It Work?
Neuroiq Brain Enhancement Supplement is a cognitive and memory-enhancing supplement that works to improve overall mental focus and clarity.
It contains ingredients like DMAE, Ginkgo Biloba, Vinpocetine, and Bacopa Monnieri, which have been proven to support brain health and improve cognitive function.
The supplement also contains vitamins, minerals, and other nutrients that help to support the brain and provide essential nutrients for healthy brain function. Neuroiq works by increasing blood flow to the brain, improving neurotransmitter levels, and boosting the production of acetylcholine, which is an important neurotransmitter for memory and learning.
Additionally, Neuroiq has been shown to reduce stress and anxiety, improve mood, and increase energy levels.
NeuroIQ Ingredients – Are They Safe And Effective?
The official website behind this product provides a list of active ingredients used to manufacture this product, but they have not explained how these ingredients work to enhance your brain.
Phosphatidylserine
–This is one compound that has been extensively studied, and found to reduce the risk of dementia particularly in the elderly persons. More conclusive studies are yet to be conducted to certain these claims[1].
Ginkgo Biloba
– This Company also say that Ginkgo Biloba is another ingredient found in this product. This is an herbal extract that is well known to improve circulation of blood to the brain, thus delivering more nutrients and oxygen to the brain to aid brain functions such as memory, concentration and focus[2].
Lecithin
– This is another product in this formula; a form of fatty acid that provides the body the essentials that are used to produce acetylcholine. This is a key neurotransmitter that helps to improve the working of nerve signals and memory storage[3].
DMAE
– This product also contain DMAE, an amino acid that is essential for the production of acetylcholine[4].
DHA
– This is another ingredient found in this formula; an omega-3 fatty acid compound that counter the decline of cognitive abilities[5].

NeuroIQ FAQs
Q: How to use NeuroIQ?
A: NeurolQ is taken as a dietary supplement. The recommended dose is 2 capsules per day in between meals, and the expected results are improvements in ability to study, focus, concentrate and remember things easily. It may even improve your mood.
Q: Are there any Risks in Using NeuroIQ?
A: According to our analysis, there are no risks associated with the use of this product. But bear in mind that this supplement is not recommended to pregnant women, or those who are breastfeeding. You are also not advised to take NeurolQ if you are under medication.
What Are The Possible Side Effects of Neuroiq?
A: Headaches, nausea, and lightheadedness are a few of the possible side effects of the Neuroiq Brain Enhancement Supplement. Sometimes, it can also result in anxiety, sleeplessness, and irritability. It is important to remember that these side effects are rare and could not happen to all individuals. Additionally, because this supplement may interfere with some drugs, it is crucial to speak with a doctor before using it. It is advised to stop taking the supplement and consult your doctor if you encounter any unexpected or persistent symptoms.
Read Next – Mind Matrix
Know The Related Products
Mentat DS is a product that is use to boost memory, improve attention and increase your mental quotient. It is a product that is used to reduce the level of tribulin, an inhibitor that is elevated when you experience anxiety.
What Do the Reviews Say?
Brain Lifted Up.
love the idea of proactively taking care of my brain. i try to eat alot of fish and good vegetables and try to keep stress at a minimum. but it's nice to know that their is a vitamin geared towards brain health too. i have taken this for a few months now and notice that my memory is better and i can focus longer on tasks. so it must be workingRead more about review stating brain lift!
– Caroline S.
Final Verdict
NeuroIQ is advertised as an advanced brain health product for Concentration, Memory, and Focus. According to our analysis, we came to a conclusion that you may see some improvement in brain function if you try this product, but still this product does not contain enough ingredients to support their claims. You will also realize that the company behind this product is a one-product company, and the legitimacy of the positive customer feedbacks has been questioned. We therefore advice our readers to look for further information regarding this product before making any purchase.
More than ever people of all ages are struggling with memory problems. People are unable to disconnect from their work, while students are under immense pressure to perform. Brains are overloaded with information that must be remembered. A quality memory enhancement product might contain clinically proven ingredients that will help to enhance not only memory, but also focus and night concentration. Memory products might help to optimize overall mental health and brain function.
Below you'll find some of the most effective memory products on the market today, in our opinion.
Our Top Memory Supplements
Verdict on Claimed Benefits: Below is our summary of the available evidence for the claimed benefits of below mentioned brain health supplements and nootropic based on the available research: