In This Review
Neurocell Overview
NeuroCell is a supplement, described as a 'Superior Cognitive Complex' that is sold online and said to affect several areas of cognitive health. According to the product website, the brain cells start to deteriorate after the age of 30, becoming more severe with age and sometimes resulting in conditions such as Dementia and Alzheimer's disease[1].
However, even if the problem isn't severe, cognitive decline can cause memory loss[2], problems with focus and concentration, poor recall and even depressed mood. NeuroCell addresses all these issues using a natural formula that will not cause an energy 'crash', is free of harmful side effects and non-addictive.
How Does Neurocell Rate?
Overall Rating: 3.7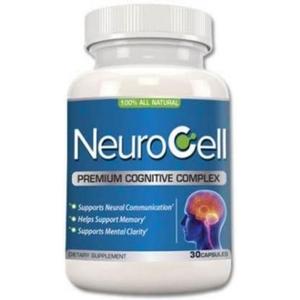 Neurocell
Brand Highlights
Manufactured in the Best Facilities.
It comes from a reputable brand.
The brand is in the market since many year.
The brand has a legacy of using natural ingredients.
Served many satisfied consumers.
Key Ingredients
Vinpocetine
Bacopa Monnieri
Huperzine A,
Alpha GPC
L-Theanine
L-Tyrosine
Phosphatidylserine
Caffeine
GABA
Vitamin B3
Vitamin B6
Pros
Key active ingredients are listed
Price discounts are offered
NeuroCell is not overly stimulating
It affects several areas of cognitive function
The formula contains tested ingredients
Cons
The official website for the brand is limited in information
Clinical test data is not cited
Ingredient amounts is not disclosed.
No consumer review available
Making a buzz by using the name of Stephen Hawking
Refund policy only applicable for unopened bottles.
---
Working Process and the Ingredients
Vinpocetine[3], Bacopa Monnieri[4], Huperzine A, Alpha GPC[5], L-Theanine, L-Tyrosine, Phosphatidylserine[6], Caffeine, GABA, Vitamin B3, B6
Although the full product label is shown on the NeuroCell website, there is no explanation as to how they work in terms of helping the brain perform at a peak level. It is known that certain ingredients in the formula such as Vinpocetine and Phosphatidylserine both aid in reducing brain cell degeneration, reducing the risk of Alzheimer's disease while Caffeine and Bacopa Monnieri both increase blood flow, invigorating and energizing the brain cells.
The amino acids used in the formula work on improving the performance of the neurotransmitters and the two B vitamins in the blend strengthen the nervous system and help boost the mood.
FAQs
Q: How Should You Take Neurocell?
A – Take 1 capsule daily with water.
Advertisement
*All individuals are unique. Your results can and will vary.
Q: Does Neurocell really work?
A – After reading about Neurocell from the official website, there are no reviews available online or even on the official website. As before buying any product it is suggested to read user reviews first. This will make you think to buy or not to buy Neurocell.
Q: What is the price of Neurocell?
A – This product starts from $53.98 for a single bottle.
Q: What Is The Return Policy of Neurocell?
A – A 30-days money-back guarantee on Neurocell product.
Neurocell Review – Final Verdict
NeuroCell is a brand that is very similar to other cognitive supplements on the market but, due to the lack of information on the site, is not totally recommended.
While it does disclose all its ingredients, none are explained in detail, which is a huge problem for those who aren't familiar with this type of product.
It is certainly not the most expensive brand, but the fact that the cost is not clearly shown may deter many consumers from even considering this particular smart drug.
More than ever people of all ages are struggling with memory problems. People are unable to disconnect from their work, while students are under immense pressure to perform. Brains are overloaded with information that must be remembered. A quality memory enhancement product might contain clinically proven ingredients that will help to enhance not only memory, but also focus and night concentration. Memory products might help to optimize overall mental health and brain function.
Below you'll find some of the most effective memory products on the market today, in our opinion.
Our Top Memory Supplements
Verdict on Claimed Benefits: Below is our summary of the available evidence for the claimed benefits of below mentioned brain health supplements and nootropic based on the available research: