In This Review
What is NeuroBoost IQ?
NeuroBoost IQ is a brain supplement that claims to help improve cognitive functions, allow you to think faster, eliminate brain fog, and improve your memory. The company does this by combining all-natural nootropics proven to help improve not only your thinking ability but your mood as well. But does it do this? According to some of their customer reviews, it just may.
As we age, our memory and focus start to slowly fade. Thankfully Neuro Boost IQ, the brain enhancing pills, is here to change that. With its fast-acting ingredients, they take care of your brain from the inside out. They give your body the brain food it needs to increase your cognitive performance and improve your concentration. It's difficult to find much information on this product, nor do they have an official Neuro Boost IQ website. However, you can find the products on many e-commerce sites.
Looking through various sites, I was only able to find a few sites that offered a 30-day money-back guarantee. The price differs depending on where you're purchasing, although you get a discount if you buy more. There were no free samples or free trials that I could find, although you could use the 30-day guarantee as one.
How Does It Rate?
Overall Rating: 3.8
NeuroBoost IQ
Brand Highlights
NeuroBoost IQ is a brain supplement that improve cognitive functions.
The product is manufactured by an FDA-approved and cGMP firm that is based in the U.S.
Key Ingredients
Vitamin A
Vitamin B1, 2, 3, 5, & 6
Vitamin E
Magnesium (oxide)
Choline bitartrate
N-acetylcysteine (NAC)
L-tyrosine
Blueberry Extract
Pholpshtdylserine
Huperzine A
Pros
Cognition
Motivation
Concentration
Intelligence
Attention
Increased energy
Mood support
Metal clarity
Focus
Cognitive performance
Reduce stress
Cons
Only available online.
No clinical trials of the product.
---
How Does NeuroBoost IQ Work?
The ingredients in this nootropic help lower oxidative stress by increasing the oxygen and blood flow to the brain. L-tyrosine helps lower oxidative stress, causing the nerves to fire faster, which helps increase your energy. Other ingredients contained in this brain pill enter the brain, protecting the neurons, which then improves the signals and functioning of the brain. Once the brain's functioning improves, it helps rebuild damaged neurons, plus it creates new ones.
This 100% water-soluble pill contains all-natural proven ingredients that may help improve your mood, memory, enter and concentration and increase your focus so you can concentrate for longer periods of time. When you can focus longer, it helps you get work done in a timely manner. This is because when you lose your focus, you must remember what you were doing and basically start over from the beginning.
This brain pill will also give you energy the natural way, so you won't have the jitters like you would with caffeine. With the extra boost of energy, you won't have to worry about experiencing the mid-afternoon slump. Wouldn't it be nice to have brain fog a thing of the past?
What are the Ingredients in NeuroBoost IQ?
The all-natural ingredients of this brain supplement and their benefits are listed below.
Vitamin A
– A study was done in 1998 by a group of researchers from Salk Institue for Biological Studies [1] that discovered that vitamin A promoted learning. In addition, they proved how exactly how this vitamin influenced memory and learning abilities.
Vitamin B1, 2, 3, 5, & 6
– Various B-vitamins help protect the brain [2] against cognitive decline and age-related disorders such as Alzheimer's and dementia. Deficiencies in vitamin B 12, niacin, and thiamine appear to be the three main ones that cause cognitive decline, psychiatric issues, and peripheral neuropathy.
Vitamin E
– This vitamin is an antioxidant that protects cells [3] from being damaged by oxidative stress caused by free radicals. As we age, oxidative stress starts increasing and is one of the main contributors to brain function decline. Current studies are attempting to determine if this vitamin would be a successful treatment for certain cognitive disorders.
– A study published in 2011[4] showed that daily injections of rats before learning something new showed a substantial increase in their learning. In contrast, the ones that were deficient in magnesium couldn't understand the new task.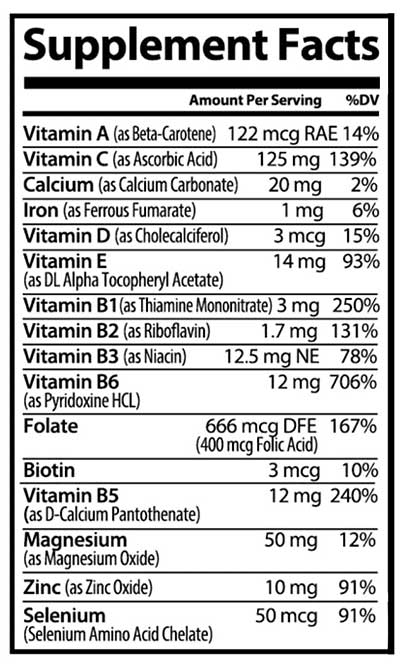 Choline bitartrate
– The Biodesign institute [5]did a study in 2019 that showed choline bitartrate might help fight Alzheimer's disease for generations. Pregnant mice received choline supplements, and their babies nor their grandbabies showed no signs of Alzheimer's. Choline reduces the levels of amino acid found in Alzheimer's patients plus transforms harmful homocysteine into a helping chemical called methionine.
N-acetylcysteine (NAC)
– The scientific community has ongoing studies [6] looking into the benefits of NAC. The benefits they're currently aware of is its's ability to counteract cognitive disorders and mental health issues. Many studies show that when NAC levels are healthy, they may assist in preventing dementia.
L-tyrosine
– As we age, dopamine signaling decreases therefore decreasing cognitive function. L Tyrosine improves cognitive function in young adults during signs of stress, causing researchers to question if it would do the same to older adults. The outcome of one study [7] showed that tyrosine did help with the production of dopamine, helping improve their memory and cognitive functions.
As documented in our VyvaMind Review article, also features this ingredient in which we provided detailed information and analysis.
Blueberry Extract
– The anti-inflammatory properties contained in blueberries may significantly increase the brain's ability to function. It also improves neuronal signaling [8] in the brain centers and enhances glucose disposal. There was also some evidence that it decreased depression and increased energy.
Pholpshtdylserine
– According to the National Library of Medicine, [9] phosphatidylserine is essential to biochemistry, physiology, and function. It works with the brain to make sure nerve cell membranes and myelin stay healthy; As we age, this stops working as it should, negatively affecting the way information is transmitted.
Presence of Pholpshtdylserine in supplements aims to support brain health and enhance cognitive function. In stonehenge health dynamic brain review, we extensively explore the inclusion of phosphatidylserine, providing comprehensive information and analysis for those interested in its effects.
Huperzine A
– This supplement comes from the Chinese club moss and is well known for improving cognitive performance. Now the scientific community is starting to wonder if it could benefit those with Alzheimer's disease. Studies concluded that that the supplement is a promising treatment for Alzheimer's [10].

NeuroBoost IQ – FAQ's
Q: Is NeuroBoost IQ Safe?
A: Each ingredient has been thoroughly researched and tested, and none have caused adverse reactions when using them as directed. As with any supplement, if you experience severe reactions, stop using it immediately. If you are allergic to any of the ingredients, do not take it. Make sure to talk with your healthcare provider before taking any supplement.
Q: What Are NeuroBoost IQ's Directions?
A: Take two pills each morning with breakfast.
Q: How Long Does it Take to See Results?
A: This varies from person to person. Some people will see results in just a few days, while others will take 2-3 weeks.
Q: Is There a Return Policy?
A: Since there is no website for NeuroBoost IQ, they do not offer any free trials or refund policy. However, you will find sellers offering 30-day returns and discounts if you join a shipping program or purchase multiple bottles.
Q: What Are the Side Effects Of Neuro Boost IQ?
A: The ingredients in this supplement typically don't have side effects, although please stop taking it if you start experiencing any.
Q: Who shouldn't take Neuro Boost IQ Brain Pill?
A:
Women who are pregnant or are nursing
Children under the age of 18
Anyone with health conditions or on prescribed medications
*Always check with your healthcare provider before taking any new vitamins or supplements.
Q: Is NeuroBoost IQ Worth It?
A: In our opinion, yes. It has similar ingredients to other nootropics that may improve brain function. Plus, it's priced similarly to other products that have similar claims.
Q: What Are NeuroBoost IQ Reviews?
A: No one has complained of any harsh side effects. Some reviews said they experienced an increase in memory, while others said there was no difference.
Q: Is NeruoBoost IQ Right for You?
A: The ingredients in the Neuro Boost IQ brain pill are backed by scientific data, so it should improve brain health. It uses a combination of herbs, anti-inflammatories, and antioxidants to create the perfect cognitive improving cocktail. It contains all-natural ingredients, so there are no harsh chemicals or harmful additives. In addition, it doesn't have caffeine, so you don't have to worry about feeling jittery throughout the day.
NeuroBoost IQ Reviews from Customers
"I have been using NeuroBoost IQ for about 5 months and It really works for my husband. It helps to improved focus and concentartion."- hazel
NeuroBoost IQ Review – Final Thoughts
Getting plenty of exercise and eating a healthy diet is always the first step in improving your memory and cognitive function. However, we know that not everyone has the time to exercise daily or make a healthy dinner each night. This is when nootropics come in handy. These brain pills ensure that your brain gets all of the nutrients it needs, so you remain healthy.
While NeuroBoost IQ looks promising, we can't say that this is the one brain pill everyone needs without more research to back up our claims. However, you can check other products for brain enhancement such as NeuroQ supplement which claims to improve your memory and concentration.But As always, we suggest that you do your research and speak to your doctor before using it or any other supplement.
More than ever people of all ages are struggling with memory problems. People are unable to disconnect from their work, while students are under immense pressure to perform. Brains are overloaded with information that must be remembered. A quality memory enhancement product might contain clinically proven ingredients that will help to enhance not only memory, but also focus and night concentration. Memory products might help to optimize overall mental health and brain function.
Below you'll find some of the most effective memory products on the market today, in our opinion.
Our Top Memory Supplements
Verdict on Claimed Benefits: Below is our summary of the available evidence for the claimed benefits of below mentioned brain health supplements and nootropic based on the available research: