In This Review
What is Neuro Health?
Neuro Health is a nootropic formula, which claims to boost the health of your brain and improve the cognitive functions.
It is made from natural extracts, which are safe and effective. Intake of this product will make you have better concentration and be able to handle tough daily activities.
How Does It Rate?
Overall Rating: 3.7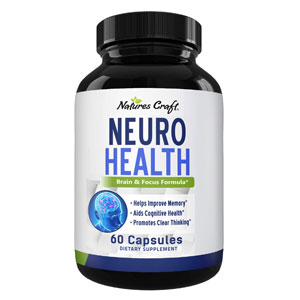 Neuro Health Reviews
Brand Highlights
This nootropic supplement is made from a facility known as Huntington Labs.
The manufacturer produces quality products using natural ingredients.
This supplement improves the flow of blood in your brain.
It also boosts your brain memory, focus, acuity, and concentration.
Key Ingredients
Green Tea Extracts
Huperzine A
Bacopa Monniera
L- Glutamine
Vitamin A
Folic Acid
Pros
It may boost your brain health
It increases the flow of blood in your brain
It supplies your brain with essential nutrients
It may increase mental alertness
Cons
It cannot be used by pregnant or nursing mothers
It is not for use by persons below the age of 18 years
It does not disclose the dosages of ingredients used
---
How Does It Work?
This formula will boost the flow of blood in your brain, enabling all the essential nutrients to reach the brain cells and lead to better performance.
It will also provide your brain cells with the necessary power for proper functioning. This formula will also enhance your focus, memory, acuity, and concentration.
Neuro Health Ingredients – Are they Safe & Effective?
The working of this supplement depends on the quality of the ingredients used. It focuses on improving your brain health and boosting your overall cognitive abilities.
The ingredients used in this supplement are all-natural extracts, and they work to promote the proper functioning of your brain.
Green Tea Extracts –
It increases the flow of [1] blood in your brain leading to more brain power. It also enhances memory and overall cognitive abilities. According to Science Daily, Green tea extract boosts your brain power, especially the working memory.
Huperzine A –
Enhances memory and increase mental alertness. Alzheimer's Drug Discovery Foundation, says "Huperzine A might slightly improve memory and cognition for patients with vascular dementia and Alzheimer's disease; however, the small size of the studies prevents firm conclusions. "
Bacopa Monniera –
Improves cognitive function and boost your brain health. According to Rejuvenation Research, Bacopa Monnieri demonstrates immense potential in the amelioration of cognitive disorders.
L- Glutamine –
It is an amino acid that delivers proteins in your brain and improves memory.
Vitamin A –
It supplies your brain with nutrients.
Folic Acid –
It boosts flow of blood in your brain.
Products Similar to Neuro Health
Neuro Health Questions and Answers
Q: Where to buy Neuro Health?
A: The product can be bought from online retailers like Amazon, Walmart, etc.
Read Next – Cerebra

Neuro Health Review – Final Verdict
Neuro Health is a brain supplement, which is available in the form of a pill. It is made using natural ingredients which are safe for human consumption.
This supplement is designed to boost your brain health and improve overall cognitive abilities.
It is suggested for those who spend their time on busy daily activities and needs a lot of concentration.
It is also suggested for people experiencing mental decline who would like to boost their brain health. Regular intake of this supplement may enhance memory, focus, acuity, and concentration.
It might also increase mental alertness and boost your brain power. This product may boost the flow of blood in your brain, making the essential nutrients to reach the brain and boost overall health.
However, it is recommended to compare this product with the best cognitive supplement on the market before buying this product.
More than ever people of all ages are struggling with memory problems. People are unable to disconnect from their work, while students are under immense pressure to perform. Brains are overloaded with information that must be remembered. A quality memory enhancement product might contain clinically proven ingredients that will help to enhance not only memory, but also focus and night concentration. Memory products might help to optimize overall mental health and brain function.
Below you'll find some of the most effective memory products on the market today, in our opinion.
Our Top Memory Supplements
Verdict on Claimed Benefits: Below is our summary of the available evidence for the claimed benefits of below mentioned brain health supplements and nootropic based on the available research: