In This Review
What is Neuriva?
Neuriva is the brand name of a company that produces nootropic supplements. What is noteworthy about this brand however is not the fact that they produce nootropic supplements but rather that they make nootropic supplements that are all-natural.
That's correct; Neuriva is a natural nootropic supplement that utilizes the apparent brain-boosting abilities of a substance called Neurofactor. This and other ingredients are claimed to improve five important brain functions: memory, learning, accuracy, focus, and concentration.
How Does It Rate?
Overall Rating: 3.7
Neuriva Reviews
Brand Highlights
Both products are made by the Neuriva company.
They also have developed a brain training app.
This brand claim that product is free from any side effects.
Key Ingredients
Neurofactor
Phosphatidylserine
Vitamin B6
Vitamin B12
Folate
Pros
Taking these neuriva brain supplements may help the consumer to focus better and block out distractions when concentrating on work or a certain task.
Another important benefit that these products may offer the user has enhanced memory retention and memory recall.
It is also claimed that Neuriva supplements can help increase mental accuracy and precision.
The ingredients are natural, non-GMO and decaffeinated.
Cons
The ingredient PS may only be effective for a few months and may only benefit those who already have a strong cognitive function[8] and not those who really need a nootropic substance like Neuriva.
The Neuriva Original Brain Performance formula contains soy and may not be suitable for those with a soy allergy.
These products may also be unsuitable if you are taking prescription medications and certain other brain supplements because there can be an interaction[9].
Neuriva brain supplements may lack certain ingredients that could also be helpful for improving cognitive function.
---
RELATED –
Nootrogen
is another nootropic supplement with a lot of benefits.
How Does Neuriva Work?
It should be reiterated at this point that this review is covering the actual brand Neuriva and that under the Neuriva name, there are two separate products that we will be discussing.
One of the products is called Neuriva Original Brain Performance and the other is called Neuriva Plus Brain Performance, the latter being an extra-strength version of the former.
Advertisement
*All individuals are unique. Your results can and will vary.
They both come in capsule form that the user can take orally to reap the brain benefits of these products if indeed there are any. Instead of capsules, Neuriva gummies are also available.
We are told that both Neuriva Original Brain Performance and Neuriva Plus Brain Performance work through a component called Neurofactor.
Neurofactor is a patented substance. It comes from whole coffee fruit and is found in many nootropic supplements.
Whole coffee fruit powder has been shown in double-blind tests to increase brain-derived neurotrophic factor, also known as BDNF. BDNF is a protein that is associated with cognitive improvement[2].
We are also told that both Neuriva products contain no preservatives, additives and are GMO-free.
Furthermore, the Neuriva products are intended to be dietary supplements so they simply provide your brain with certain elements that may be able to help it function optimally.
Neuriva Ingredients – Are they Safe & Effective?
There are only 2 active ingredients that Neuriva Original Brain Performance supplement uses in its formula. The two ingredients in the Original formula are also present in the Plus formula, which contains a long list of key ingredients.
Below you will find a brief breakdown of the important ingredients in Neuriva Original:
Neurofactor
– As stated earlier, Neurofactor is a patented form of whole coffee fruit extract. It is said to be a very powerful nootropic substance and boosts cognitive functioning by over 100%[1]. Its ability to enhance the functions of the brain may come from the fact that the whole coffee fruit has a high phenolic antioxidant concentration and is also high in phytonutrients[5].
Phosphatidylserine
– Phosphatidylserine, otherwise known as PS, is a phospholipid that is found naturally in cell membranes[3]. The degeneration of PS may be linked to compromised neuron health and signaling. It is claimed that PS can help protect against this degeneration and promote the brain's ability to learn and retain memory[4].
Neuriva Plus Brain Performance also contains:
Vitamin B6
– Deficiencies of this vitamin have been linked with dementia and Alzheimer's and it may help to support a healthy nervous system as well[10].
Vitamin B12
– This B12 vitamin may help to prevent brain atrophy and memory loss. According to Science Daily, low vitamin B12 levels may lead to brain shrinkage, cognitive problems.
Advertisement
*All individuals are unique. Your results can and will vary.
Folate
– Folate is critical for normal brain development and function, not only during pregnancy and after birth but also later in life[6]. One study examined the effect of folic acid supplementation on newly diagnosed patients with Alzheimer's and found that Folic acid improved cognition and markers of inflammation[7].
You May Also Like – B-Epic ELEV8 and Cognium
Prevagen vs Neuriva
| | | |
| --- | --- | --- |
| Comparison | Prevagen | Neuriva |
| Ingredients | Vitamin D and apoaequorin | Phosphatidylserine and coffee fruit / coffee cherry extract |
| Side Effects | none reported | none reported |
| Dosage | 1 capsule per day | 1 capsule per day |
| Cost | $40 per month | $30 per month |
Neuriva Supplement Reviews
So far so good! — Just in my first week and I have noticed that I struggle much less to recall information. Because I can recall information faster I am calmer and more confident during conversations and writing. ~ review by Joanna
Does Neuriva cause headaches? I had a headache after I took it. ~ review by Bev Green
Neuriva Questions & Answers
Q: How Should You Take Neuriva?
A: The directions for each of the Neuriva products (Neuriva Original Brain Performance supplement and Neuriva Plus Brain Performance supplement) are to take a single capsule each day.
NOTE: For the best results, it is recommended that the capsule be taken at night before you go to bed. Neuriva memory supplements should not be taken by anyone under the age of 18.
Q: Why is it recommended to take Neuriva at Bedtime instead of in the morning?
A: Neuriva Nootropic Brain Support Supplement is a potent supplement. The instructions say to take one capsule before bedtime for the best results. Normally, the manufacturer recommends taking nootropics in the morning or afternoon to boost cognitive performance throughout the day.
Q: How long does it take for Neuriva to start working?
A: In a study of healthy young people between the ages of 25 and 35, one dose of coffee fruit concentrate increased serum BDNF by 91% within an hour. The other main active ingredient in Neuriva is phosphatidylserine or PS. Taking phosphatidylserine can improve some of the symptoms of Alzheimer's disease after 6-12 weeks of treatment. It seems to work best in people with less severe symptoms.
Q: How Much Does Neuriva Cost?
A: There are 2 sizes for the original Neuriva formula.
The full month supply (30 capsules) size costs $30. There is also a 7-day supply (7 capsules) size that is just $11.50, for consumers not wanting to commit to full size before trying it.
There is also a full and sample size for Neuriva Plus. The full size is $44.99 and the sample size is $14.99.
Q: What is Neuriva's Return Policy?
A: The website that sells Neuriva does have a policy that states that the customer is eligible for a refund if the product is returned within 30 days.
However, they will charge a 15% restocking fee if the product has been opened or used. The customer will not get a refund for any shipping and handling charges they incur in their purchase.
Q: Does Neuriva Offer a Free Trial?
A: There does not seem to be a free trial available for this product at this time. You can purchase a sample size but it is not free.
Q: Is Neuriva Available in Stores?
A: Neuriva pills are available in trusted national retailers in stores and online. To learn more about Neuriva and the Brain Gym app, visit Neuriva.com.
Q: What is the address to send my proof of purchase to receive my refund?
A: Click through to find out more about working with Neuriva, find our contact details, and visit our Neuriva brand website.
Order/Rewards/Brain Gym Questions
Phone: 1 (888) 532-4574
Email: [email protected]
Advertisement
*All individuals are unique. Your results can and will vary.
Product Questions
Phone: 1 (800) 526-6251
Email: [email protected]
Q: Does This Product Contain Gelatin?
A: Neuriva Plus Brain Supplement does not contain gelatin.
Q: Does this contain any shellfish as I am allergic to shellfish?
A: Neuriva Nootropic Brain Support Supplement does not contain any shellfish. Please see the label.
Q: Are There Any Mushrooms In These?
A: According to the manufacturer, it does not contain mushrooms.
Q: Can I take Eliquis with Neuriva Brain Health Supplement?
A: Taking multiple drugs and/or supplements can increase your risk for side effects and adverse interactions, including cognitive impairment and delirium. However, we advise seeking the help of a medical professional if you are taking other prescription medication or if you have other concerns.
Q: Is there anything in Neuriva that can affect heart issues?
A: There are no known side effects of Neuriva pills. Most of the ingredients are safe to use, as most are vitamins. Since the extracts themselves have to come from a well-documented plant, there are very few chances of any sort of contamination that may cause an adverse effect.
Q: Does Neuriva cause blood pressure increase and joint pain?
A: No! But, the ingredients of Neuriva support 6 different indicators of brain performance: focus, memory, learning, accuracy, concentration, and reasoning.
Q: Are there any side effects of Neuriva? Can it be taken by anyone?
A: There aren't any known side effects of Neuriva that would be considered major. However, you are likely only to experience Neuriva side effects if you take doses over 300 mg and those side effects include problems sleeping and an upset stomach. You should speak to your doctor before you take any supplements. Adults over the age of 18 should take Neuriva brain supplements.
Q: Is there weight gain when taking Neuriva?
A: No report of weight gain after taking this nootropic supplement. According to Neuriva reviews, this product may help improve memory, focus, and concentration.
Warnings
Do not take if pregnant, breastfeeding, on medication, or with a known medical condition unless you have consulted a physician. KEEP OUT OF REACH OF CHILDREN.
Q: Does anything in Neuriva cause the blood to thin?
A: According to the manufacturer, all of the ingredients in Neuriva brain supplements are natural and safe. Clinical trials do not report any significant Neuriva side effects. Since the extracts themselves have to come from a well-documented plant, there are very few chances of any sort of contamination that may cause an adverse effect. The claims on the benefits of the product are not FDA-approved and this product is not intended to diagnose, treat, or prevent any disease.
Q: Will Neuriva work for someone who has mild cognitive impairment?
A: Neuriva is a supplement for improved brain function that has been reported to be effective for a majority of customers. However, it does not work for everyone and the product can be expensive.
Q: Where do you buy Neuriva Brain Health Supplements?
A: You should evaluate your own needs and compare them to what Neuriva is offering and make your purchase accordingly. Neuriva can be purchased through Schiffvitamins.com.
Q: Is neuriva good for the brain?
A: Neuriva has been clinically demonstrated to boost levels of brain-sharp Sharp PSTM1 (Phosphatidylserine) obtained from Neurotrophic Factor and plant-sourced Sharp PSTM1 (Phosphatidylserine) to support neuron health, memory, and learning.
Q: Does neuriva make you sleepy?
A: Neuriva should only be taken at night. The supplement may cause insomnia, so try to take the Neuriva supplement at night only.
Neuriva Review – Final Verdict
The Neuriva products are nootropic supplements that claim to have beneficial effects on five important factors of brain function: memory, learning, accuracy, focus, and concentration.
The products themselves are made of naturally occurring ingredients and are GMO-free. Both Neuriva products contain PS which may not be a very effective ingredient for those who really need help with their memory.
Neuriva Original also contains soy so some users may want to avoid taking it. The Original formula is rather limited at just 2 key ingredients so it may lack some components that could make it better. Overall both Neuriva products seem like they could be beneficial for certain consumers.
More than ever people of all ages are struggling with memory problems. People are unable to disconnect from their work, while students are under immense pressure to perform. Brains are overloaded with information that must be remembered. A quality memory enhancement product might contain clinically proven ingredients that will help to enhance not only memory, but also focus and night concentration. Memory products might help to optimize overall mental health and brain function.
Below you'll find some of the most effective memory products on the market today, in our opinion.
Our Top Memory Supplements
Verdict on Claimed Benefits: Below is our summary of the available evidence for the claimed benefits of below mentioned brain health supplements and nootropic based on the available research:
Product reviews are provided for informational purposes only and reflect solely the views and opinions expressed by the contributors and not those of Consumer Health Digest. We do not verify or endorse any claims made in these reviews. Please read the full product reviews disclaimer. *All individuals are unique. Your results can and will vary.
Ask a Question
Neuriva Ques and Ans
Q: How do I enter the code and where to access the reward points?

A: Look for the 10-digit alphanumeric codes on Airborne, Move Free, MegaRed, Digestive Advantage, and Neuriva products that are qualified. When you enter the codes online at SchiffVitamins.com, you will earn points for your purchase. The number of points earned will vary based on the item purchased. If you have any questions, please visit (https://www.schiffvitamins.com/pages/schiff-rewards). According to numerous Neuriva supplement reviews, many of them have earned rewards and points for their purchases.

Q: I take medicine for a hypothyroid How much soy is in the Neuriva pill?

A: The Plant-Sourced Sharp PS® (Phosphatidylserine) in Neuriva® is sourced from soybeans and is the subject of many clinical studies proving its effectiveness as a cognitive aid*! The actual amount (mg) is not disclosed by the manufacturer.

Q: Can I take Neuriva at the same time I take my regular medication? I take all my medication at night right after dinner. Is this safe?

A: According to the Mayo Clinic report, some supplements should be avoided when you are dealing with high blood pressure. While supplements may be labeled "natural" and don't require a prescription, they can affect the body in many ways. With high blood pressure, supplements on your caution list should include: St. John's wort, Echinacea, Ephedra, Bitter orange, Yohimbine, and Ginseng. Note: Talk with your doctor about the claimed benefits and safety of dietary supplements and if they may be helpful for you.

Q: Is it ok for a 80 year old to take Neuriva?

A: Is Neuriva safe? All of the ingredients in Neuriva are natural and safe. Clinical trials do not report any significant Neuriva side effects. The claims on the benefits of the product are not FDA-approved and this product is not intended to diagnose, treat, or prevent any disease.

Q: I take a daily dose of warfarin could there be problems with this and Neuriva?

A: According to an FDA report, "warfarin (a prescription blood thinner), ginkgo biloba (an herbal supplement), aspirin and vitamin E (a supplement) can each thin the blood. Taking any of these products together may increase the potential for internal bleeding or stroke. Some dietary supplements can interact in a harmful way with medications. You must discuss any dietary supplements with your health care professional."
See more answered questions
Have a Question? Please Tell Us What We Are Missing Here!
PRODUCT NAME
Neuriva
PRODUCT BRAND
Neuriva
PRICE (in USD)
$30.00
ITEM FORM
Capsule
UNIT COUNT
30 Capsules
INGREDIENTS
Neurofactor, Phosphatidylserine, Vitamin B6, Vitamin B12, Folate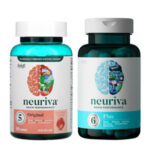 $70.00 At Amazon
10 Sources
We review published medical research in respected scientific journals to arrive at our conclusions about a product or health topic. This ensures the highest standard of scientific accuracy.
**This is a subjective assessment based on the strength of the available informations and our estimation of efficacy.
*Result may vary. If you are pregnant, nursing, have a serious medical condition, or have a history of heart conditions we suggest consulting with a physician before using any supplement. The information contained in this website is provided for general informational purposes only. It is not intended to diagnose, treat, cure, or prevent any disease and should not be relied upon as a medical advice. Always consult your doctor before using any supplements.
Disclosure of Material connection: Some of the links in the post above are "associate sales links." This means if you can click on the link and purchase an item, we will receive a commission. Regardless, we only recommend products or services which we use personally and/or believe will add value to our readers. We are disclosing this in accordance with the Federal Trade Commission's 16 CFR, Part 255: "Guides Concerning the Use of Endorsements and Testimonials."