In This Review
What is Natrol Cognium?
Natrol Cognium is a dietary supplement that is designed to improve concentration, mental alertness, memory, and cognitive function.
Natrol Cognium claims to deliver positive results in as little as four weeks. The supplement is supposedly drug and stimulant-free. It is ranked as one of the top U.S dietary supplement brands.
Cognium contains antioxidant properties that protect the brain from free radicals and stress. Silk Protein Hydrolysate in the supplement makes it effective in providing brain support. The supplement energizes brain function by increasing blood flow in the brain.
How Does Natrol Cognium Rate?
Overall Rating: 3.5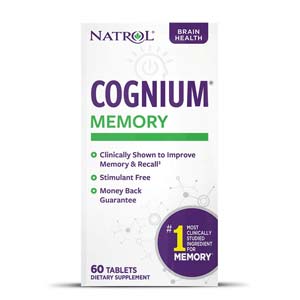 Natrol Cognium
Brand Highlights
Clinically proven to improve memory and recall
Results in 4 weeks
Money Back Guarantee
Stimulant Free
Key Ingredients
Stearic Acid
Dicalcium Phosphate
Silicon Dioxide
Magnesium Stearate
Silk Protein Hydrolysate
Pros
Contains clinically tested ingredients
The supplement is stimulant and drug-free
May work within 4 weeks
Regular use may support improved memory
Contains no allergenic ingredients
Cons
Users may have to wait for weeks
Available only online
May not enhance brain performance beyond ordinary
There is a need for third-party testing
---
About the Brand
The supplement is manufactured by Natrol company. The company specializes in producing a wide range of health products.
How Does Natrol Cognium Work?
Natrol Cognium contains silk Protein Hydrolysate, also known as Cera-Q, as the main ingredient. The ingredient facilitates brain function by inhibiting the buildup of amyloid plaque.
Advertisement
*All individuals are unique. Your results can and will vary.
Research indicates that Cera-Q improves memory, concentration, recall, and retrieval efficiency. The key ingredient facilitates an increase in blood flow and uptake of glucose that energizes memory activity.
Cognium contains proteins derived from silkworm cocoons effective in improving memory concentration. Antioxidants in the supplement protect neurons from damage by free radicals.
Natrol Cognium is free from preservatives, synthetic dyes, sweeteners, and flavors; hence users do not have to worry about any side effects. The supplement claims to offer a significant memory improvement within the first 4 weeks.
Natrol Cognium Ingredients
Silk Protein Hydrolysate
Fibroin, a protein contained in silk, has been shown to enhance memory. A study published in ResearchGate shows that silk fibroin is useful in nanoparticle systems, cognitive function, sutures, and wound coverings.
Stearic Acid
Stearic acid is simply a long-chain fatty acid. Fatty acids play an important role in cognitive outcomes. Molecular Brain Research shows that stearic acid enhances hippocampal neurotransmission.
Silicon Dioxide
Silica is a mineral that is sourced from water, specifically in glacial streams. A study conducted shows that silicon dioxide aggravates depression symptoms that affect memory and overall activity.
Dicalcium Phosphate
Calcium functions as a messenger of signals for cells in the body. It regulates neuronal functions such as synthesizing neuronal excitability, phosphorylation, and neurotransmitter synthesis.
Magnesium Stearate
Magnesium is important in nerve transmission. It regulates actions that take place in neuron ion pathways. Research shows that magnesium enhances memory, recall, learning, and cognitive function.
Who Should Buy Natrol Cognium?
The dietary supplement is suitable for adult individuals who desire improved cognitive function, memory, and better concentration. Cognium is a clinically tested and approved memory supplement.
Natrol Cognium FAQs
Q: Does Natrol Cognium Really Work?
A: As a nootropic supplement, it contains an ingredient that is clinically tested and proven to enhance memory performance and concentration.
Q: How Should You Take Natrol Cognium?
A: The supplement is taken twice daily, preferably in the morning and evening meals. This will ensure a balanced supply of the ingredient.
Advertisement
*All individuals are unique. Your results can and will vary.
Q: Does Natrol Cognium Cause Side Effects?
A: No significant side effects are reported, although some users complain of having trouble sleeping, dizziness, and headaches. The effect is mainly attributed to the intake of high amounts of the supplement.
Q: What is Natrol Cognium Return Policy?
A: The product's official website provides customers with a money-back guarantee but is unclear about the duration as to when the warranty applies.
Q: Where to Buy Natrol Cognium and How Much is It?
A: Natrol Cognium is available on the product's official website. The supplement is rather affordable compared to other memory supplements. Customers can also purchase the supplement on other websites. Cognium costs;
1 Container- $32.99
Q: What Sets Natrol Cognium from the Competition?
A: Cognium is exceptional from other memory supplements as it contains a unique ingredient clinically tested to provide significant memory and recall improvements. The supplement is also free from allergens such as peanuts and soybeans that cause undesirable side effects.
What Do Natrol Cognium Reviews Say?
Works great
The supplement has improved my memory problems, mainly contributed by old age. I forget some crucial information that has cost me a lot. Cognium has worked out effectively for me. It took almost a month for me to realize the positive effects of the supplement. I am really grateful. I no longer worry about forgetting stuff, especially in the household.
~ Robbie
Painful Headaches
I tried the supplement after a recommendation from a friend who suggested it would help with my aging and fleeting memory. After taking the supplement for 2 weeks, I started experiencing excruciating headaches. I thought it was just a normal migraine, but the pain persisted just as I took the supplements. I had to stop taking the supplements. Immediately after getting rid of the supplement, the pain went away. I have had a bad experience with the supplement.
~ Annie
Makes a difference
Natrol Cognium works as it claims. The supplement has enhanced my memory recall. I also love how the supplement is designed small and easy to take. Cognium is the best product I have tried so far. No side effects with the supplement.
~ David
Poor results
It is my third time using the supplement, but it seems not to work. Nothing has improved at all. I keep forgetting and can't concentrate for 2 hours on a task. I thought consistency with using the product would help, but it's just a waste of money. Do not buy the product
~ Milly
Fantastic supplement
Natrol Cognium has helped my cognitive and memory function. I am considering buying a larger package of the supplement. The pills contain no taste, just as indicated on the product. I highly recommend the product.
~ Karen
Conclusion
Natrol Cognium, an all-natural nootropic supplement, promises to enhance brain performance by increasing concentration, cognitive, and memory function.
It claims to produce results within the first 4 weeks of use. Some customers who have tried the product do not quite agree with how fast the product claims to work. However, a notable number of users comment that they didn't get the results they expected.
Also, it contains one key unique ingredient that does not quite justify the effectiveness of the supplement. The supplement seems to miss out on some essential ingredients, such as L-Tyrosine and Huperzine, that enhance mental ability.
Natrol Cognium is pocket-friendly, but the price may vary from one website to another. Pregnant and breastfeeding mums are advised not to take the supplement for safety reasons.
Physician advice should be sought for those desiring to purchase the supplement but are on medication. Besides many purported demerits, Natrol Cognium is a great supplement that improves cognitive and memory function.
Advertisement
*All individuals are unique. Your results can and will vary.
More than ever people of all ages are struggling with memory problems. People are unable to disconnect from their work, while students are under immense pressure to perform. Brains are overloaded with information that must be remembered. A quality memory enhancement product might contain clinically proven ingredients that will help to enhance not only memory, but also focus and night concentration. Memory products might help to optimize overall mental health and brain function.
Below you'll find some of the most effective memory products on the market today, in our opinion.
Our Top Memory Supplements
Verdict on Claimed Benefits: Below is our summary of the available evidence for the claimed benefits of below mentioned brain health supplements and nootropic based on the available research:
Product reviews are provided for informational purposes only and reflect solely the views and opinions expressed by the contributors and not those of Consumer Health Digest. We do not verify or endorse any claims made in these reviews. Please read the full product reviews disclaimer. *All individuals are unique. Your results can and will vary.
Ask a Question
Have a Question? Please Tell Us What We Are Missing Here!
PRODUCT NAME
Natrol Cognium
PRODUCT BRAND
Natrol
PRICE (in USD)
$32.99
**This is a subjective assessment based on the strength of the available informations and our estimation of efficacy.
*Result may vary. If you are pregnant, nursing, have a serious medical condition, or have a history of heart conditions we suggest consulting with a physician before using any supplement. The information contained in this website is provided for general informational purposes only. It is not intended to diagnose, treat, cure, or prevent any disease and should not be relied upon as a medical advice. Always consult your doctor before using any supplements.
Disclosure of Material connection: Some of the links in the post above are "associate sales links." This means if you can click on the link and purchase an item, we will receive a commission. Regardless, we only recommend products or services which we use personally and/or believe will add value to our readers. We are disclosing this in accordance with the Federal Trade Commission's 16 CFR, Part 255: "Guides Concerning the Use of Endorsements and Testimonials."