In This Review
What Is Mushroom Brain Boost?
Mushroom Brain Boost is a nootropic that helps consumers to have better focus and a sharper mind. Mental fog can come at any time of day and frequently occurs when you need to focus the most. Just two of these capsules a day will spark neurotransmitters to reduce cortisol and keep your brain working at its best.
How Does It Rate?
Overall Rating: 3.7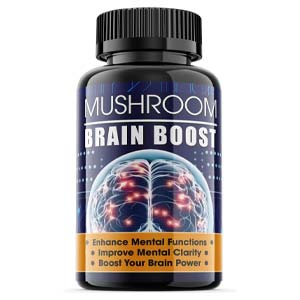 Mushroom Brain Boost
Brand Highlights
Made in the USA
Made in FDA Approved facilities
Uses Good Manufacturing Practices
30-day money-back guarantee
Key Ingredients
N-acetyl-l-carnitine
St. John's Wort Extract
L-glutamine
DMAE
Bacopa extract
Green tea extract
Ginkgo biloba extract
Pros
Easy-to-swallow capsule form
Easy on the stomach
Boosts energy
Boosts mental clarity
Boosts focus
Cons
No free samples
Only available online
---
How Does It Work?
This organic formula works to improve brain health and your overall academic performance as well as quality of work. They may also help reduce stress, hypertension, and depression. Extracts of mushrooms and other natural ingredients in the pills are scientifically developed for brain enhancement. It is prepared using the highest industry standards and made in facilities by medical experts.
Mushroom Brain Focus is carefully formulated to combine these ingredients in precise ratios to maximize their synergistic effects. By addressing multiple aspects of brain health, including energy production, neurotransmitter balance, antioxidant protection, and improved blood flow, this organic formula works holistically to enhance cognitive function.
Additionally, by reducing stress through neurotransmitter support and antioxidant properties, Mushroom Brain Focus may indirectly help alleviate symptoms of hypertension and depression. This comprehensive approach to brain health and well-being ensures that you can experience improved academic performance, higher-quality work, and enhanced overall cognitive function.
It's worth noting that medical experts develop this formula and adhere to the highest industry standards, ensuring its safety and effectiveness. However, it's always advisable to consult with a healthcare professional before adding any supplement to your routine, especially if you have specific health concerns or are taking other medications.
Mushroom Brain Boost Ingredients – Are They Safe & Effective?
Vitamin B2 (Riboflavin)
Vitamin B2 plays a crucial role in energy production [1] within brain cells. It supports the conversion of food into energy, which is essential for maintaining cognitive function. It's also an antioxidant, helping protect brain cells from oxidative stress.
Vitamin B6 (Pyridoxine)
Vitamin B6 is involved in the production of neurotransmitters, such as serotonin and dopamine [2], which are essential for mood regulation and cognitive function. It also aids in the synthesis of important brain chemicals like GABA (gamma-aminobutyric acid).
Vitamin B9 (Folate)
Folate is vital for brain health as it supports the production of DNA and RNA. It's especially important during periods of rapid brain growth, such as pregnancy. Folate deficiency can lead to cognitive impairments.[3]
Magnesium Citrate
Magnesium is an essential mineral in numerous biochemical processes, including brain function [4]. It helps regulate neurotransmitter activity, contributing to mood stability and cognitive performance.
Hibiscus Syriacus
Hibiscus Syriacus, also known as the Rose of Sharon, is rich in antioxidants like anthocyanins. These compounds have anti-inflammatory and neuroprotective properties,[5]
potentially safeguarding brain health.
Hawthorn Berry Extract
Hawthorn berries are known for their cardiovascular benefits [6], which can indirectly support cognitive function by promoting healthy blood circulation to the brain. Improved blood flow means more oxygen and nutrients reach brain cells.
Rosemary Extract
Rosemary has been linked to memory enhancement [7]. Its aroma alone is believed to stimulate cognitive function, and it contains compounds like rosmarinic acid that have antioxidant properties.
Huperzine A
Derived from a type of Chinese club moss, Huperzine A is a potent acetylcholinesterase inhibitor [8]. It can help maintain higher levels of acetylcholine, a neurotransmitter critical for memory and learning.
Alpha-GPC
Alpha-GPC is a source of choline, a precursor to acetylcholine. It supports memory and cognitive function [9], making it a valuable addition to brain supplements.
Ginkgo Biloba
Ginkgo Biloba is a well-known herb that improves blood flow and circulation [10], benefiting cognitive function. It's often used to support memory, concentration, and overall brain health.
When carefully blended in Mushroom Brain Focus, these ingredients create a synergistic effect, potentially enhancing various aspects of cognitive function. From neurotransmitter support to antioxidant protection and improved blood flow, these components work together to help you achieve better focus, memory, and overall brain performance. Always consult with a healthcare professional before adding any new supplement to your routine, especially if you have underlying health conditions or are taking other medications.
Verdict: We approve of these ingredients because they are backed by science and all-natural.
Here's a great article that tells you about eight superfoods that help support your brain's health.
Mushroom Brain Boost – FAQ's
Q: What is mushroom brain boost?
A: It's a nootropic to help improve your cognitive skills and enhance your mood.
Q: What are the benefits of a mushroom brain boost?
A: Promotes the health of nerves, ensures efficient neurotransmission, supports blood flow to the brain, maintains walls of brain cells, nourishes the brain, reduces inflammation, and stimulates brain function.
Q: Are mushroom brain boosts safe?
A: Yes, this brain supplement uses all-natural ingredients and is safe. You should not use this supplement if you are under 18, pregnant, or breastfeeding.
Q: What is the recommended dosage for a mushroom brain boost?
A: Take 2 capsules a day with water.
Q: Where can I purchase a mushroom brain boost supplement?
A: You can purchase them online through Amazon or other third-party sites like WalMart.
Q: How much does Mushroom Brain Boost Cost?
A: The cost is $29.99 for one bottle.
Q: What is the return policy?
A: It has a 30-day return policy. If, for any reason, you are unhappy with your purchase, then you have 30 days to return the unused portion for a full refund.
Q: What are the side effects of Mushroom Brain Boost?
A: There are no reported side effects of Mushroom Brain Boost.
Mushroom Brain Boost Customer Reviews
We use Amazon ratings instead of the ratings from the official website because you get a better overall picture of how the product works.
On Amazon, Mushroom Brain Boost Nootropic has a 3.4 out of 5 stars with just under 50 ratings.
One 5-star rating by Tina Hyamy states it works great and goes on to say that she has only been taking the supplement for 30 days but has already noticed a difference in her mood and how she feels throughout the day.
A 3 star rating by Tonya Remmy states she didn't notice any change or benefits.
A 5 star review by diane Landin says this really helps. And continue on to say that a friend recommended it to her and so she tried it and was suprised at how well it worked.
Mushroom Brain Boost Review – Conclusion
Mushroom Brain Focus is an impressive and scientifically backed dietary supplement that has been gaining increasing attention for its remarkable cognitive-enhancing properties. This potent formulation is designed to elevate various aspects of mental performance, including cognition, memory, intelligence, and concentration, making it an indispensable addition to the toolkit of those seeking to optimize their brain function.
One of the standout features of Mushroom Brain Focus is its ability to sharpen your mental acuity and enhance your cognitive capabilities. With its unique blend of natural ingredients, this supplement has been meticulously crafted to provide the brain with the essential nutrients it needs to operate at peak efficiency. As a result, users often report a noticeable improvement in their ability to process information, solve problems, and think critically.