Keeping your brain functioning as effectively as it should is something that not everyone is able to do at all times whether due to fatigue or just so many things running through your mind, there is no doubt to the fact that there are certain times when keeping a proper cognitive capability set might a tad difficult.
Well, if you'll like for this issue to be a thing of the past, then you might want to get the Mindzr Brain Booster
What is the Mindzr Brain Booster?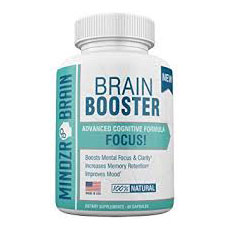 The Mindzr Brain Booster is a dietary supplement which, according to the manufacturer, is capable of helping people improve on a wide array of cognitive functions. The manufacturers of this product claim to have made it to help people improve levels of thinking concentration, memory retention, and focus, essentially helping people to be more mentally active and productive in whatever it is that they do.
Who is the Manufacturer of the Mindzr Brain Booster?
The manufacturer of this product is known as Mindzr Supplements[1]. The company is committed ito helping people achieve more mental productivity, especially considering the fact that the mind has a lot to do with overall productivity.
They are specialists in providing a wide array of products that help address mental capability issues, while also ensuring that people don't get any unwanted side effects of their product. They claim to employ proper manufacturing techniques, using trusted combination methods to amalgamate safe and natural ingredients.
How Does the Mindzr Brain Booster Work?
The Mindzr Brain Booster works by releasing a phospholipid that helps with cellular signaling. It helps with improving cognitive capabilities, especially when it comes to boosting the ability of the brain to remember and recall things.
The product can also help to enhance the neurotransmitters in the brain, essentially helping in focus recuperation and memory capacity.
The Mindzr Brain Booster Ingredients- Are They Safe and Effective?
The Mindzr Brain Booster packs ingredients which the manufacturers have touted to be effective in operation and safe for consumption. They are the fuel behind the product's potency, and they form the backbone of its working mechanism.
These ingredients include:
L-Glutamine: Helps gut function and the immune system, especially in times of stress[2]
Ginkgo Biloba Leaf: Promotes good blood circulation to the brain, and it also helps protect the brain from neuronal damage
Water Hyssop Leaf Extract: Provides a means of combating both digestive and intestinal problems
DMAE Bitartrate: Helps improve mood and memory, while boosting intelligence and thinking[3]
Taurine: It is important for the effective functioning of a wide array of minerals, and it also provides antioxidant and cleansing properties to the body
ALCAR: May contribute to enhanced energy levels in the body which is also allowing for better attainment of improved eyesight.
Folic Acid: This is contributing to the restoration of the mental focus in the body of those who are relying on this formula.
What are the Advantages of the Mindzr Brain Booster?
The product claims to be able to help reduce stress
It also claims to be able to help improve levels of memory retention
According to its list of ingredients, the product might be le to help fight stress and anxiety
The manufacturers also claim that the product can help provide more energy to the body
The product says it can help increase motivation
What are the Disadvantages of the Mindzr Brain Booster?
At a certain age, the product won't be able to help combat age-related cognitive decline
The product also has a strong taste, which might turn some people off
For the product to be effective, consistent use is necessary
The manufacturer also warns of a wide array of side effects, including but not limited to jitteriness, anxiety, and insomnia
FAQ's
How should you take the Mindzr Brain Booster?
There are 60 capsules in one bottle, and the manufacturer recommends that you take 2 capsules of it on a daily basis
How much does the Mindzr Brain Booster cost?
As of this writing, the Mindzr Brain Booster is available on the manufacturer's website.
The pricing tiers include:
1 bottle for $59.99
3 bottles for $129.99
5 bottles for $189.99
What is the Mindzr Brain Booster return policy?
Claims for returns are accepted, as long as they are made within 30 days of the order.
Does the Mindzr Brain Booster offer a free trial?
The manufacturer's website also doesn't provide information about free trials, which will lead to believe that they don't offer any
The Mindzr Brain Booster- Final Verdict
The product claims to be able to help improve memory loss
It might also be able to help boost energy levels in the body
The manufacturer warns of a few side effects of the product
The product also has a strong taste, which might serve as a turn-off
To sum it all up, the Mindzr Brain Booster makes a lot of claims, including being able to help improve the level of cognitive function by improving memory retention and focus. However, its potential side effects and the fact that it has a strong taste might end up dissuading you from purchasing the product.
If at the end of the day, you decide that this product won't be the best for you, then you can always look through a list of viable alternatives of brain supplements review to get one that will be worth your investment.
More than ever people of all ages are struggling with memory problems. People are unable to disconnect from their work, while students are under immense pressure to perform. Brains are overloaded with information that must be remembered. A quality memory enhancement product should contain clinically proven ingredients that will help to enhance not only memory, but also focus and night concentration. Memory products should help to optimize overall mental health and brain function. Most importantly a memory product should work safely and gently to promote cognitive function.
Below you'll find some of the most effective memory products on the market today, in our opinion.
Our Top Memory Supplements
Provasil

Improve Focus and Concentration*
Improve Cognitive Learning*
Improve Focus and Concentration*
Improve Cognitive Learning*