What is Memorex IQ and Memory Boost?
Memorex IQ and Memory Boost is a brain enhancement supplement designed to promote mental performance, improve attention and learning abilities.
Specifically, the effects of this dietary formula include the improved rate of grasping new information, improved memory retention, improved mental clarity, reducing stress and improve attention span
The formula is manufactured by an Australian company known as Blooms Health Products. This company was founded in 1936 and it has been in business for more 75 years.
The company manufactures and promotes a large number of health supplements ranging from supplements to sleep, brain, stress, anxiety as well as general well-being.
This brain supplement is recommended for adults who intend to reduce the effects of aging like memory lapse or mental challenges.
According to the manufacturer, the formula is also a free gluten, lactose, yeast, milk derivatives, artificial color, preservatives and flavor formula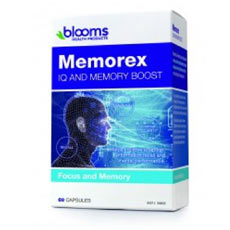 Memorex IQ and Memory Boost Ingredients – Are they Safe & Effective?
Memorex IQ and Memory Boost contain the following ingredients:
Ginkgo Biloba – It increases the flow of blood to the brain and improves overall brain health.
According to Medical News Today, Gingko can help people with dementia. However, more studies are required to prove its efficacy for the same. The studies regarding gingko for brain functions are contradictory as some suggest it is effective while others don't.
Bacopa Monnieri – It improves memory and helps to reduce stress.
Taurine – It is an amino acid that provides nourishment to the brain and helps to improve overall brain health.But as per WebMD, taurine when taken in combination with caffeine and B vitamins can improve reasoning and attention but it does not improve memory. There is a need for more studies to prove its capability as a brain enhancer.
Tyrosine – It promotes the production of neurotransmitters, which are chemicals that help in the transfer of information across the brain.
Memorex IQ and Memory Boost Working
The formula contains a combination of two powerful ingredients Bacopa Monnieri and Ginkgo Biloba as well as two amino-acids-Taurine and Tyrosine.
These ingredients work synergistically to promote brain performance. Tyrosine is used in cells to synthesize protein. Additionally, the amino acid also plays a key role in the synthesis process of the Dopamine.
Dopamine is a neurotransmitter linked to improved memory, learning process and mood. Tyrosine in this formula can, therefore, use against attention deficit, depression, anxiety and mood regulation.
Advertisement
*All individuals are unique. Your results can and will vary.
Bacopa Monnieri is an Ayurvedic herb well known for its potent brain tonic qualities.
This compound has been used for several years as a cerebral activator, nervous, diuretic and heart tonic, anti-asthmatic, anti-ulcer, anti-epileptic, antispasmodic, anti-depressant, anti-allergic, and anti-oxidant.
Regular intake of this product can improve reasoning and learning abilities in both children and adults.
What are the Advantages of Memorex IQ and Memory Boost?
It provides nutrients that might help to improve overall brain health
It boosts the memory
It may improve attention, mental performance, and learning abilities
It helps to reduce stress and improve mental clarity
What are the Disadvantages of Memorex IQ and Memory Boost?
It may cause jitters and other unpleasant effects
Results are not immediate and you need consistent use
Memorex IQ and Memory Boost Directions
This formula is taken as a dietary supplement. The recommended dosage is 1- two capsules daily with a meal.
Is It Safe to Use?
The formula is safe to use. No side effects, drug interactions warnings or precautions are issued by the manufacturer. But still, if you are pregnant or breastfeeding, consult your physicians before using this formula.
Read Next – Cognizance
Know The Related Products
Memorex IQ and Memory Boost Review – Final Verdict
Memorex IQ and Memory Boost is a brain enhancement supplement made from a combination of herbs and amino acids. This formula is advertised to promote memory, concentration, focus, mental clarity, and learning process.
The formula is inclined to work since it does contain two powerful herbs Ginkgo and Bacopa Monnieri.
The formula is gluten-free, lactose-free, yeast-free, milk derivatives free, artificial color free, preservatives free and flavor-free.
We advise our website readers to look for further information about this product before purchasing it. Also, there are many options in brain enhancement supplements available on the market.
You may check out other products like Plexus Nerve, Atomixx Limitless, and Nerium EHT who offer similar benefits to Memorex IQ and Memory Boost and are made with ingredients that may boost memory.
Advertisement
*All individuals are unique. Your results can and will vary.
More than ever people of all ages are struggling with memory problems. People are unable to disconnect from their work, while students are under immense pressure to perform. Brains are overloaded with information that must be remembered. A quality memory enhancement product might contain clinically proven ingredients that will help to enhance not only memory, but also focus and night concentration. Memory products might help to optimize overall mental health and brain function.
Below you'll find some of the most effective memory products on the market today, in our opinion.
Our Top Memory Supplements
Verdict on Claimed Benefits: Below is our summary of the available evidence for the claimed benefits of below mentioned brain health supplements and nootropic based on the available research: