In This Review
What is MemoProve?
MemoProve is natural herbal remedy that support memory that come as a result of aging. It is a supplement that contains a blend of neuropeptides that has been clinically proven to improve alertness, memory and concentration.
The cost of this brain supplement is relatively high as compared to other memory enhancers sold in the market today. You can purchase this product directly from the manufacturer's website or from many online or offline retail stores.
How Does It Rate?
Overall Rating: 3.3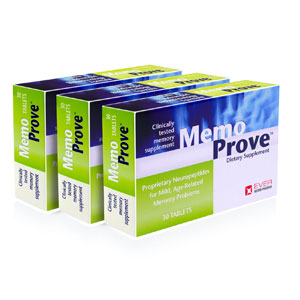 MemoProve
Brand Highlights
Counteract the factors that cause memory loss.
Improve memory, alertness, and concentration.
Make the brain healthier.
Improve short-term memory.
Improve mental sharpness and clarity.
Reduce anxiety and stress.
30-Days Refund Policy.
Key Ingredients
N-Pep-12 Peptones
Lactose Monohydrate
Croscarmellose Sodium
Microcrystalline Cellulose
Cellulose Acetate Phthalate
Magnesium Stearate
Triethyl Citrate
Silicon Dioxide
Pros
This supplement contain natural and organic ingredients with little side effects
Some people still say that this product is effective
Manufacturer of this product gives 30 day money 100% money back guarantee to any customer who is not satisfied
Cons
This supplement extracts its N-PEP-12 peptones from pigs.
With some people of other religions, like Muslims, products from pigs can be distasteful.
We also found this compound unsuitable for vegetarians.
This compound can also infect you with blood-borne diseases.
---
How Does It Work?
This brain enhancer contains a blend of neuropeptides that promote the function of the nervous system. One example of these neuropeptides is N-PEP-12. This is a compound that appears naturally in the brain.
This compound is well known in counteracting neurodegenerative changes that come as a result of aging thus promoting memory, alertness, and concentration. Other ingredients such as Croscarmellose sodium and microcrystalline cellulose, have been linked with the production of new brain cells when absorbed in the brain.
Who Can Benefit from This Brain Enhancement Product?
All adults suffering from memory problems
Those people with sleep problems
The stressed or overworked people
Anyone who is looking to improve his memory and other cognitive functions
Does Memoprove Work?
There is little evidence that supports the claims made by the manufacturer of this product. The evidence that has been posted in the manufacturer's website is questionable. Independent researchers say that they present a clear conflict of interest.
If you look at the list above, this brain enhancement supplement does not contain the most effective ingredients like those found in other to brain enhancement products. Some of the most respected ingredients that are missing in this product are huperzine A, bacopa monnieri, and vinpocetine.

MemoProve FAQs
Q: How To Use It?
A: MemoProve is taken as a dietary supplement. The recommended dosage is one capsule taken two times a day
Q: Is MemoProve Right for You?
A: This supplement has been clinically tested and found to help people counter the mild problems brought by memory loss. According to the former Chief of Geriatric Psychopharmacology at the National Institute for Mental Health, this product is the first brain enhancement supplement to improve memory loss symptoms resulting from aging.
However, there is little evidence that supports those claims. This supplement contains N-PEP-12 peptone, which is extracted from pigs. Therefore, this product cannot be used by vegetarians and people from other religions, like Muslim.
Q: What Are The Cautions?
A: But always get directions from your health care provider. Don't take this supplement is you are using anti-epileptic or anti-anxiety drugs, tranquilizers, barbiturates, narcotics or any other prescription medications. It also not recommended using this drug if you are pregnant or breastfeeding.
Alternatives to MemoProve
What Do the Reviews Say?
It Works For Me!
I am almost 50 and people at work have been teasing me about aging because I really have been having problems remembering things and organizing my work day. I am a network manager and there is a lot to do and it is challenging, but I have always handled it in the past. After taking Memo Prove fro 2 months w/o telling my fellow employees, I started getting comments about how I was back to my old self and questions about what had I done because they noticed such a change. I did not get headaches like I read in another review a woman wrote, but I would suggest that maybe if she tried longer they would go away. Once concept my brother, the Doctor taught me, was healing hurts (that's why the sharp razor blade cut doesn't hurt much until the second day, when it starts to heal, it starts to hurt). Maybe she was healing things up so much they hurt, I would suggest to try it for a while longer and see if the headaches went away after she healed more…just a thought.
– George M Elson.
MemoProve Review – Final Verdict
MemoProve is a natural herbal remedy the manufacturer claims to support memory due to aging. There is little evidence that supports the claims made by the manufacturer of this product. Independent research needs to be done to prove whether those claims are true.
More than ever people of all ages are struggling with memory problems. People are unable to disconnect from their work, while students are under immense pressure to perform. Brains are overloaded with information that must be remembered. A quality memory enhancement product might contain clinically proven ingredients that will help to enhance not only memory, but also focus and night concentration. Memory products might help to optimize overall mental health and brain function.
Below you'll find some of the most effective memory products on the market today, in our opinion.
Our Top Memory Supplements
Verdict on Claimed Benefits: Below is our summary of the available evidence for the claimed benefits of below mentioned brain health supplements and nootropic based on the available research: