In This Review
What is LumUltra?
Nootropics are one of the best-selling memory supplements on the market. These are simply supplements that help improve working memory, learning memory, and motivation. There are many of these supplements on the market now that claim to do just that. However, these supplements are so new there are not many studies that prove or disprove this.
So how do you know which ones really work and ones that don't? You educate yourself about what ingredients work to improve memory, which ones are worthless, and which ones can actually be harmless. This is what we have attempted to do in this review. We are going to go through the ingredients in LumUltra and show the studies that support the claim.
Lumultra is a health supplement manufactured by Avanse Nutraceuticals, a company located in the United States. It is an updated version of a previous memory enhancement supplement called Lumonol. Each bottle contains 60 vegetarian capsules and will last the consumer two months.
Like all other memory supplements, LumaUltra is marketed towards individuals who want to –
sharpen their memory
increase long and short term memory
improve cognitive function
Increase energy
Decrease stress
How Does It Rate?
Overall Rating: 3.8
LumUltra
Brand Highlights
Lumultra is a health supplement manufactured by Avanse Nutraceuticals.
It helps you to manage stress.
Key Ingredients
Focus Blend – 515mg
Energy Blend – 430mg
Memory Blend – 185mg
Pros
Improves your mood
It gives you more energy
It helps you to manage stress
It May give you a boost mentally
May result in improved cognitive function
Reduces anxiety
It helps achieve emotional stability
Enhances cognitive thinking
Protects against brain diseases like Alzheimer's and dementia
Cons
May cause side effects such as headache, constipation, and nervousness.
The capsules contain rice and flour. If you are allergic to these, avoid this supplement.
If you are sensitive to taurine, you may have trouble falling asleep.
---
How Does LumUltra Work?
According to the manufacturer helps the user become more alert with improved focus. It does this by increasing oxygenation and blood flow to the brain. L-tyrosine, one of LumUltra's ingredients, helps lower oxidative stress, causing the brain's nerves to fire faster. It also helps increase your energy which allows you to become more productive. This occurs because of the increased oxygen in the blood.
Advertisement
*All individuals are unique. Your results can and will vary.
LumUltra Ingredients
Lumultra consists of three different blends comprised of different ingredients.
Focus Blend – 515mg
Phosphatidylserine – Several studies[1] have found that phosphatidylserine helped improve memory functions in elderly individuals with memory complaints. When scientists first started running studies on this supplement, it was from the brain cells of cows. Mad cow disease changed this, and now phosphatidylserine supplements are derived from soy or cabbage.
Acetyl L-Carnitine – A study conducted on 344 rats [2] found that the ones that took ALCAR increased synaptic neurotransmission, which increased learning ability. This ingredient helps build the proteins within your body. If you are under stress, these neurotransmitters slow down and don't work as well. ALCAR reverses that lowering your pressure and giving the proteins the boost they need.
Noopept – The Journal of Biomedical Science [3] published an article in 2014 stating that there has been evidence that Noopept may be an effective treatment option for treating some typical age-related memory issues and disease-specific ones.
Energy Blend – 430mg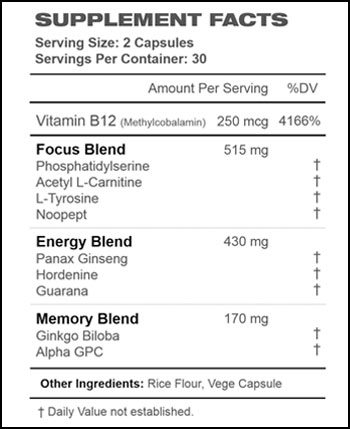 Panax Ginseng – Springer Link [4] published an article in 2000 based on the findings found in a volunteer group consisting of 256 healthy middle-aged volunteers. The study results showed that volunteers reported a positive effect on different areas of memory and better sleep.
Hordenine – This ingredient is known to increase energy. And this is why it may be beneficial for memory pills. By increasing energy, you're better able to pay attention to what is going on around you. According to a study from 1968, [5] Noradrenaline levels increased in response to hordenine methiodide.
Guarana – There is evidence [6]that Guarana has protective effects on the central nervous system, which may affect Parkinson's, Alzheimer's, and Huntington's. More studies need to find out how these benefits occur.
Memory Blend – 185mg
Ginkgo Biloba – This is a type of memory enhancer known for its ability to help with memory recall and mood enhancement. An article published on the Mayo Clinic [7] website conveys that small studies have shown modest improvements in older adults who took these types of supplements.
Alpha GPC – this ingredient has been shown to improve both physical and mental performance in athletes. In a study published in ScienceDirect, [8] Alpha-GPC helped reverse amnesia in rats that took scopolamine-induced products.
Advertisement
*All individuals are unique. Your results can and will vary.
Who is the Manufacture of LumUltra?
LumUltrais is manufactured by a company named Avanse Nutraceuticals. They are focused on providing the best nutritional supplements available to help people perform the best they can.
This company works hard to formulate the best scientifically-backed supplements available on the market today.
One thing to note is that all people are different, and what works for one person will not work for everyone.
It's our goal to help you reach your goal by bringing you the best possible ingredients and to partner with you on your journey to being the best you that you can be.
LumUltra – FAQ's
Q: How many pills do I need to take?
A: Per the directions on the back of the bottle, take two capsules in the morning with breakfast.
Q: Is there anything I should know about LumUltra?
A: Avanse Nutraceuticals is the manufacturer of LumUltra, and they have a few products that are similarly designed to work with other aspects of your health.
There are also different types of packages you can buy containing different products.
If you're interested in ways to help improve your health, you may want to visit their website.
Q: Can I use LumUltra if I have a health condition?
A: If you are on any medication, do not take LumUltra before talking to your healthcare provider. In fact, no one should start taking any supplement without first talking to their physician.
Q: Does LumUltra have a money-back guarantee or return policy?
A: Yes, this supplement is covered by a 90-day return policy. Just send back the bottle and any unused position for a full refund.
Q: How long does it take LumUltra to work?
A: This depends on the individual. Some people notice immediate results while others it takes up to two weeks.
Q: Is LumUltra safe?
A: Yes, it is safe to take for most people, and there have been no complaints against LumUlttra.
Q: How much does LumUltra cost, and where can I buy it?
A: You can purchase it from Avanse Nutraceuticals' official website. One-time purchase costs $59.97 plus the cost of shipping, or you can opt into a subscription where you receive a new bottle shipped to you monthly for $50.97.
Q: Does LumUltra have side effects?
A: Some people have reported headaches, nausea, constipation, or difficulty falling asleep.
Q: Can anyone take LumUltra?
A:
Advertisement
*All individuals are unique. Your results can and will vary.
Pregnant or nursing women shouldn't take this brain boosting supplement
Anyone under the age of 18 shouldn't take it
Those who have underlying health conditions
If you're taking other medications, make sure to ask your health care provider before taking any new medications.
Q: What Are the Alternatives to LumUltra?
A:
Q: Is Lumultra made in the USA?
A: Yes, it's made in the United States in a factory that the FDA has approved.
What are customers saying about LumUltra?
We have visited many sites looking for customer reviews. Reviews we found on third-party websites were 96% positive, and those who didn't leave a positive review left reviews stating it didn't work for them.
LumUltra Reviews from Customers
"I have been using LumUltra for about 5 months and LumUltra really works for my husband. It helps to improved focus and concentartion."- hazel
LumUltra – Final Verdict
LumUltra is a powerful brain enhancers supplements designed to help support your cognitive abilities. The scientifically backed ingredients contained in this supplement are proven to help others who have had memory issues. Many clinical studies have been performed on the ingredients in this product which are scientifically developed with proven effectiveness.
In addition to improving memory and cognitive ability, it also helps eliminate brain fog, increase attention span and improve concentration when used as directed. LumUltra uses its ingredients to give you an extra boost of energy so you can get past that mid-day slump when all you want to do is go home and nap.
More than ever people of all ages are struggling with memory problems. People are unable to disconnect from their work, while students are under immense pressure to perform. Brains are overloaded with information that must be remembered. A quality memory enhancement product might contain clinically proven ingredients that will help to enhance not only memory, but also focus and night concentration. Memory products might help to optimize overall mental health and brain function.
Below you'll find some of the most effective memory products on the market today, in our opinion.
Our Top Memory Supplements
Verdict on Claimed Benefits: Below is our summary of the available evidence for the claimed benefits of below mentioned brain health supplements and nootropic based on the available research: