There are many products on the market these days designed to help improve brain function. So many people struggle with the inability to focus or remember, and they look for natural supplements that will help. LifeShield Mind Force is a supplement that may help with brain function. Let's look at this product closer.
What is LifeShield Mind Force?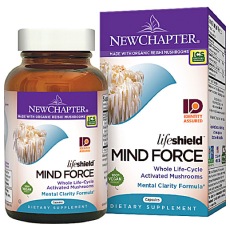 LifeShield Mind Force is a product made from organically grown tonic mushrooms. Among the benefits claimed by the manufacturer include support of mental clarity, promotion of brain function, and support of the cognitive abilities.
Use of this product is intended for those who believe their minds are not as "sharp" as they once were, and who are looking for natural supplements to help clear their minds and increase mental acuity.
That being said, it is good to remember that supplements made from organic products are free from genetic alteration and from the use of pesticides and chemical fertilizers. The mushrooms used in this supplement are fully organic.
Who is the Manufacturer of LifeShield Mind Force?
LifeShield Mind Force is manufactured by NewChapter®. This company says that it is committed to using whole products grown in a sustainable fashion. Mushrooms, fruits and vegetables, and herbs are all combined in their products to produce supplements intended to promote physical health.
This company considers itself one of the foremost advocates of the use of non-GMO products (GMO being genetically modified organism). Their motto is "Every ingredient. Every product. Every time." This stresses that they are committed to offering only the best products and processes to their customers as they produce supplements that help nourish both body and soul.
How does LifeShield Mind Force Work?
Two types of mushrooms – Lion's Mane and Reishi – have been found to benefit cognitive support. They can promote a more normal functioning of the brain and seem to help with mental clarity. NewChapter® uses these mushrooms, along with Chaga and Poria mushrooms, to create a supplement housed in 100% vegan capsules.
LifeShield Mind Force Ingredients – Are they Safe & Effective?
There are no artificial colors, no added flavors or sweeteners, and no synthetic fillers in any of LifeShield Mind Force products. They are also gluten-free.
Mushrooms, as any other living thing, have a life cycle. NewChapter® believes in using whole cycle products in its supplements, so they allow their mushrooms to grow through an entire life cycle. This means they give their mushrooms a 3-month growing cycle, as opposed to a one-month cycle preferred by some manufacturers. They also go through an extensive verification litany, since mushrooms can be hard to identify. The testing includes:
A DNA test at every level to confirm that the mushrooms being used are actually Reishi
A test on every batch to check the chemical fingerprint
Comparison of DNA tests with existing databases for accuracy
In addition, everything made by New Chapter is manufactured with the strictest observation toward safety. Ingredients are grown in the U.S. in sustainable circumstances. Their ingredients are:
Non-GMO Project verified
ICS Certified organic
100% Vegan
Gluten-free
Kosher
What are the Advantages of LifeShield Mind Force?
There may be several benefits to using LifeShield Mind Force as a daily supplement. If you have trouble with focusing enough to complete a task or think your brain seems a little fuzzy, this supplement may be helpful.
NewChapter® is a respected name in the field of all-natural, organic supplements
May improve brain function and support cognition.
Could promote mental clarity
Made from organic and potent ingredients
What are the Disadvantages of LifeShield Mind Force?
There are always some who find that a particular supplement does not seem to work for them.
Some may object to the presence of carrageenan and brown rice in the ingredients
Some reviewers said the product did not work
One reviewer said the package was damaged in shipment
FAQ's
What is the dosage of LifeShield Mind Force?
You should take 2 capsules with food, once a day. The manufacturer recommends only the 2 capsules. At this dosage, the bottle has a 30-day supply. Check their website for more information.
How much does LifeShield Mind Force cost?
A one-month supply of LifeShield Mind Force is currently on sale for $25.16. You can find it at different prices, depending on the vendor.
What is LifeShield Mind Force's return policy?
New Chapter provides a full-purchase-price refund if you are not satisfied with their product. They provide their email address and their phone number, along with clear directions for obtaining your refund.
Does LifeShield Mind Force offer discounts?
New Chapter does offer discount codes from time to time. Check with the website to see if there are any codes available for your initial purchase.
LifeShield Mind Force – Final Verdict
It is obvious that not everyone can or will respond to certain supplements. That being said, this product has a high rating in customer reviews. It does have high-quality products that are raised in an organic setting and are non-GMO. LifeShield Mind Force can be a beneficial supplement for people who want to promote mental acuity and agility.
The mushrooms used in this product are said to have positive effects on brain function and the immune system. With proper use, this supplement could promote mental clarity. However, it is difficult to ascertain the effectiveness of a product, if the information about the product is meager. Navigating through the official website is not enough to discover the product's potential in enhancing brain function.
We suggest our readers to Google information about the ingredients used in the product. Some elements might be allergic to a few people. Thus be wise and research further to avoid any chances of side effects.
More than ever people of all ages are struggling with memory problems. People are unable to disconnect from their work, while students are under immense pressure to perform. Brains are overloaded with information that must be remembered. A quality memory enhancement product should contain clinically proven ingredients that will help to enhance not only memory, but also focus and night concentration. Memory products should help to optimize overall mental health and brain function. Most importantly a memory product should work safely and gently to promote cognitive function.
Below you'll find some of the most effective memory products on the market today, in our opinion.
Our Top Memory Supplements
Provasil

Improve Focus and Concentration*
Improve Cognitive Learning*
Improve Focus and Concentration*
Improve Cognitive Learning*
Improve Focus and Concentration*
Improve Cognitive Learning*