Infowarslife Brain Force Plus Overview
Infowarslife Brain Force Plus is a dietary supplement that is designed for neural activation. It is an enhanced formula from Brain Force that contains 20% more capsules per bottle.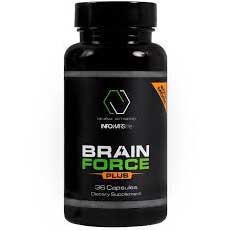 It allows for maximum potency. It has an added ingredient known as Black Pepper Fruit Extract that allows it to deliver more effective results. This product is formulated with natural ingredients that entail the vitamins, amino acids, minerals, and herbal extracts.
The product intends to free your mind from toxic substances that you tend to obtain from the diet and other living lifestyles. It provides your brain with nutrients that nourish it and boost your cognitive functions. The product is available on the official brand's website and other retail stores.
Manufacturer Information and Claims about Infowarslife Brain Force Plus
The manufacturer of this product is Infowars Life Health Company. They claim that they produce their product from high-quality natural ingredients. They claim that the product helps to boost your brainpower and enhance its cognitive functions.
Working Process and the Ingredients List
Bacopa Herb Extract – It is used to enhance your neurologic and cognitive activities.
Alpha GPC – this ingredient also occurs naturally in your brain. It is used to deliver choline, which is a water-soluble essential nutrient, across your brain barrier.
Yerba Mate Leaf Powder – It contains natural caffeine. It is also rich in antioxidants, potassium, magnesium, manganese as well as polyphenols such as quercetine.
Phosphatidylserine – This chemical is responsible for a number of important functions in your body. It is responsible for maintaining the cell structure in your brain.
Vitamin B12 – It enhances the production of energy by supporting your body's natural process of red blood cell formation and adrenal glands activities among others.
Black Pepper Fruit Extract – This extract is taken from Piper Nigrum Fruit. It has a medicinal value that gives the supplement an extra kick. It enhances the absorption of other active ingredients.
The Advantages of Infowarslife Brain Force Plus
The ingredient quantities are well stated.
It helps to improve your cognitive functions.
It frees your brain from toxic substances.
It helps to boost your brainpower and mental energy.
The Cons of Infowarslife Brain Force Plus
The website does not mention about a money back guarantee; whether they offer returns for their product if not satisfied with it.
FAQ's
Is the Product Effective?
Infowarslife Brain Force Plus supplement is considered effective as it is produced from high-quality, powerful natural nootropic ingredients
Possible Side Effects
Infowarslife Brain Force Plus supplement has no known side effects. It is produced from natural ingredients that are safe for human consumption.
Read Next – Brain Speed Memory
Know The Related Products
HCF Happy Calm Focused is a powerful brain booster product that is meant to improve your memory, boost energy levels in your brain and improve concentration. It is a product that facilitates better body rest for you to wake up feeling fresh and energized. It helps you improve your recall ability for better working.
Herberallis an all-natural brain enhancement supplement meant to support focus, mood, mental clarity, memory, and energy. It is formulated to support healthy brain peak performance for faster and sharper thinking.
Final Verdict
Infowarslife Brain Force Plus is a high-quality, reliable, safe, and effective product. It is produced to promote a healthy brain by enhancing its activities. It is produced from powerful ingredients that boost your cognitive functions and enhance the overall activity of your brain. Ensure that you follow the instruction given to the latter for you to obtain the maximum results that you always desire and in order to avoid possible side effects that may result due to improper use.
If you have any medical issue or you are under medication consult your doctor before taking the supplement. Carry out extensive research about the product. This will help you to ascertain for its ingredients' effectiveness and safety. You can also consult a specialist on the same. The information provided in the article will help you make an informed decision whether to purchase the product or not.
Advertisement
*All individuals are unique. Your results can and will vary.
More than ever people of all ages are struggling with memory problems. People are unable to disconnect from their work, while students are under immense pressure to perform. Brains are overloaded with information that must be remembered. A quality memory enhancement product might contain clinically proven ingredients that will help to enhance not only memory, but also focus and night concentration. Memory products might help to optimize overall mental health and brain function.
Below you'll find some of the most effective memory products on the market today, in our opinion.
Our Top Memory Supplements
Verdict on Claimed Benefits: Below is our summary of the available evidence for the claimed benefits of below mentioned brain health supplements and nootropic based on the available research: