In This Review
Geniux – Overview
Geniux is a dietary pill developed to boost memory and focus. The manufacturer advertises it as a nootropic product with fast-acting ingredients. The manufacturer also claims that Geniux can offer many mind-boosting benefits, including enhanced memory, cognition, focus, mood, and mental clarity.
How Does It Rate?
Overall Rating: 3.5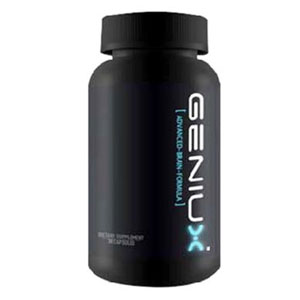 Geniux
Brand Highlights
The brain enhancement pill is made by a company known as Geniux.
It boosts focus and motivation.
It Improves memory concentration.
Key Ingredients
Alpha GPC
Acetyl-L-Carnitine
Acacia Rigidula
Theanine
Ginkgo Biloba
St. John's Wort
Pros
It may improve memory
It may improve learning performance
Focus & concentration can also be increased
It makes you stress free & keep you calm
It increases alertness
Cons
Little information is known about the Manufacturer.
The product is only available online.
---
How Does Geniux Work?
This product claims to use twenty ingredients with nootropic benefits. We find it weird because none of these ingredients has been mentioned anywhere on the manufacturer's official website. The manufacturer seems like describing the various ingredients in Geniux, but they fail to do so.
The manufacturer only says that Geniux is combined with 20 different ingredients that work with the body and mind to produce results. They fail to mention these ingredients.
However, the manufacturer says that Geniux does not contain piracetam citing the reasons as related to legal issues. There is a point they say that the supplement contains pollen as one of the active ingredients.
We found this as a shortcoming because they have not explained why pollen is used or provided evidence of its medical benefits. Ultimately, we don't know do memory pills work, if it works, how does it work, or which active ingredient helps the supplement achieve results.
Geniux Ingredients – Are they Safe & Effective?
According to the manufacturers, the supplement is manufactured from 20 different natural ingredients. It contains potent antioxidants and essential nutrients which make the supplement effective. These two components work to boost the brain and body's energy.
Alpha GPC-
Administration of alpha-GPC promotes learning and memory by increasing the release of the neurotransmitter acetylcholine. Alpha-GPC supplementation improves endurance and growth hormone secretion in athletes while preventing the decline in choline levels brought on by exercise[1] .
Acetyl-L-Carnitine-
Acetyl-L-carnitine is occasionally used to relieve depressive symptoms, reduce nerve pain in diabetics, improve memory and thinking skills, and treat Alzheimer's disease. There isn't enough solid scientific evidence to support many of the other conditions for which it is used[2].
Acacia Rigidula –
Numerous compounds found in Acacia rigidula have stimulating properties. As a result, it is frequently advertised for improving athletic performance and weight loss. However, many preparations that include Acacia rigidula as a component also include a substance called beta-methylphenethylamine, which is similar to amphetamine (BMPEA)[3].
Theanine –
The amino acid L-theanine is mostly present in green and black tea as well as some mushrooms. Additionally, it's accessible as a pill or tablet. As per our Neuro Gasm Reviews, Theanine is believed to promote relaxation and reduce stress by increasing levels of neurotransmitters like GABA, which has calming effects on the brain.[4].
Ginkgo Biloba –
Ginkgo has long been used in traditional Chinese medicine. The leaves were utilized to cure respiratory issues, cardiovascular issues, and brain disorders. Cough, fever, diarrhea, toothaches, and even gonorrhea were treated with ginkgo nuts.
Nowadays, it's marketed mostly as a supplement to assist memory or brain health because according to the Neurodrine reviews It supports brain health and cognitive function by enhancing blood circulation and protecting brain cells from oxidative stress.[5].
St. John's Wort –
John's wort is advertised as a treatment for a variety of ailments, including depression, menopausal symptoms, ADHD, somatic symptom disorder (a condition characterized by severe, exaggerated concern about physical sensations), obsessive-compulsive disorder, and others. St. John's wort administered topically (to the skin)[6].
Alternatives to Geniux
Who is the Manufacturer of Geniux?
The brain enhancement pill is made by a company known as Geniux that appears to share the same name as the product. There is no physical address provided on the company's official website.
Increase memory recalls in men and women of all ages.
Built to boost energy levels.
Improve health and overall well-being.
Boost focus and motivation.
Frequently Asked Questions
Q: Any Side Effects of Taking Geniux?
A: No side effects of Geniux have been reported yet.
Q: How Should You Take Geniux?
A: Dosage information is not mentioned on the company's official website. We assume they include it in the package.
Q: How Long Does The Remedy Take To Show The Result?
A: The manufacturer claims that Geniux can boost energy and show other results as soon as it is taken.
Q: Does it Interact With Other Medications?
A: There is no information about possible interactions with other medications. We recommend you consult your physician if you are using prescription medication.
Q: Who can Take Geniux?
A: The formula is designed for men and women of all ages who are troubled with memory and cognitive decline. However, we advise nursing mothers and pregnant women to consult their healthcare provider prior to use.
Q: How Much Does Geniux Cost?
A: Geniux cost $39 for 1 Bottle, $90 for 3 Bottles, $125 for 5 Bottles, and $140 for 7 Bottles.
SEE ALSO – Berocca
Geniux Reviews from Customers
"I have been using Geniux for about 4 months and it really works for me. It helps to improve focus and concentration. Love the product"- Nick
Geniux Review – Final Verdict
The product seems to contain ingredients that work to overcome memory and cognitive decline. Some customer reviews and testimonials also seem to support the best-rated nootropics.
For all of these reasons, we recommend Geniux nootropic supplements if you still want to give it a try. The manufacturer says that the product is risk-free so there would be no harm if you attempt it.
More than ever people of all ages are struggling with memory problems. People are unable to disconnect from their work, while students are under immense pressure to perform. Brains are overloaded with information that must be remembered. A quality memory enhancement product might contain clinically proven ingredients that will help to enhance not only memory, but also focus and night concentration. Memory products might help to optimize overall mental health and brain function.
Below you'll find some of the most effective memory products on the market today, in our opinion.
Our Top Memory Supplements
Verdict on Claimed Benefits: Below is our summary of the available evidence for the claimed benefits of below mentioned brain health supplements and nootropic based on the available research: