In This Review
Overview
Remember those awkward days right before a test or an important meeting when you just couldn't recall anything?
We've all been through that "zombie" phase where we feel as though our brains simply won't function no matter how hard we try. At such times, what you need is a natural brain booster.
Don't think it's possible?
With Natural Nootropic supplements, you too can give your brain a little boost and work your way through that project, late-night study session, or prep before an important meeting or presentation!
In this article, we review a brain-boosting supplement called GeeHii Brain. The product is known to help lessen your brain fatigue and power your brain through an intense work session.
Curious? Let's check out its features, pros, cons, and ingredients in detail. We've also included answers to frequently asked questions, including "GeeHii brain where to buy."
GeeHii Brain supplement is a natural brain enhancer that helps with intelligence, memory, and brain functions.
The product is manufactured by an FDA-approved cGMP firm that is based in the U.S.
GeeHii Brain pills contain nootropic substances that help boost cognitive and memory function, thereby helping you adapt to the demands of a modern lifestyle. If you find yourself struggling to get through simple tasks, memory, retention, etc., consider GeeHii Brain.
GeeHii Brain is also useful for people looking to keep their energy levels balanced throughout the day. It is a great alternative for people who turn to 3-5 cups of caffeine to get through the day. Unlike caffeine, these pills won't give you quick highs or sharp dips in energy levels.
If you relate to any of these scenarios, then GeeHii Brain might be a good solution for you.
Advertisement
*All individuals are unique. Your results can and will vary.
That isn't the only use for GeeHii pills. GeeHii Brain pills are also useful in reversing brain decline and help people with minor brain function problems.
Overall, GeeHii Brain works on a multitude of problems while also improving brain functioning. And it does this through its natural ingredients that trigger the brain's natural responses.
Are you now wondering, "Does GeeHii Brain really work?"
Let's take a look at the product in more detail.
How Does It Rate?
Overall Rating: 3.8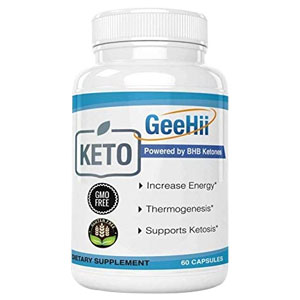 GeeHii Brain
Brand Highlights
GeeHii Brain supplement is a natural brain enhancer.
The product is manufactured by an FDA-approved and cGMP firm that is based in the U.S.
Key Ingredients
L-theanine
Bacopa Monnier
Ginkgo Biloba
GABA
Omega-3 Fatty Acids
Pros
Lifts brain fog
Brings mental clarity
Helps increase focus and alertness
Improves ability to retain information
Reduces brain fatigue
Increased productivity
No more zoning out
Higher IQ
Faster brain processing
Improved mood
Increases blood circulation to the brain
Supports brain development
Reverses brain decline
Enhances oxygenation
Supports neural growth
Promotes neural plasticity
Protects against neurotoxins
Cons
Only available online
No clinical trials of the product
---
How Does It Work?
GeeHii Brain pills are made using all-natural and clinically approved nootropic substances. The unique blend of ingredients helps decrease brain fatigue and fog while improving mental clarity. The products also help give the brain's key functions of memorizing, storing, and understanding information a boost.
GeeHii Brain – Ingredients
The GeeHii Brain pills ingredients are all-natural and clinically approved nootropic substances. Some GeeHii Brain ingredients are:
Advertisement
*All individuals are unique. Your results can and will vary.
L-theanine
– L-theanine[1] is an amino acid. It helps relax the brain without making the person drowsy. It helps increase alertness and boosts immune system function as well. It is also used to treat anxiety, stress, nervousness, thereby relaxing the mind and lifting your mood.
Bacopa Monnier
– Bacopa Monnier is a natural nootropic herb[2]. It is known for its memory-enhancing abilities and is also used as a neural tonic in Ayurvedic medicinal practices. It can help eliminate stress, reduce oxidative damage, and reverse cognitive disorders.
Ginkgo Biloba
– Ginkgo Biloba[3] is a tree species. The plant extract derived from this tree species is known to contain flavonoids and terpenoids. These compounds have antioxidant properties and help improve blood circulation.
The extract is used to heal health ailments, enhance brain development, treat cerebral insufficiency, combat poor concentration, and reverse cognitive decline.
GABA
– GABA [4](Gamma-aminobutyric acid) boosts blood circulation in the brain. It also inhibits certain neurotransmitter functions, which helps calm the brain. By enhancing memory, GABA controls disorders related to hyperactivity and attention deficit.
Omega-3 Fatty Acids –
Omega-3 fatty acids improve cognitive health and function, memory, mood[5]. It also reduces the risk of brain-related diseases, depression, and stress. It is also known to be effective in reducing the risk of Alzheimer's disease and Dementia.
GeeHii Brain – Frequently Asked Questions
Instead of looking for more information and searching for 'GeeHii Brain Reddit,' why not check our FAQs below?
Q: How Do I Use GeeHii Brain Pills?
A: GeeHii Brain pills need to be consumed orally. The product label recommends one capsule per day for 2 – 3 months for best results. Make sure to drink plenty of water and eat healthy, nutritious food daily—GeeHii Brain is not a substitute for your meals.
Q: How Many Pills Are There in a Bottle of GeeHii Brain Pills?
A: Every bottle of GeeHii Brain pills contains 60 pills.
Q: Is GeeHii Brain Safe?
A: Yes. GeeHii Brain is safe to use for adults and has no side effects.
However, if you experience any discomfort (physically or mentally) after using this product, visit your doctor immediately.
Q: Where to Buy GeeHii Brain Supplement & Want to know where can you buy GeeHii Brain?
A: You can visit the GeeHii Brain official website GeeHii Brain.com to get GeeHii Brain supplements. You can also check out GeeHii Brain pills on amazon for better offers on GeeHii Brain Buy.
Q: What is GeeHii Brain Cost?
A: A single bottle of GeeHii Brain costs around $56 in the U.S. You can also check out the GeeHii Brain website for more details on delivery and shipping charges. To look for attractive offers, check out GeeHii Brain Amazon.
Q: What Are The Alternatives to GeeHii Brain?
A:
Q: Who Should Not Use GeeHii Brain?

A: Anyone below 18 years of age or pregnant should not use GeeHii Brain.

Advertisement

*All individuals are unique. Your results can and will vary.

Overall, the product helps give you an extra boost to perform your daily activities better.

Q: What Are GeeHii Brain: Benefits, Safety, and Side Effects?

Benefits

Better performance in job interviews
Improved attention during classes
Remember things faster and better
Be more productive at work
Reduce overall stress levels

Side Effects

Surprisingly, GeeHii Brain side effects are non-existent. GeeHii Brain pills reviews suggest the product achieves its results without any negative impact on the user's health.

However, it is recommended that you avoid caffeine and other brain supplements when using GeeHii Brain pills.

Safety

While the products used in GeeHii Brain are clinically approved, it is not recommended for people under 18 years of age.

Those with existing mental and physical conditions must consult their doctors before adding this supplement to their routine.

READ NEXT – Cerebra Review

GeeHii Brain Reviews from Customers

"I have been using GeeHii Brain for about 4 months and It really works for my husband. It helps to improve focus."- Dakota

GeeHii Brain Review – Conclusion

Most reviews for GeeHii Brain, like those on GeeHii Brain reviews Reddit, seem to claim the same thing—that the product is a great natural brain enhancer. There are no side effects reported, and the benefits are endless. It is a healthy alternative for people relying on caffeine to get them through the day.

The product does what it says and nothing else. It might take a while for the benefits to show, but consistent use is necessary.

If you, however, do experience any kind of side effects after using GeeHii Brain, seek professional help at the earliest.
More than ever people of all ages are struggling with memory problems. People are unable to disconnect from their work, while students are under immense pressure to perform. Brains are overloaded with information that must be remembered. A quality memory enhancement product might contain clinically proven ingredients that will help to enhance not only memory, but also focus and night concentration. Memory products might help to optimize overall mental health and brain function.
Below you'll find some of the most effective memory products on the market today, in our opinion.
Our Top Memory Supplements
Verdict on Claimed Benefits: Below is our summary of the available evidence for the claimed benefits of below mentioned brain health supplements and nootropic based on the available research:
Product reviews are provided for informational purposes only and reflect solely the views and opinions expressed by the contributors and not those of Consumer Health Digest. We do not verify or endorse any claims made in these reviews. Please read the full product reviews disclaimer. *All individuals are unique. Your results can and will vary.
Ask a Question
Have a Question? Please Tell Us What We Are Missing Here!
PRODUCT NAME
GeeHii Brain
PRODUCT BRAND
S.O LABS
PRICE (in USD)
$56
ITEM FORM
Capsule
UNIT COUNT
60 Capsule
INGREDIENTS
L-theanine, Bacopa Monnier, Ginkgo Biloba, GABA, and Omega-3 Fatty Acids.
$56 At Amazon
**This is a subjective assessment based on the strength of the available informations and our estimation of efficacy.
*Result may vary. If you are pregnant, nursing, have a serious medical condition, or have a history of heart conditions we suggest consulting with a physician before using any supplement. The information contained in this website is provided for general informational purposes only. It is not intended to diagnose, treat, cure, or prevent any disease and should not be relied upon as a medical advice. Always consult your doctor before using any supplements.
Disclosure of Material connection: Some of the links in the post above are "associate sales links." This means if you can click on the link and purchase an item, we will receive a commission. Regardless, we only recommend products or services which we use personally and/or believe will add value to our readers. We are disclosing this in accordance with the Federal Trade Commission's 16 CFR, Part 255: "Guides Concerning the Use of Endorsements and Testimonials."