In This Review
What is Focus Formula?
Focus Formula is an herbal supplement created to improve people's concentration, memory, attention, and balance of emotions.
Among the supplements manufactured by Native Remedies[1], Focus Formula is the most commonly bought supplement for memory improvement.
This supplement offers an ideal alternative and a healthier method for enhancing cognitive functioning compared to prescriptions drugs and caffeine pills.
It has the capability of retaining memories and boost focus levels.
This cognitive supplement encompasses a blend of natural substances that aids in providing sufficient energy and ideal focus to enable users to obtain a competitive edge they require in their day to day living.
Adding on, this supplement may assist those with memory problems[2] and short attention spans get back to normalcy state.
It has the capacity of boosting cognitive abilities with the use of its ingredients which have been verified to assist key parts of the cerebrum related to focus.
The company that is behind the Focus Formula is 'Native Remedies'.
It is an online company that is specialized in the manufacture of homeopathic and herbal remedies.
This company manufactures over 300 remedies that help in controlling many health conditions ranging from abdominal pain to brain-related ailments.
There are many factors that make us believe that this is a serious company.
Native Remedies has been operating online for many years now from 2002.
It has many customers from over 30 countries-over 1million customers.
Offer a generous one year guarantee on all products sold at their site.
It has a reliable team of naturopaths, herbalists and homeopaths who offer free advice and directions on how to choose the best product and how to use it.
The company has a well-documented knowledge on traditional herbs[3].
The raw materials that they use in the manufacture of their supplements come from reputable suppliers.
Focus Formula Claims to do:
Focus Formula claim to improve focus, memory, concentration and attention in both kids and adults.
It claims to improve a person's ability to learn and recall things in future.
Focus Formula help to motivate a person.
This formula helps to balance the energy and mood levels.
How Does Focus Formula Rate?
Overall Rating: 3.8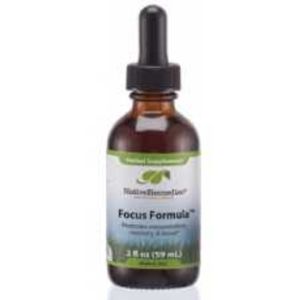 Focus Formula
Brand Highlights
Helps retain normal blood sugar levels, which may help prevent low energy.
The brand has an extremely impressive line of sports nutrition products.
Focus Formula uses clinically proven ingredients in their formulations.
They are committed to being a source of top-notch, original goods.
It is known for developing and releasing the most cutting-edge products.
Key Ingredients
Rooibos Herb
Organic Nettle Leaf
Organic French Wild Oat Seed
Organic Gotu Kola Herb
Organic Chamomile Flower
Organic Skullcap Herb
Wild Harvested Ginkgo Leaf
Pros
This product has been formulated using a unique Full Spectrum Approach which might provide the highest quality, safety, and value.
It might increase concentration levels.
It may treat the signs of ADHD[5] and can support the brain and the nervous system.
Focus Formula may improve concentration and mental focus in both kids and adults.
Cons
There is no scientific evidence to support the said claims.
The product is available online only.
---
How Does Focus Formula Work?
Focus Formula is helping people who are troubled with attention span, concentration, memory, and attention.
This herbal remedy contains extracts of chamomile, ginkgo Biloba kola, rooibos, green oats, and skullcap.
When they reach the body, they are absorbed into the bloodstream and transported into the brain.They are filtered into the brain where they help in improving sleep, and reducing anxiety and depression. Ginkgo biloba[4], for example, helps to increase blood circulation thus improving memory and mood.
Focus Formula Ingredients – Are they Safe & Effective?
The ingredients used in this brain enhancement are used in the top rated nootropics.
They are as follow:
Rooibos Herb
According to Molecular Medicine Reports, Rooibos Herb natural herb is packed with iron, zinc, and magnesium, which work together to help maintain a healthful nervous system.
Organic Nettle Leaf
Regulates the blood sugar heights. Additionally, it assists to maintain the ideal disposition of the circulatory system in a healthful physique.
Organic French Wild Oat Seed
Which supports the nervous system.
Organic Gotu Kola Herb
Generally this ingredient supports a healthy cerebrum and nervous system.
Organic Chamomile Flower
Chamomile Flower unique compound gently reduces and soothe the frustrations caused by fatigue and stress due to daily work activities.
Organic Skullcap Herb
It significantly aids in reinforcing the natural balance in the brain to maintain a healthy attitude, claims science direct.
Wild Harvested Ginkgo Leaf
It maintains a healthy circulatory system and deals with memory loss.
Other inactive ingredients include;
Mixed Berry Natural Flavors, Raspberry, Deionized Water and Vegetable Glycerin.

FAQ's
Q: How to take Focus Formula?
A: This equation is united with a dropper.
It ought to be taken two times each day particularly toward the beginning of the day and night after dinners.
For grown-ups and the youthful age with 16 years or more, the suggested measurements are 0.75 – 1 ml of the equation.
For adolescents of age somewhere in the range of 11 and 16 years, the suggested measurement is 0.75 ml. for kids who are around 6 years to 10 years, the suggested measurement is 0.5 ml.
For kids matured somewhere in the range of 3 and 5 years, the suggested dose is 2 – 4 drops of the recipe per portion.
Q: After this product is opened, do I need to keep in the fridge?
A: No, need to refrigerate this product.
Q: How Much is Focus Formula?
A: This formula is available in the form of liquid put in 60 ml bottles.
According to Native Remedies Ltd, one bottle has to be used for a month of the treatment period.
This remedy is sold by Native Remedies Ltd. at a price of $38.95.
Q: What is Focus Formula Return Policy?
A: The manufacturer offers a 1-year money-back guarantee.
If you are not satisfied with the product, you can return the product to issue a full refund.
Q: Does Focus Formula Offer a Free Trial?
A: Unfortunately, the manufacturer does not offer a free trial on this product.
Q: What are the Focus Formula Alternatives
What Do the Reviews Say?
It doesn't really serve a purpose. It may restrict your anxiety and provide you with steady energy for a few hours, but the cost is not justified. As a result of utilizing it, I haven't gained any significant benefits.
~ Alex
Conclusion
Focus Formula is a quality memory enhancer that is packed with clinically verified ingredients as per the brand's claims.
It might serve as an ideal brain supplement.
However, it is good to settle for a product that works safely and gently to enhance cognitive function.
We recommend our readers to browse the best brain supplement review before buying this product.
'Focus Formula' can be purchased through their Official WebSite.
More than ever people of all ages are struggling with memory problems. People are unable to disconnect from their work, while students are under immense pressure to perform. Brains are overloaded with information that must be remembered. A quality memory enhancement product might contain clinically proven ingredients that will help to enhance not only memory, but also focus and night concentration. Memory products might help to optimize overall mental health and brain function.
Below you'll find some of the most effective memory products on the market today, in our opinion.
Our Top Memory Supplements
Verdict on Claimed Benefits: Below is our summary of the available evidence for the claimed benefits of below mentioned brain health supplements and nootropic based on the available research: