In This Review
Overview
Our modern lifestyles take a toll on brain health. Between long work hours, constant screen time, lack of sleep, and poor diets, it's easy for nutritional deficiencies and mental fatigue to set in. While diet and lifestyle changes are important, brain supplements can offer additional support.
The brain requires specific vitamins, minerals, antioxidants, and fatty acids to function at its best. However, these important nutrients are often lacking in the typical Western diet. Supplements help fill these gaps by providing essential compounds for brain cell communication and overall brain function.
As we age, the brain naturally declines in its ability to think clearly, learn efficiently, and ward off cognitive diseases. Brain supplements containing clinically studied ingredients may help protect brain cells from damage. They can also support cell signaling between brain regions, and maintain mental performance levels for memory, focus, decision-making, and more. This cellular support could help preserve brain health and sharpness as the years pass.
What is Focus Factor?
Focus Factor is a dietary supplement that was designed to enhance the functions of the brain. They come in the form of pills containing a mixture of natural extracts that form a list of endless ingredients. These ingredients range from omega-3 oils, minerals, botanical herbs, and extracts as well as vitamins. According to its manufacturers, each of the above ingredients has its benefits concerning brain enhancement.
Brain factor is manufactured by Factor Nutrition Labs, LLC. Focus Factor are pills for memory that were specially designed to help the brain function more effectively. The ingredients mentioned above work together to enhance the brain's cognitive function [1]. The key supplements in this product include herbal supplements, focus on vitamins, and other focus pills.
These supplements enrich the brain thus enabling it to have increased focus, memory, mental focus, thoughts, and information retention. This product can improve the concentration, memory, and focus of an individual, especially older people. Like other body parts, the brain too needs proper nutrients in order to perform its functions. Focus Factor can help you remain more focused than ever.
You can start caring about your brain's health with this dietary supplement and see what good it can bring you.
How Does Focus Factor Rate?
Overall Rating: 3.8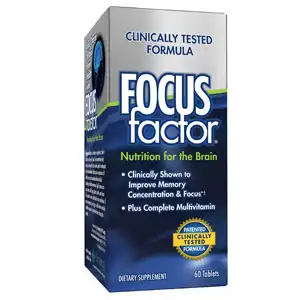 Focus Factor
Brand Highlights
Helps retain normal blood sugar levels, which may help prevent low energy.
The brand has an extremely impressive line of sports nutrition products.
Focus Factor uses clinically proven ingredients in their formulations.
They are committed to being a source of top-notch, original goods.
It is known for developing and releasing the most cutting-edge products.
Key Ingredients
Choline
Vinpocetine
Dimethylethanolamine
L-glutamine
Docosahexaenoic acid
Pros
This product may enhance the activities of the brain thus making individuals think with clarity.
Focus Factor is easily and quickly taken without any complications.
The product contains natural ingredients which might increase focus.
Could improve memory and other cognitive functions.
Cons
This product address only surface issues affecting memory but leaves some underlying problems.
Some users have reported some minor side effects such as stomach and gastric upset when they consume the product.
Just like other brain enhancement products, Focus Factor brings less quantifiable results.
---
About The Brand
Focus Factor is a leading brain health supplement brand dedicated to supporting mental performance. Founded in 2004 and based in California, the company's mission is to provide premium brain nutrition products backed by scientific research.
Focus Factor works with an advisory board of neurologists, nutritionists, and product researchers to develop supplements containing clinically studied ingredients. Their flagship product, Focus Factor, contains over 30 vitamins, minerals, antioxidants, and herbal extracts formulated to boost focus, memory, mood, and overall brain function.
The brand prides itself on using high-quality, bioavailable ingredients in precise ratios recommended by experts. All products are manufactured in GMP-certified facilities and undergo rigorous third-party testing to ensure purity and potency. Focus Factor has helped millions of customers enhance their mental abilities through proper brain nutrition and support. Their supplements aim to provide natural solutions to optimize cognitive performance.
How Does Focus Factor Work?
Focus Factor contains all-natural ingredients that work to improve the brain's health. These ingredients work to improve clarity and remove mental distractions. By doing this, they help enhance the way the brain is functioning.
However, taking this dietary supplement alone cannot help you have greater memory retention [2]. You need to incorporate many brain exercises on a regular basis to sharpen your mind.[3] If you combine these exercises with Focus Factor, you will improve your memory tremendously.
As people continue to become old, they begin to experience memory loss and difficulty in thinking as well as continue to lose focus. Many of these people look for remedies to overturn these challenges by going for brain enhancement products.
Focus Factor is one of these supplements that they go for. This product uses many ingredients such as omega-3 oils, vitamins, and minerals that help the brain function efficiently thus bringing mental clarity. These supplements are absorbed into the blood and transported into the brain where they nourish the brain helping it to perform its functions
Focus Factor Ingredients – Are they Safe & Effective?
Focus Factor is a cognitive supplement made from almost available all ingredients available on the heart. These ingredients are categorized into omega-3 oils, minerals, botanical herbs, and extracts as well as vitamins.
The full ingredients list of this dietary supplement is Vitamins A, C, D, E, B6, B12, folic acid, biotin, riboflavin, niacin, iodine, magnesium, calcium, iron, zinc, selenium, chromium, molybdenum, copper, manganese, potassium, proprietary formula including glutamine, phosphatidylserine, L-pyroglutamic acid, N-acetyl tyrosine, choline, bilberry fruit standardized extract, gamma-aminobutyric acid, grape seed extract, grape skin extract, and vanadium.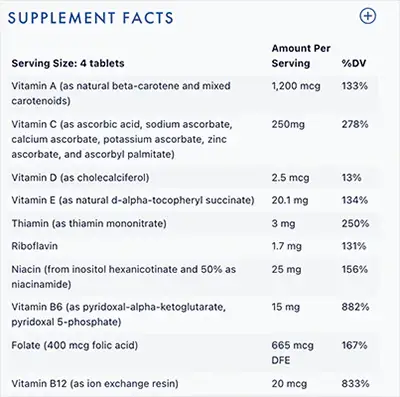 Choline
This is a molecule that is responsible for nervous system communication. It is commonly found in peanuts, egg yolks, and cauliflower among other foods. Researchers suggest that extra choline in the body will help improve memory.
Extensive studies have been conducted on the incorporation of choline in brain enhancement supplements, and it is frequently recommended for individuals seeking to enhance their cognitive performance. Choline, a common component in brain enhancement supplements, is extensively covered in our comprehensive article on stonehenge health Dynamic Brain. It provides detailed insights and analysis, showcasing its potential benefits for cognitive function and overall brain health.
Vinpocetine
Vinpocetine, derived synthetically from the periwinkle plant Vinca minor, is a common ingredient in nootropic supplements renowned for its potential cognitive benefits. This compound exhibits various advantages for brain health. Firstly, Vinpocetine enhances cerebral blood flow,[4] facilitating improved oxygen and nutrient delivery to the brain, ultimately contributing to enhanced cognitive function. Additionally, vinpocetine demonstrates neuroprotective properties, [5] potentially guarding against neurodegenerative diseases by mitigating oxidative stress and inflammation within the brain.
Dimethylethanolamine
Dimethylethanolamine (DMAE), an organic compound found in fish like sardines and anchovies. Recognized for its potential in cognitive enhancement,[6] DMAE is believed to increase acetylcholine production, a neurotransmitter crucial for memory and learning. Moreover, there is evidence suggesting DMAE's role in mood elevation and motivation, possibly influencing neurotransmitter pathways. While more research is needed, DMAEt [7] might also have anti-aging effects on the brain by reducing the accumulation of age-related pigments that could impair cognitive function
L-glutamine
L-glutamine, an amino acid fundamental for protein synthesis, serves as a precursor to the neurotransmitter glutamate. Its brain health benefits encompass aiding neurotransmitter production,[8] providing energy support to brain cells by converting them into glucose when necessary and potentially assisting in stress management by influencing neurotransmitter pathways.
Glutamate plays a key role in brain function [9] as an excitatory neurotransmitter. It helps transmit signals between neurons and supports communication in the brain. Proper levels of glutamate are important for normal cognitive processes like learning and memory formation
Docosahexaenoic acid
Docosahexaenoic Acid (DHA), a primary omega-3 fatty acid found in fish oils, plays a pivotal role in cognitive development, neuroprotection against diseases [10] like Alzheimer's, and mood regulation. Its association with a reduced risk [11] of depression and mood disorders is attributed to its influence on brain cell function and neurotransmitter regulation.
Focus Factor Benefits
Improves Focus, Concentration, and Mental Clarity:
Vinpocetine and DMAE, key ingredients in the supplement, act by enhancing cerebral blood flow and boosting the production of neurotransmitters like acetylcholine. This improved blood flow facilitates better oxygen and nutrient delivery to the brain, crucial for sustaining cognitive functions such as focus and concentration. Acetylcholine, directly linked to learning and memory processes, plays a pivotal role in optimizing brain function.
Enhances Memory Formation and Recall Abilities:
Compounds like Vinpocetine and DMAE exert positive influences on memory formation and recall. Vinpocetine, with its neuroprotective properties, may benefit memory processes. DMAE's role in acetylcholine production is crucial for encoding new memories and retrieving existing ones.This enhancement is particularly beneficial for individuals in learning environments or those facing age-related cognitive decline.
Boosts Mood and Reduces Stress and Anxiety Feelings:
L-Glutamine and DHA contribute significantly to neurotransmitter synthesis and brain cell health. These ingredients, by supporting neurotransmitter balance and brain cell health, may contribute to a more stable mood. Their potential stress-reducing properties can lead to a decrease in feelings of anxiety, promoting overall mental well-being.
Provides Antioxidant Protection for Brain Cell Health:
Vinpocetine is recognized for its antioxidant properties, offering protection to brain cells against oxidative stress—a key factor in aging and neurodegenerative diseases. The antioxidant action of Vinpocetine helps safeguard neurons from damage caused by free radicals, crucial for maintaining the overall health and functionality of brain cells. This protection contributes to long-term cognitive health.
Focus Factor Side Effects
Well-tolerated due to a natural formula, but as with any supplement, side effects can be experienced by some.
Higher doses may lead to mild digestive issues like nausea, diarrhea, or upset stomach in some users.
If taken close to bedtime, may cause insomnia, jitteriness, or anxiety in some sensitive people.
Possibility of drug interactions with prescription medications.
Due to these reasons, we recommend consulting your health care professional before adding it to your regime.
FAQ's
Q: How Should You Take Focus Factor?
A: Take 4 tablets of Focus Factor dietary supplement per day with food. For additional support, you can take up to a maximum of 8 tablets per day.
Q: How Much Does Focus Factor Cost?
A: This product is sold in bottles containing 150 tablets. You can purchase this product from several online and offline retailers available all over the United States and the internet. Therefore, its price varies considerably depending on where you buy this product.
1 Bottle costs $27.99
2 Bottle costs $54.48
3 Bottle costs $77.89
Q: What is Focus Factor Return Policy?
A: Focus Factor has a limited return policy that only accepts returns for faulty products. If you receive a faulty product, you must notify Focus Factor via email within seven days of receiving the product. You will then be instructed to return the product in its original packaging for a refund. Focus Factor does not accept returns for dissatisfaction with the product or for products that have expired.
Q: Where to buy Focus Factor?
A: You can purchased 'Focus Factor' through their Amazon, Walmart & Official WebSite.
Q: What ingredients used in Focus Factor?
A: The ingredients in Focus Factor are Choline, Vinpocetine, Dimethylethanolamine, L-glutamine, Docosahexaenoic acid, vitamin C, vitamin A, and vitamin D.
Q: Can You Take Focus Factor After 6 Months Expiration Date?
A: Taking a nutritional supplement past its expiration date won't harm you. But they do lose their potency after they expire and, therefore, their effectiveness. For certain types of supplements, it's best to throw out old ones.
Q: Does Focus Factor have fish oil?
A: The label lists 692 milligrams of a "synergistic" and "proprietary" blend that includes omega-3 fatty acids and antioxidants.
Q: Does Focus Factor Offer a Free Trial?
A: Any dietary supplement  manufacturers does not offer a free trial.
Q: Does this supplement really help you with all its claims and what rating would you give it? Especially if you've tried other brain supplements.
A: According to Consumer Reports, their research team reviewed [12] the label, which lists more than 40 vitamins, minerals, herbs, and other ingredients. Many of them, such as vitamins C, D, E, and B vitamins, are the same nutrients you can find in a multivitamin for as little as $1 a month. Focus Factor can cost as much as $80 a month. The label lists 692 milligrams of a "synergistic" and "proprietary" blend that includes omega-3 fatty acids and antioxidants. But there's little or no scientific evidence [13] that any of them can improve memory or concentration, and it has been shown that some of them actually don't help.
What Do the Reviews Say?
They actually work for me.
Tastes a little fishy, but that's the omega. It's a good product with a ton eof vitamins and I feel great when I eat them before work. Would be cool though if you didn't have to choke down 4 horse pills. ~ Brian
Focus Factor works!.
I love this product. The pills are big and you don't need to leave them in your mouth any longer than necessary to swallow. But these have really help my brain work better. Clears the fog and memory lapses. Hope you find success in this as well. ~ Darrick Brooks
This helps
I have been taking this for about five weeks now and I am seeing a difference. I'm not experiencing the same level of brain fog that I once had and generally feel a bit better. I can't say I have seen a whole lot of memory improvement but eliminating brain fog definitely helps. ~ William Conner
Excellent Brain Supplement I've ever tried
I like supplement that are in the form of tablets it's more effectove for me than caps. I been trying those brain supplements that came in capsule form but, they didn't gave me a good result not with this one (Focus Factor). I've noticed a big changed I'm more Focus, Alert and always remember all the small details in my work. I was able to catched all the bad works on our material supplies, the workmanship and defective parts. This Stuff Deserve a 5 Star Rating. ~ Robert Pabelico
Conclusion
Focus Factor brain enhancer product is like any other brain enhancement product found in our website. This product is made from many ingredients some of which do not reach the brain. This is to say that not all the ingredients mentioned above work to improve the functioning of the brain.
It is true some key ingredients found in this product can help one to have improved memory, thinking, and focus. But you need to research these products to see whether they will really help in your case.
More than ever people of all ages are struggling with memory problems. People are unable to disconnect from their work, while students are under immense pressure to perform. Brains are overloaded with information that must be remembered. A quality memory enhancement product might contain clinically proven ingredients that will help to enhance not only memory, but also focus and night concentration. Memory products might help to optimize overall mental health and brain function.
Below you'll find some of the most effective memory products on the market today, in our opinion.
Our Top Memory Supplements
Verdict on Claimed Benefits: Below is our summary of the available evidence for the claimed benefits of below mentioned brain health supplements and nootropic based on the available research: