In This Review
Overview – CogniQ
From the age of 30, the brain starts to decline through the loss of brain cells. While this loss will obviously affect some people more significantly than others everyone will, at some point, experience the symptoms of this decline through increased memory loss, poor focus and concentration levels, low energy, and a general feeling of 'brain fog.
This affects the quality of life in such a way that often the individual can become depressed and lose motivation. Products that are known as Nootropics are designed as a way to fight this decline and one such brand is the product CogniQ.
How Does It Rate?
Overall Rating: 3.7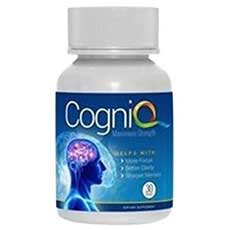 CogniQ
Brand Highlights
CogniQ improves several areas of cognitive function.
CogniQ supports brain function to work properly.
Key Ingredients
Pyrroloquinoline
Co-Enzyme q-10
Ginkgo Biloba
Bacopin
Ginkgo Biloba
Vinpocetine
Acetyl l-Carnitine
Pros
Improves several areas of cognitive function
CogniQ is backed by a 90-day money-back guarantee
Can be purchased securely from the official website
Works within just one week of use
Cons
Ingredients are not explained in detail
There are no customer testimonials
---
How Does CogniQ Work?
The information provided on the CogniQ website is limited, but the site does outline just how many aspects of cognitive function can be expected to improve with the use of the product. With a requirement of just one capsule per day, users can expect to see significant improvements in one week although, like most products of this type, optimal results can take a few months.
Unfortunately, there is no FAQ section on the website and no reviews or testimonials from customers are provided either. It is known that the formula consists of a natural blend of nootropic ingredients that are safe to use for long periods of time and should not interact with other medications. Overtime, users of this product will experience an increase in memory, both long and short term, a boost in focus and clarity and also find the ability to retain knowledge is vastly improved.
CogniQ Ingredients – Are they Safe and Effective?
Pyrroloquinohine
– It is also known as a lifespan vitamin, pyrroloquinoline quinone disodium salt, and methoxatin[1]. It is a bacterially produced substance that can be found in fruits and vegetables.
Co-Enzyme q-10
– Congestive heart failure symptoms have been demonstrated to be improved with CoQ10. Despite conflicting evidence, CoQ10 may help lower blood pressure.
Ginkgo Biloba
– Ginkgo has long been used in traditional Chinese medicine. The leaves were utilized to cure respiratory issues, cardiovascular issues, and brain disorders. As Neurodrine Reviews suggests that Ginkgo Biloba may help enhance memory, focus, and overall mental clarity. It's often used as a complementary approach to support brain health and maintain cognitive vitality.
Bacopin
– Active ingredients found in bacopa monnieri are known as bacosides which, particularly in the brain, have been found to have antioxidant benefits.
Vinpocetine
– Vinpocetine acts as a cerebral vasodilator in the brain to increase brain blood flow.
Acetyl l-Carnitine
– Acetyl-L-carnitine oral supplementation has been shown to enhance memory and various other mental performance tests as well as delay the rate of illness progression[2]. Even our Neuro Gasm Review suggests it may have neuroprotective effects, slow cognitive decline, and improve memory, learning, and cognitive function in older adults.
Other Ingredients: glutamine, st. johns wort, dimethylaminoethanol (DMAE), GABA, and of course, caffeine.
Who is the Manufacturer of CogniQ?
While the manufacturer of the brand is CogniQ, the website for the product contains some important facts pertaining to brain health and the aging process. It outlines exactly what the effects of cognitive decline can result in and how CogniQ aims to reverse the damage and unlock the brain's full power. One bottle of CogniQ costs $57.95 and it has a full 90-day money-back guarantee. Consumers are encouraged to purchase more than one bottle per order through multiple purchase discounts and free shipping is available on purchases of all sizes.
Alternatives to CogniQ
CogniQ – Questions and Answers
Q: How Much is CogniQ?
A: 1 bottle $69.95
2 bottles $119.90 ($59.95/bottle)
Best Deal 4 bottles $199.80 ($49.95/bottle)
Q: What is CogniQ Return Policy?
A: It gives 90-day Money Back Guarantee.
Q: How to Take CogniQ?
A: How To Use: As a dietary supplement, take two capsules daily.
Warnings: If you are pregnant or lactating, consult a healthcare professional before using this product.
READ NEXT – BrainFX
CogniQ Reviews from Customers
"I have been using CogniQ for about 8 months and it really works for my husband. It helps to improve focus and concentration.I would suggest this to everyone"- Cassy
CogniQ Reveiew – Final Verdict
Although it would be helpful to know more details about CogniQ in terms of ingredients and clinical results, this does appear to be a reasonably priced Nootropic supplement that works fast and effectively. It has a very generous money-back guarantee which allows users time to see first-hand how well it works, which is essential given the lack of customer testimonials or scientific data.
This brand's ability to improve several areas of cognitive function in just one pill makes it stand out from other products of this type as it eliminates the need for multiple supplements which is not only costly but inconvenient.
More than ever people of all ages are struggling with memory problems. People are unable to disconnect from their work, while students are under immense pressure to perform. Brains are overloaded with information that must be remembered. A quality memory enhancement product might contain clinically proven ingredients that will help to enhance not only memory, but also focus and night concentration. Memory products might help to optimize overall mental health and brain function.
Below you'll find some of the most effective memory products on the market today, in our opinion.
Our Top Memory Supplements
Verdict on Claimed Benefits: Below is our summary of the available evidence for the claimed benefits of below mentioned brain health supplements and nootropic based on the available research:
Product reviews are provided for informational purposes only and reflect solely the views and opinions expressed by the contributors and not those of Consumer Health Digest. We do not verify or endorse any claims made in these reviews. Please read the full product reviews disclaimer. *All individuals are unique. Your results can and will vary.
Ask a Question
Have a Question? Please Tell Us What We Are Missing Here!
PRODUCT NAME
CogniQ
PRODUCT BRAND
CogniQ
PRICE (in USD)
$29.99
ITEM FORM
Capsule
UNIT COUNT
60 Capsules
INGREDIENTS
Pyrroloquinoline, Co-Enzyme q-10, Ginkgo Biloba, Bacopin, Ginkgo Biloba, Vinpocetine, and Acetyl l-Carnitine.
$29.99 At Amazon
$29.99 At Walmart
**This is a subjective assessment based on the strength of the available informations and our estimation of efficacy.
*Result may vary. If you are pregnant, nursing, have a serious medical condition, or have a history of heart conditions we suggest consulting with a physician before using any supplement. The information contained in this website is provided for general informational purposes only. It is not intended to diagnose, treat, cure, or prevent any disease and should not be relied upon as a medical advice. Always consult your doctor before using any supplements.
Disclosure of Material connection: Some of the links in the post above are "associate sales links." This means if you can click on the link and purchase an item, we will receive a commission. Regardless, we only recommend products or services which we use personally and/or believe will add value to our readers. We are disclosing this in accordance with the Federal Trade Commission's 16 CFR, Part 255: "Guides Concerning the Use of Endorsements and Testimonials."