Cognifactors Supplement Overview
Cognifactors is a natural supplement that is designed to support memory and cognitive function. This herbal remedy provides the body with specific herbs, circulatory aides, amino acids, accessory nutrients and antioxidants to support optimal memory and cognitive functions.
Science Behind Cognifactors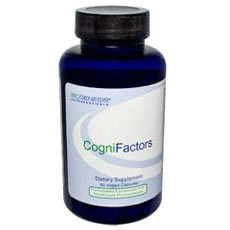 The company that manufactures this product is known as Nutra BioGenesis. This is the United States licensed healthcare company that manufactures over 100 nutritional supplements products. This company was founded in the year 2000 in Mill Creek, Washington. It was co-founded by a practicing naturopathic physician, Dr. David Wood and a supplement industry entrepreneur Riley Livingston.
Cognifactors Claims
Support enhanced improved memory retention, mental clarity and improved attention.
Supports neurotransmitter balance.
Contain effective botanical extracts, accessory nutrients, circulatory aides and amino acids that support enhanced cognitive functions.
Cognifactors Ingredients List
500 mg N-acetyl Lcarnitine (HCI)
100 mg Phosphatidylserine
100 mg Nattokinase (nattozimes)
100 mg Bacopa leaf extract (Bacopa monnieri)
100 mg DMAE (dimethylethanolamine)
40 mg Ginkgo leaf extract (Ginkgo biloba)
10 mg Vinpocetine
5 mg Alpha R-lipoic acid
38 mcg Huperzine A (Huperzine serrata)
Other ingredients include Rice flour' silica' stearic acid' cellulose
How Cognifactors Composition Work?
These ingredients support neurotransmitter balance and provide the body with neuroprotection. Ingredient like Ginkgo biloba extract helps improve the nerve cell and platelet functions and blood circulation to the brain and the nervous system. Compounds in this herb also have ability to increase vascular dilation. Studies indicate that these compounds may help reduce the damage of the retina and may help reverse deafness that come as a result of reduced blood flow to the brain.
The Advantages Of Cognifactors
The formula doesn't contain caffeine or other stimulants
Formulated from natural ingredients without side effects
Chief ingredients in this formula have undergone independent clinical testing
All key ingredients in this formula has been listed and explained in detail
BioGenesis is a company with a good reputation
Product is widely available from retailers
The Disadvantages of Cognifactors
Expensive product

No money back guarantee

mentioned
Little information is provided regarding this product
Product has no clinical trials or scientific research to support its claims
Does Cognifactors Really Work?
According to our analysis, Cognifactors supplement can be a good remedy for those people suffering from severe memory problems. It contains key memory and cognition enhancing ingredients such as Huperzine A and Ginko Biloba. Most of these ingredients have undergone independed clinical testing and found to improve cognitive function.
Cognifactors Recommended Dosages
Serving Size is 2 Capsules. Servings per Container are 30. The product is recommended for adults. It is taken as a dietary supplement. The recommended dosage is 2 capsules three times a day or as or as directed by your healthcare professional.
Cognifactors Precautions!
If you get adverse side effects when using Cognifactors capsules, stop using them and consult your healthcare provider immediately. Don't take these capsules if you are planning to get pregnant, pregnant, nursing, taking prescriptive drugs. Otherwise consult your healthcare professional before use. Don't use it if the seal under the cap is tampered with. Keep it away from children in a cool dry place.
Is it Safe to Use?
This product is contraindicated if you have a history of bleeding tendency. Due to potential synergistic effects, concurrent use with blood pressure medication and anticoagulant should be closely supervised by a health care practitioner. If you are pregnant or nursing, consult your healthcare practitioner before using this product. Keep it out of the reach of children.
Read Next – AdreCor
Know The Related Products
Final Verdict
In general, Cognifactors is a good dietary supplement manufactured by a reputable company. It could be helpful if the company's website provided more consumer friendly information and clinical test information. We also found out that this product is one of the most expensive brain enhancement products in the market today.
Advertisement
*All individuals are unique. Your results can and will vary.
More than ever people of all ages are struggling with memory problems. People are unable to disconnect from their work, while students are under immense pressure to perform. Brains are overloaded with information that must be remembered. A quality memory enhancement product might contain clinically proven ingredients that will help to enhance not only memory, but also focus and night concentration. Memory products might help to optimize overall mental health and brain function.
Below you'll find some of the most effective memory products on the market today, in our opinion.
Our Top Memory Supplements
Verdict on Claimed Benefits: Below is our summary of the available evidence for the claimed benefits of below mentioned brain health supplements and nootropic based on the available research: