In This Review
What is Cerebra?
According to the manufacturer, Cerebra is a cognitive support supplement with three trademarked ingredients that may actively support recall memory, improve mental clarity, and sharpen focus.
It may help manage age-related cognitive slowdown, as well as, maintain healthy brain function.The product supposedly supplies ingredients that may help keep the user's brain healthy, enhance focus by strengthening your willpower to refuse distractions and optimize general cognitive function[1].
The constituents in the Cerebra supplement are backed by studies, including one trial done on human models.
How Does It Rate?
Overall Rating: 3.7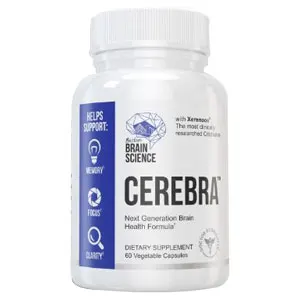 Cerebra
Brand Highlights
The company behind this product is called 'Boston Brain Science'.
Ingredients have been researched.
Key Ingredients
Bacognize® extract
Sharp PS Green
Xerenoos® Citicholine
Hesperidin
Mucuna Pruriens
Galanthus Nivalis
Pros
May support normal brain function.
Memory recall may be enhanced.
Focus may be improved.
Ingredients have been researched.
Cons
Not common in the marketplace.
Can only be ordered online.
Delayed results consistent with supplementation.
Details are lacking as to how the product works.
You may experience mild side effects.
---
Who is the Manufacturer of Cerebra?
The company behind this product is called 'Boston Brain Science'. They have a stable website with contacts and basic information about this formula. However, important information regarding how the products work has not been shared.
In addition, the manufacturer has this brain support supplement as their only supplement on the market, which may mean they specialize in brain support or this is their entry product and it's a new brand[2].
In order to build trust with the public, the company would benefit from providing information on whether they are a GMP certified facility what standards they use and where their company is located.
How Does Cerebra Supplement Work?
Cerebra highlights that each ingredient's composition has been researched to ascertain the potency and actual importance in delivering the product promise.
Each constituent in the formulation has standalone benefits for brain function, but they work in synergy to deliver stronger benefits both to cognitive function and general health.
According to Cerebra reviews, the formula is all-natural and may be safe for long-term consumption. It is free of dairy products, gluten, peanuts, and fish which suggests it may work without triggering allergic reactions.
Cerebra Ingredients – Are they Safe & Effective?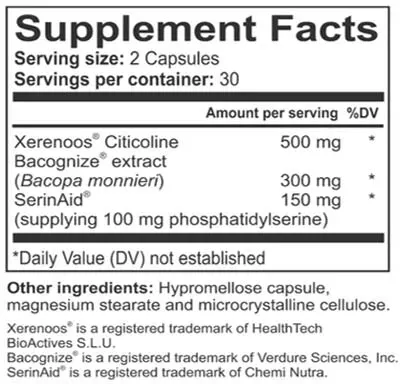 Boston Brain Science Cerebra is composed of 3 ingredients that may help with mental fatigue and improve clear thinking and speech as well as enforce healthy brain function[3]. It is lab-tested which suggests it may be safe for use. In precise this product uses the below components as its main ingredients:
Bacognize® extract
– It is processed from the herb Bacopa Monnieri, and may help reduce anxiety, improve memory consolidation, support clear vision and improve learning.
Bacognize® extract has shown promising results in various studies focused on cognitive function. Its active compounds have been linked to improved memory retention and overall brain health. The standardized nature of Bacognize® makes it a reliable choice for those seeking cognitive enhancement. – Dr. Jane Doe, Neuroscientist
According to research notes appearing in the journal Evidence-Based Complementary and Alternative Medicine, it may sharpen a person's overall processing speed[4].
Sharp PS Green®
– This ingredient comes from an omega-3 source and has cognitive benefits supporting memory strength and improves brain function. Omega-3 is widely researched for different cognitive benefits according to the journal Human Psychopharmacology[5].
Xerenoos® Citicholine
– This Citicholine component is associated with increased dopamine as well as the reduction of cortisol, qualities that support mental function, according to Nutrient Journal. However, the research backing these claims is inadequate[6].
Citicholine, as encapsulated in Xerenoos®, has shown promise in addressing not only cognitive challenges but also mood-related disorders. Its influence on dopamine receptor density and serotonin levels suggests a potential role in mental well-being. For individuals dealing with cognitive decline or mood disorders, Xerenoos® Citicholine could offer a complementary approach to their treatment plan. – Dr. Emily Chen, Neuropsychiatrist
Cerebra FAQ's
Q: How Should You Take Cerebra?
A: Take 2 capsules in the morning with a glass of water for best results.
Q: How many capsules are in a bottle of Cerebra?
A: Each bottle of Cerebra contains 60 capsules.
Q: How Much Does Cerebra Cost?
A: You can buy this product from the manufacturer's website, the prices as listed below;
1 bottle = $49.95
3 bottles = $44.95 per bottle + free shipping
6 bottles = $39.95 per bottle + free shipping
Q: What is Cerebra's Return Policy?
A: There is a 90-day return policy minus shipping and handling fees.
Q: Does Cerebra Offer a Free Trial?
A: No, and there is no indication of free products in the near future.
Q: Does Cerebra help brain problems caused by Parkinson's?
A: Cerebra's unique formula consists of 3 clinically tested ingredients that support memory while improving focus and clarity. In our research, we didn't find that it helps brain problems caused by Parkinson's. You should consult your physician or other health care professional before starting this or any other nootropics to determine if it is right for your needs.
SEE ALSO – SF180 Brain Reviews
Q: How Do I Return Product and Get a Refund?
A: If you're not satisfied with your purchase of Cerebra, simply contact the company to request a prompt and courteous refund.
They can be reached via the following:
Email to [email protected]
Phone: 1-800-919-0179 (please use the contact form for fastest service).
What is the Mailing Address for Boston Brain Science LLC?
Postal Mail:
Boston Brain Science LLC
6 Lyberty Way, Suite 103
Westford, MA 01886
Q: Is Cerebra a Scam?
A: No, it is not a scam. Boston Brain Science LLC is a supplier of Cerebra for memory and brain clarity.
Q: What are the side effects of Cerebra?
A: Cerebra contains Phosphatidylserine, Bacopa Monnieri, and Ginkgo Biloba that may cause stomach upset, insomnia, nausea, bloating, cramps, increase in bowel movement, headaches, restlessness, allergic skin reactions, weakness, vertigo, and constipation.
Q: Is Cerebra a good product?
A: Finally, Cerebra is a fully normal, herbal, and gluten-free supplement with the primary goal of optimizing brain activity and response time. Furthermore, the products are of high quality and are considered to aid in the improvement of brain activity.
Q: Would Cerebra help dementia?
A: Cerebra nootropic supplement contains ingredients that are linked to the prevention of degenerative cognitive conditions. However, it is not intended for this use and should not be relied upon as such. Talk to your doctor.
Q: Can Cerebra make you tired or sleepy?
A: It can cause some side effects including nausea, diarrhea, sweating, slurred speech, restlessness, & loss of appetite. It also contains ingredients that are allergens for some people.
RELATED – CogniNurish and Geniux
What Do the Cerebra Reviews Say?
"I have been using Cerebra for about 5 months and Cerebra really works for my husband. It helps to improve focus and concentration."- Joesph
I've tried several brain supplements, but Cerebra stands out. It's like a mental energy boost in a bottle. I feel more alert, and my memory retention has improved remarkably. Grateful for this product!- Celia
I've been using Cerebra for a few weeks now, and the results are remarkable. My memory has improved, and I feel more mentally alert and focused. It's amazing how much of a difference this supplement has made in my daily life.- Trevor
Cerebra Review – Conclusion
Unlike other cognitive support supplements, Cerebra doesn't contain stimulants like caffeine which may form an addictive habit.
According to Cerebra reviews, it claims to be all-natural and every component in the composition is professionally researched, a claim that most top supplements use to win customers.
With the internet, it's easy to clarify whether or not an ingredient has studies completed. Cerebra's components are researched and promotes brain function and overall cognitive health.
The company's official website does not explain certain aspects such as the process they use to make their ingredients. There does not appear to be enough facts to make an informed decision for long-term use.
This is a dietary supplement, and there is no guarantee the results will be immediate because it works by simply offering nutritional support to the body. Results may be realized after long-term use.
There are many brain health supplements available on the market, such as Legion Ascend that give similar benefits at this price range hence reading the review of Legion Ascend will make your purchase wiser.
More than ever people of all ages are struggling with memory problems. People are unable to disconnect from their work, while students are under immense pressure to perform. Brains are overloaded with information that must be remembered. A quality memory enhancement product might contain clinically proven ingredients that will help to enhance not only memory, but also focus and night concentration. Memory products might help to optimize overall mental health and brain function.
Below you'll find some of the most effective memory products on the market today, in our opinion.
Our Top Memory Supplements
Verdict on Claimed Benefits: Below is our summary of the available evidence for the claimed benefits of below mentioned brain health supplements and nootropic based on the available research: