Cebria Overview
Cebria is a type of Nootropic, sometimes referred to as a 'smart drug' that helps energize and revitalize the brain, improving* several areas of cognitive function. The most common symptom that these types of supplements treat* is that of memory loss, both long and short term, which is something that most people experience with age. However, as the Cebria website points out, people actually start to experience a decrease* in cognitive function as young as age 25. This is due to the neurotransmitters in the brain failing to communicate properly and the connections between them becoming weaker. The Cebria website contains a lot of detailed information regarding the problems associated with cognitive decline and provides a number of videos and diagrams to further explain this. The site also features video testimonials from satisfied customers and bios of the medical professionals involved in developing the Cebria formula.
Manufacturer Information and Claims about Cebria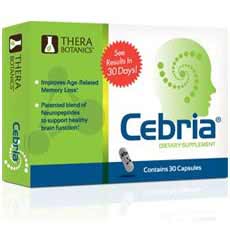 Cebria is a high quality product that, unlike some brands of cognitive function supplement, does not use herbal substances in its formula. The product is manufactured by the company Thera Botanics, a reputable company that produces a number of health treatments. The formula was developed to work fast and effectively on increasing* the cognitive ability but does so safely, without any harmful side effects or medical interactions.
Cebria Ingredients List
Lactose, Glutamic Acid, Lysine, Leucine, Arginine, Serine, Phenylalanine, Valine, Threonine, Tyrosine, Isoleucine, Histadine, Methionie, Tryptophen
The key ingredients used in the Cebria formula are contained in a proprietary 'Neuro Pep 12' blend, but, unlike most proprietary blends, all the ingredient are listed. Unfortunately, none of the ingredients are explained in any detail which would be a problem for consumers who are unfamiliar with this type of product. it is known that the ingredients used in the blend help improve* the most connectivity between the neurotransmitters in the brain which in turn are responsible for boosting memory, learning ability, brain energy and clearing mental fogginess. Some of the ingredients improve* the blood flow to the brain and others have been used in the treatment of age-related cognitive disease such as Alzheimer's. The overall effect of the Cebria formula is to also protect from future damage that can be caused by stress, pressure and aging.
The Advantages of Cebria
Key ingredients are listed
There is a 30-day risk free trial
There are customer testimonials provided
Optimal results can be seen in as little as 30 days
The formula is pure and high quality
Cebria will not cause harmful side effects
The Cons of Cebria
Ingredients are not explained in any detail
The regular cost of Cebria is higher than comparable brands
Final Verdict
The manufacturer of Cebria does provide a good amount of information about their brand in terms of how it works and the results that one should expect but they need to also show more details regarding the actual formula. Because this isn't a herbal formula that uses more familiar ingredients, consumers will likely want to see detailed descriptions regarding the individual substances in the formula and what their exact role is in terms of improving* the cognitive ability. Fortunately, Cebria can be tried at no risk for a full 30 days which is adequate time to see how well it actually performs.
We have given the best brain enhancement supplements below to make it easier for you to find safe and effective products. The ranking is based on critical factors like improving memory by coping up with memory loses, boosting overall concentration power and improve overall mental functioning. Based on the presence of quality ingredients and the overall improved mental health results, the top ranking brain enhancement supplements are listed below.
Our Top Brain Enhancement Supplements

Improve focus and concentration
Improve Cognitive Learning
Improve focus and concentration
Improve Cognitive Learning
Improve focus and concentration
Improve Cognitive Learning
Improve focus and concentration
Improve Cognitive Learning
Improve focus and concentration
Improve Cognitive Learning
Improve focus and concentration
Improve Cognitive Learning