In This Review
What is Cebria?
Cebria is a natural nootropic which is specifically designed to enhance your cognition. Like the majority of nootropics out there, it is intended to ensure that you can experience enhanced overall memory retention and recall and that you wouldn't start to forget as you grow older.
The supplement which helps to improve the most significant aspects of cognitive function, especially when it comes to memory and mental alertness. The product helps to ensure that users are able to remember things better, and it works to boost the short-term memory of the user.
It also helps to improve the production of neuropeptides[1], which is sure to help combat the effects of age-related cognitive decline in the users.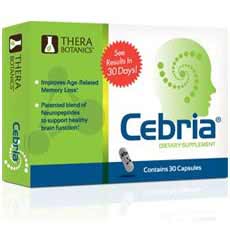 Who is the Manufacturer of Cebria?
Cebria was manufactured by Thera Botanics[2], particularly by Dr. Marcus Laux. He is a researcher as well as a fitness and health expert who developed the drug as a means of helping people to improve their memory and ability to remember things.
Cebria Ingredients – Are they Safe & Effective?
The working process of the product is based on some popular, brain-enhancing ingredients. They are known to be quite comprehensive and to be used in other popular products as well.
At the same time, they are intended to target the functioning of your brain directly through stimulating the intake of proper nutrients and through improving the overall blood flow to your brain.
The ingredients include: Neuro Pep 12 Proprietary Blend 282.8mg: Lactose, Glutamic Acid, Lysine, Leucine, Arginine, Aspartic Acid, Serine, Phenylalanine, Valine, Threonine, Tyrosine, Isoleucine, Histidine, Methionine, Tryptophan
Folic Acid – The Journal of clinical psychiatry reports Folic acid is needed for normal psychological function[3].
L-Theanine – This is an amino acid used to promote the alertness[4] and attention to enhance your energy production.
Green Tea Extract – Journal of pharmaceutical sciences and research announces that Green tea[5] is a powerful antioxidant which is going to fight off the effects of free radicals.
Advertisement
*All individuals are unique. Your results can and will vary.
Arginine – This is another serious amino acid which promotes the dilation of blood vessels to improve the flow of oxygen and nutrients to the brain.
Valine – This is yet another non-essential amino acid[6] to help you focus and concentrate.
Lysine – This is a very popular strong amino acid which is being studied as a treatment for memory loss and aging.[7].
Leucine – This is a very popular amino acid used to help you prolong your levels of concentration.
What are the Advantages of Cebria?
This memory pill is entirely natural
It may enhance your cognition
It may reduce mental fuzziness & brain fog
Using this supplement, improves short term memory loss[8]
What are the Disadvantages of Cebria?
It has so many mixed reviews
Its result may vary from one to another
You May Also Like – Lumonol and Lipogen PS Plus
Cebria Questions and Answers
Q: Who should take Cebria?
A: Anyone who wants to improve their age-related memory loss should take Cebria.
Q: How Should You Take Cebria?
A: You can take one capsule every morning. However, the product ought to be used as per the instructions of the manufacturer for the best results.
Q: How Much is Cebria?
A: For 30 days supply Manufacturer can charge you $39.95 per bottle.
If purchased directly through the company, you can try two bottles of Cebria for 30 days after paying $9.95 S&H.
Once this time passes, you'll be billed the full price of $39.95 per box ($79.90 total) and also enrolled in the company's recurring shipping program.
Q: What is Cebria Return Policy?
A: All shipment comes with 30 days money back guarantee If you want to return the product, then within 7-14 days you need to return the product to get a refund.
Advertisement
*All individuals are unique. Your results can and will vary.
Q: Does Cebria Offer a Free Trial?
A: You can try this product for 30 days by just paying processing & shipping charges & then after 30 days the company will charge you.
Q: What are the Precautions When Using This Supplement?
A: There are no challenging precautions for you to be well aware of. Check with your doctor if you are on medication.
Q: Who should not take Cebria?
A: Pregnant or lactating women or those having a known serious medical condition should consult a health care professional prior to the use of any nutritional supplement.
Cebria contains a small amount of lactose and thus may not be appropriate for those who are lactose-intolerant.
Q: How Long Before I See Any Improvements?
A: The benefits should start coming within the first few days.
Cebria Customer Reviews
We have encountered 83 customer reviews on Amazon, where Cebria had a slightly higher average rating of 3.4 stars.
Excellent vitamin- Cebria does work — My memory got better remembered daily events that I would forget. Amazing dreams when I take. Lifts my spirits but sometimes get a bad headache when haven't taken it for a few months and start-up. Don't know if it's good for one's body. ~ review by Gibson
Read Next – Mind Lab Pro
Cebria Reviews – Final Verdict
The product can help reduce age-related cognitive decline. It can also help to improve short-term memory. The product claims to be able to help boost mental alertness.
Cebria helps to boost the levels of mental and cognitive functioning by improving alertness and short-term memory. Furthermore, there are quite a lot of mixed reviews.
In fact, they are more than the positive ones which are something that you should most certainly keep in mind. This means that most people are not content or have something that they really don't like about the product.
This is the main reason for which we believe that there are other options on the market such as Cognium, Formula Focus, and OptiMind which might be the best cognitive supplement that you can take advantage of.
'Cebria' can be purchased through their Official WebSite.
More than ever people of all ages are struggling with memory problems. People are unable to disconnect from their work, while students are under immense pressure to perform. Brains are overloaded with information that must be remembered. A quality memory enhancement product might contain clinically proven ingredients that will help to enhance not only memory, but also focus and night concentration. Memory products might help to optimize overall mental health and brain function.
Below you'll find some of the most effective memory products on the market today, in our opinion.
Our Top Memory Supplements
Verdict on Claimed Benefits: Below is our summary of the available evidence for the claimed benefits of below mentioned brain health supplements and nootropic based on the available research: